Using our extensive database of advanced statistics, we examined the best pass-blockers on pure pass sets last season. A pure pass set takes away screens, play action, trick plays and quick throws of less than 2.5 seconds from the data set, so we can better asses how offensive linemen hold up against opposing pass-rushers.
Without further ado, these were the 10 offensive linemen who held up best in pure pass sets a season ago.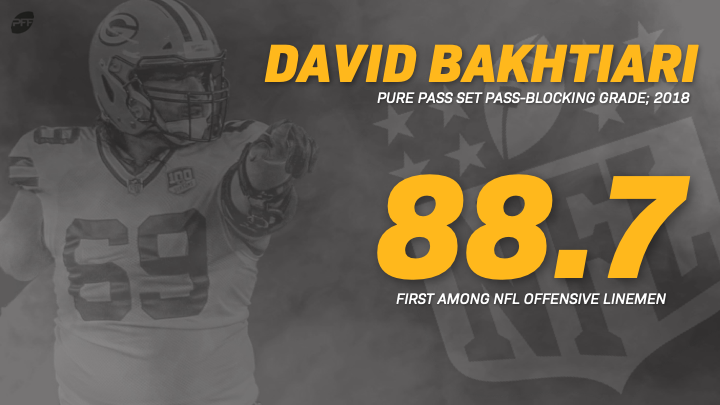 David Bakhtiari deserves to have a little fun this offseason, highlighted by his recent epic beer chugs during Milwaukee's NBA playoff run. As PFF's 2018 Pass Protector of the Year, Bakhtiari just completed his third straight season with the best pass-blocking grade (93.6) among offensive tackles. He allowed only 25 total pressures (18 hurries, three hits, four sacks) on 691 pass-blocking snaps.
Breaking it down a bit further to pure pass sets, he allowed a total of 20 quarterback pressures in 275 pure pass sets, resulting in a 7.3% pressure rate allowed and an 88.7 grade that was good for first among offensive linemen last season.
Ronnie Stanley hasn't been a dominant run-blocker, but he has developed into one of the top pass-blocking offensive tackles in the NFL. Last season he produced an 87.0 pass-blocking grade in the regular season, which ranked third among all offensive tackles, and he allowed just 17 total pressures from 577 pass-blocking snaps.
The former Notre Dame standout finished the 2018 season with an 86.7 pass-blocking grade in pure pass sets. He allowed only nine pressures on 137 snaps while his 6.6% pressure rate allowed ranked sixth among offensive tackles last season.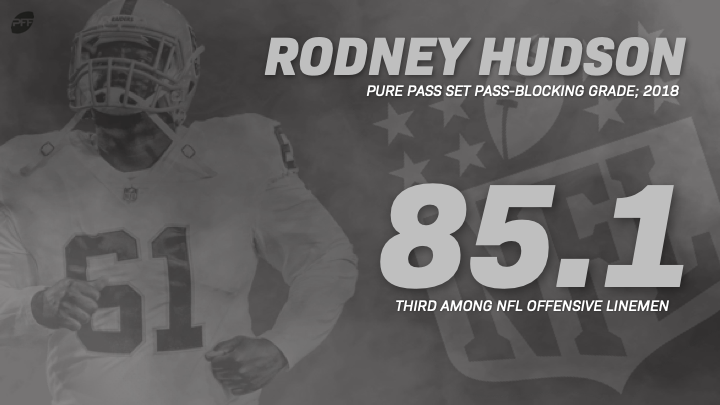 Center isn't a position that's necessarily known for game-changing pass protectors, but Rodney Hudson is certainly the exception to that rule. He was the highest-graded pass-blocking center in the NFL once again last season; he earned a 90.8 overall grade and allowed only five pressures all season.
With all that being said, it's no surprise he produced the best pass-blocking grade in pure pass sets at his position last season (85.1). He allowed three total pressures in pure passing situations, and his staggeringly low 1.6% pressure allowed rate ranked first among all offensive linemen in 2018.
Left tackle Jake Matthews quietly generated a career year in Atlanta last season, finishing with the best pass-blocking grade (86.1) and fewest pressures allowed (27) of his tenure in the NFL. His pass-blocking grade tied for fifth-best among tackles.
In pure pass sets, Matthews recorded an 84.4 pass-blocking grade and allowed only nine pressures on 173 pass-blocking snaps. His 5.2% pressure rate allowed was good enough for second-best among left tackles last season, behind only Tyron Smith (4.8%).
Kelce may very well be the best all-around center in the NFL, and his 2018 season further proved that point. The Cincinnati grad turned Philadelphia legend led all centers in run-blocking grade (80.6) while ranking second behind Oakland's Hudson in pass-blocking grade (88.0).
As a blocker in pure pass sets last season, Kelce was next level, as expected, with an 82.9 grade and only four pressures allowed on 163 pass-blocking snaps. He was also one of 11 offensive linemen who didn't allow a sack or hit on such snaps.
Since being drafted in 2015, Brandon Scherff has quietly been rock solid on the interior offensive line for Washington, producing overall grades greater than 70.0 in his four seasons. Although his 2018 was cut short due to injury, he still went on to produce a career-best 84.0 pass-blocking grade, allowing nine total pressures on 301 pass-blocking snaps.
His 82.2 pass-blocking grade in pure passing sets was the best among all offensive guards last season. Getting Scherff back to 100% will be a major boost to the Redskins' offensive line in 2019.
Ducasse is entering the final year of a three-year, $3.5 million contract he signed with Buffalo back in the 2017 offseason. Despite his major run-blocking issues (38.5 run-blocking grade in 2018 – last among guards), he's held his own in pass protection. The veteran lineman ranked 18th at his position with a 79.0 pass-blocking grade in 2018, and over the past three seasons, his 97.5 pass-blocking efficiency is tied for 27th among guards.
In pure pass sets last season, Ducasse finished tied for seventh with an 81.8 grade. Further, he allowed only three pressures on 114 pass-blocking snaps for a 2.6% pressure rate — fifth among all offensive linemen and first at the guard position.
Tying Ducasse's 81.8 grade in pure pass sets was Cleveland's center, J.C. Tretter. He allowed only eight pressures on 189 snaps for a 4.2% pressure rate in pure passing situations last season.
Overall, Trettor put together a career year in terms of pass protection and allowed just 14 total pressures on 694 pass-blocking snaps at center. This was his fourth straight season with an 80.0-plus pass blocking grade, and his second straight season with over 1,000 total snaps played.
Although Warford's grade slipped to 62.9 last season, the blame can't be put on his pass-blocking ability. He generated a pass-blocking grade of 76.8 in 2019 and allowed only 24 pressures allowed from 636 pass-blocking snaps.
Warford was even better in pure pass sets last year. He earned the ninth-best pass-blocking grade among offensive linemen (81.5) in such situations last year. Of his 24 total pressures allowed, only seven came during pure pass sets, and he only allowed one knockdown on these plays.
Simply put, there hasn't been a more consistent performer at the left tackle position than Whitworth, and at age 37, Whitworth continued his premier play last season. His overall grade of 82.7 was good for fifth among all offensive tackles in the NFL through the regular season, and as always, the All-Pro was as solid as they come in pass protection, where he allowed 33 total pressures from 601 pass-blocking snaps.
Last season in pure pass sets, the veteran generated an 80.9 pass-blocking grade — fourth-best among left tackles. He allowed 17 total pressures and a pressure rate of 8.9% on 191 pure pass-blocking snaps a year ago. For the good of the Rams and the NFL in general, Whitworth doesn't appear to be slowing down any time soon.