When it comes to running the football in the NFL, it's the men up front who reign supreme. Our grading tries its best to isolate the contributions of every player on every play and continually we've seen in our data that the positive grades of the run blockers are far more predictive of success in the run game than positive grades from the runners.

While we revisited our overall offensive line rankings for the 2018 season, these offensive lines below are the ones you want to run behind if you're a running back in the NFL.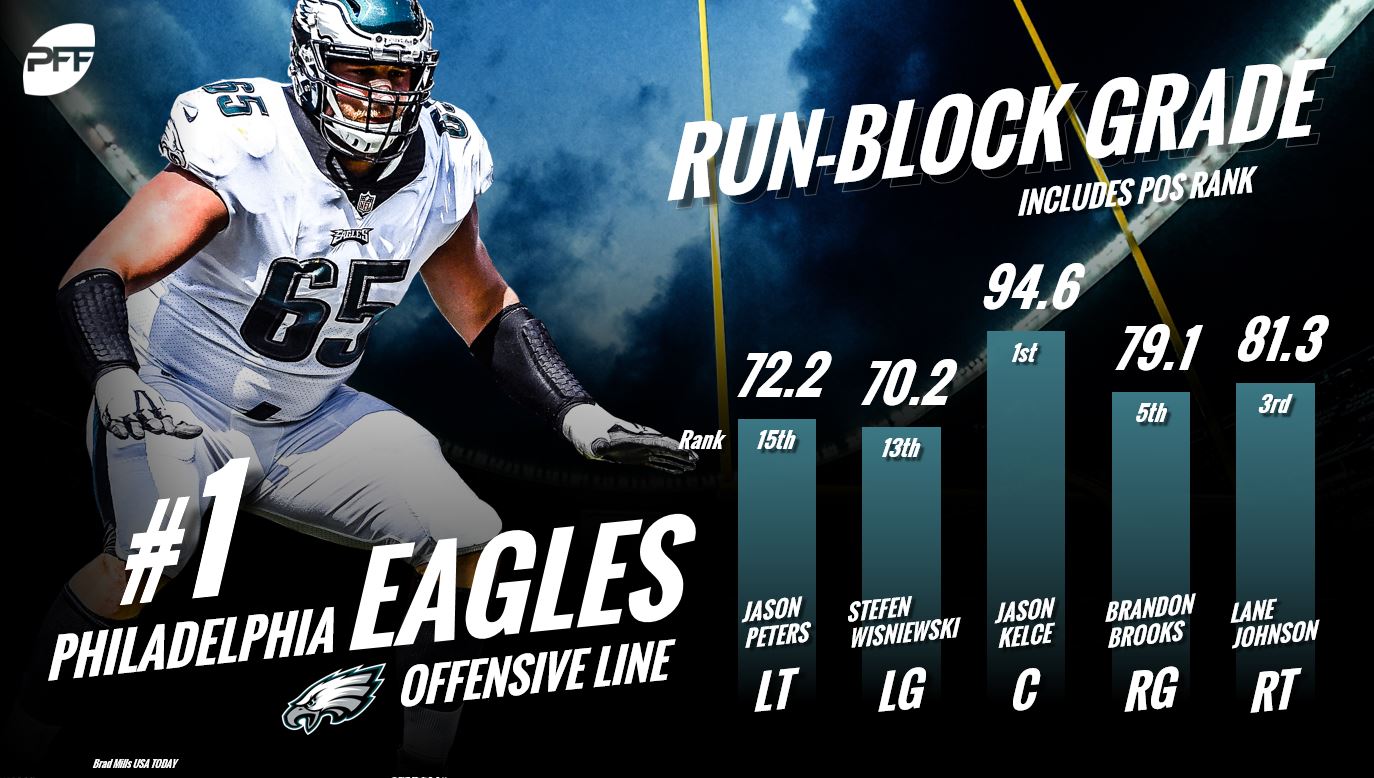 Jason Peters may be a go for Week 1 or he may not, but he'll be back soon enough to include him. The Eagles not only have no holes along their offensive front, but they also boast some elite run-blocking talent. Jason Kelce's 94.6 run-blocking grade was far and away the best among centers last year while Brandon Brooks and Lane Johnson were top five at their respective positions.
As a rookie, Ryan Ramczyk was already the highest-graded run-blocking right tackle in the NFL. It's scary to think how good he already is after only playing one season of FBS college football. The key for them though will be the health of their other tackle, Terron Armstead. At his peak in 2015, Armstead was the second-highest graded run-blocking offensive tackle in the NFL, but he's managed all of 1,064 snaps in the two years since then.
The Falcons run sideline to sideline as well as any offensive line in the and center Alex Mack is one of the biggest reasons why. The All-Pro center is a nightmare for linebackers at the second level with how quickly he can get on them. In his two seasons in a Falcons uniform, he's earned a run-blocking grade of 90.0-plus in each.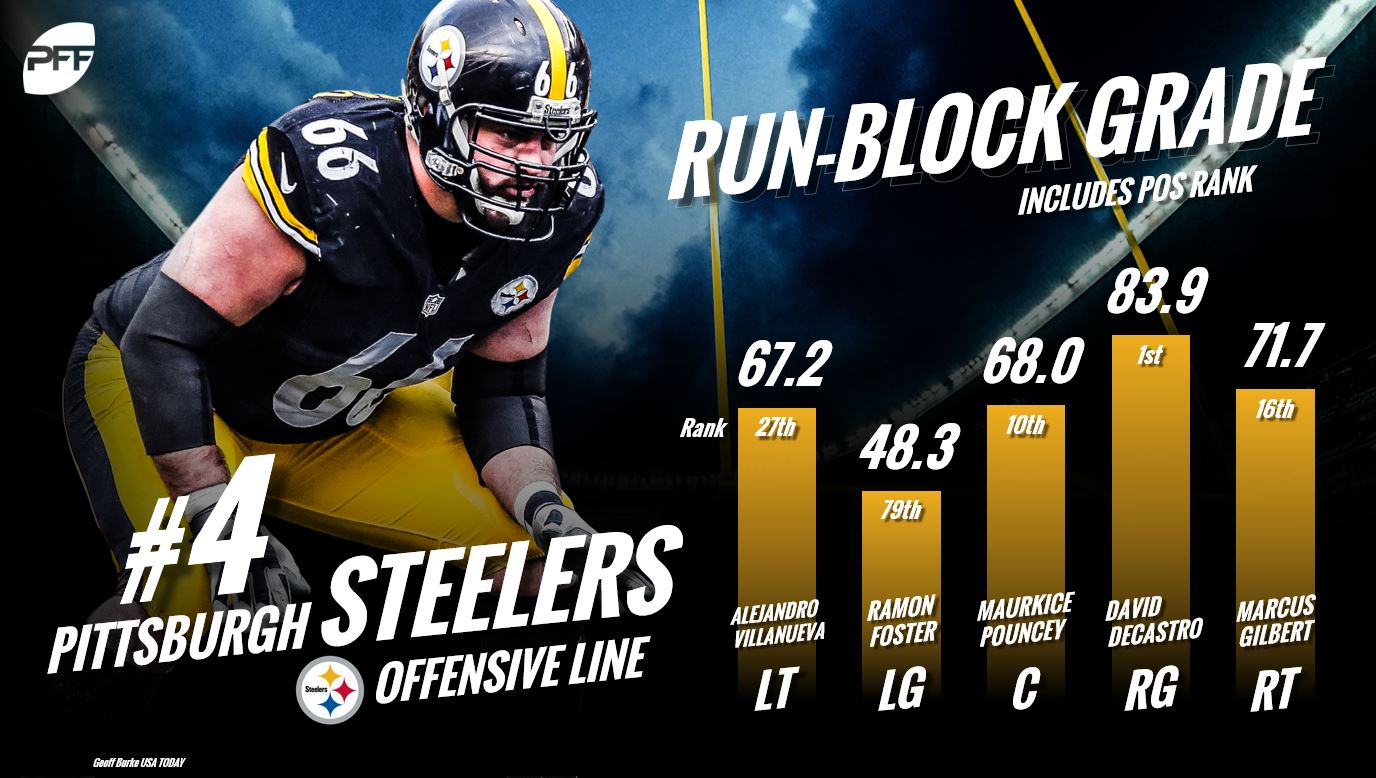 The continuity along the Steelers offensive line is reaching rarified air. This is the third straight season where the Steelers enter with the same starting-five combination. They'll need left guard Ramon Foster to bounce back from a down 2017 where he posted the lowest run-blocking grade of his career. After earning a 73.5 run-blocking grade in 2016, Foster was at 48.3 last year.
The Titans run game relies on their people movers on the edge. Taylor Lewan and Jack Conklin are two of the best run-blockers at their respective positions in the NFL. That being said, the guys on the interior are no slouches themselves. Left guard Quinton Spain had an 80.8 run-blocking grade back in 2016 before a down year last year while Ben Jones was the ninth-highest graded run-blocking center in 2017.
This was a top-three run-blocking offensive line in 2016 before taking a fairly sizable step backward last year with the same core personnel. At their best, left guard Kelechi Osemele has a career-high run-blocking grade of 91.0 (2015), center Rodney Hudson of 82.4 (2016), right guard Gabe Jackson of 76.8 (2015) and right tackle Donald Penn of 90.1 (2016).
While right guard Shaq Mason has been inconsistent throughout his career in pass protection, there is no denying his prowess as a run blocker. It's the reason he was recently rewarded with a sizable $50-million extension. He combined with right tackle Marcus Cannon to form arguably the league's best double-team combo back in 2016 and that duo should be back in full force again.
The Lions have quietly assembled their best run-blocking unit since Matt Stafford took over as the starter in Detroit. The key will be how quickly first-round pick Frank Ragnow can get up to speed. He was the second-highest graded run-blocking center in the country a season ago and more than held his own in the lone game he played guard against Alabama (82.1 run-blocking grade in that game). He earned a solid 73.5 run-blocking grade in 96 snaps this preseason.
This assumes All-Pro center Travis Frederick won't be in the starting lineup for quite some time with Guillain-Barre syndrome. With him in the lineup, they'd be second, but his absence leaves a gaping hole at center that will be filled by Joe Looney. Looney has yet to earn a season grade above 70.0 across 1,089 snaps in five years. Also concerning is the performance of Connor Williams this preseason who notched a 56.9 run-blocking grade on 40 snaps in the run game.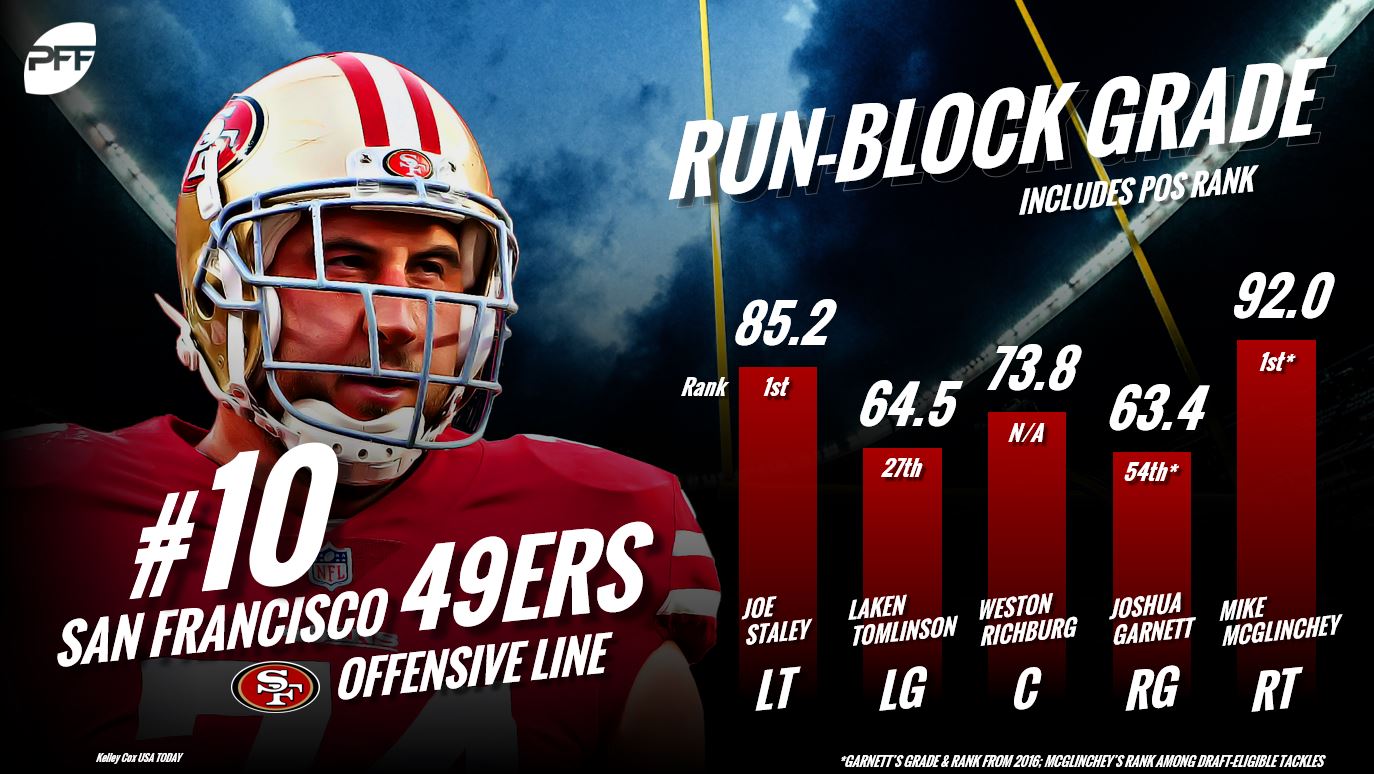 The 49ers as a team had a top-10 run-blocking grade by the end of last season and they've seemingly only added to their unit over the course of the offseason. Free agent center Weston Richburg was once a PFF All-Pro back in 2015 with an 86.7 run-blocking grade, but injuries have taken their toll since. The right side of the line has all the potential in the world with two former first-rounders in Josh Garnett (2016) and Mike McGlinchey (2018). We here at PFF were fans of both coming out although Garnett struggled to a 63.4 run-blocking grade as a rookie before missing all of 2017 with an injury.