In today's NFL, clean pockets are a valuable commodity. Over the course of the PFF era (2006 – 2018), the average passer rating has dropped over 35 points from throws from a clean pocket (95.1) to throws under pressure (59.8) — which is roughly the same difference between a 2018 regular season Tom Brady and a 2018 regular season Sam Bradford. This simple fact makes the men responsible for fending off this pressure a vital, indispensable piece to the offensive puzzle.
Few teams are lucky enough to have one game-changing offensive tackle; a player who can stymie even the fastest outside linebacker or the strongest defensive end. But even fewer teams can lay claim to having "bookends," a pair of offensive tackles who, at their best, can anchor an entire offensive line.
Here, in reverse order, are the top offensive tackle duos in the NFL right now.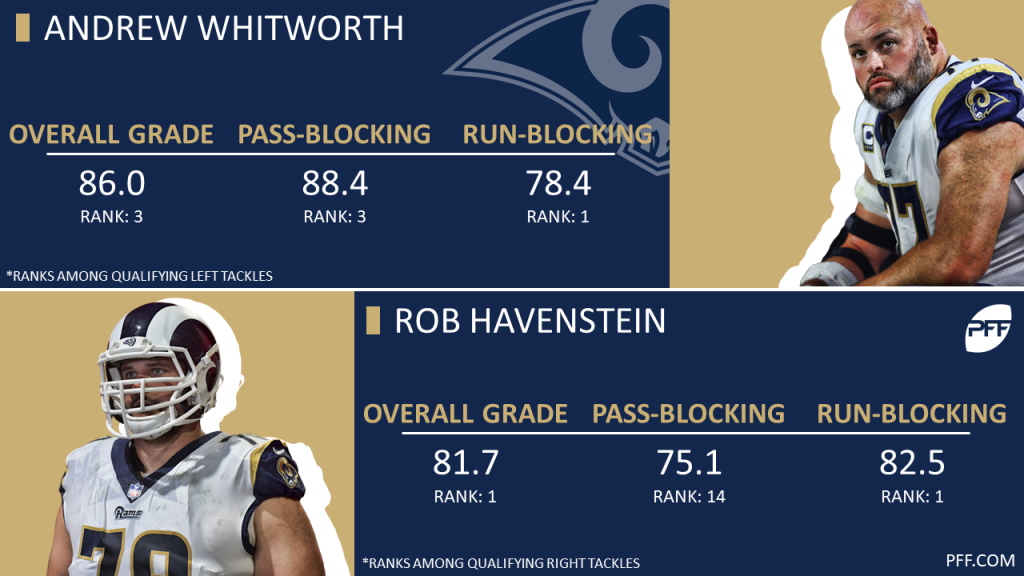 Whitworth has been nothing short of outstanding throughout his illustrious NFL career, earning overall grades above 80.0 in 10 of his 13 seasons in the PFF era (2006-18). Last season, the long-time standout showed absolutely no signs of slowing down; his 88.5 pass-blocking grade ranked third among 82 qualifying tackles, and his 78.4 run-blocking grade ranked second.
And who did Whitworth rank second to in run-blocking grade? Well, that would be none other than teammate and right tackle Rob Havenstein, who earned a league-leading 82.5 run-blocking grade off the back of a mightily impressive 12.7% impact run-block percentage that also ranked first among his peers. While Havenstein wasn't quite as impressive as Whitworth in terms of pass protection, his 75.2 pass-blocking grade was still good enough to finish in the top third among players at the position.
There is no better pass-protecting right tackle in the NFL right now than Mitchell Schwartz. A season ago, Schwartz allowed just three sacks, seven hits and 11 hurries from his 641 pass-blocking snaps at Kansas City's right tackle spot, and his 85.6 pass-blocking grade on those snaps didn't just pace the league's right tackles in 2018, it was the second-best single-season mark ever recorded by a player with at least 300 snaps played at right tackle.
Fisher has never quite panned out in a way that would justify his draft spot, but his 24th-ranked overall grade of 73.4 a season ago was still better than the majority of offensive tackles. He allowed 46 pressures from his 775 pass-blocking snaps on the year and showed exceptionally well down the stretch.  From Weeks 11 through the postseason, Fisher earned a pass-blocking grade of 86.0 — only Duane Brown, Andrew Whitworth, David Bakhtiari and Tyron Smith earned a better pass-blocking grade over that span.
Subscribe to PFF Edge to continue reading
Already have a subscription? Sign In