The slot receiver position has never been a bigger part of the game than it is in today's NFL. Gone are the days of strictly two-receiver sets with a tight end who was there to block more than to catch passes. With offenses as spread out as they are today, quarterbacks need that reliable slot receiver who they know is going to work the middle of the field and pick up the tough yards. It's rare to find a successful passing offense today without a solid slot receiver involved.
Last season, 36 NFL receivers played at least 50 percent of their snaps in the slot position, tied for the most PFF has seen in a single season (the PFF era dates back to 2006). With the large amount of projected slot receivers drafted this season, that record could be broken this year. While some teams are clearly looking for the next great slot receiver, other teams already have their favorite slot targets in place. This list takes a look at the top five slot receivers in the NFL today, focusing solely on their production when lined up in the slot.
[For more slot-specific statistics, be sure to check out PFF Elite today.]
1. Jarvis Landry, Miami Dolphins
Landry may not be the name that first comes to mind when one thinks of great NFL slot receivers, but he's clearly playing at the highest level in the league today. He ran 72.7 percent of his snaps last season out of the slot and found great success. In 2016, Landry led the league in both slot receptions and slot yards, catching 65 of 85 targets for 856 yards. He added four touchdowns, as well. His 2.33 yards per route run out of the slot was the second-highest mark in the league. His drop rate in the slot was 5.8 percent, below the average for slot receivers (7.1 percent). Landry was near the top of ever category for slot receivers in 2016, and is clearly the cream of the crop when it comes to the position in today's NFL.
2. Julian Edelman, New England Patriots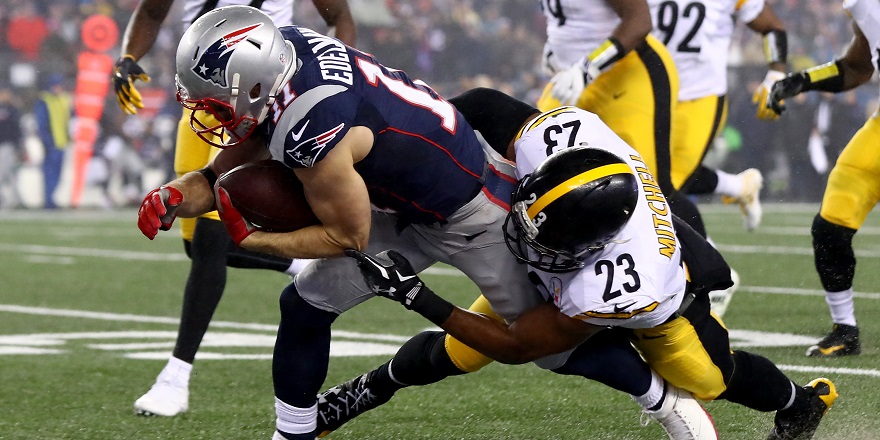 Here's the name many fans associate with slot receivers in the NFL. People may be surprised, however, to learn that Edelman only spent 53.5 percent of his snaps last year in the slot (the cut-off for this list is 50 percent). What's more, that was the highest percentage of snaps Edelman played in the slot since he became a full-time starter. But despite playing far less of a slot role than the other receivers on this list, his success there cannot be denied. Edelman's 63 slot receptions last season ranked second in the NFL, while his 724 yards ranked third. He averaged 2.42 yards per route run out of the slot, the highest mark in the league. No slot receiver was more likely to be thrown to when lined up there than Edelman, who was targeted 29.1 percent of the time he lined up in the slot.
3. Cole Beasley, Dallas Cowboys
While Beasley may not be the best slot receiver in the league, he has a strong argument for most consistent. He caught 56 passes last year from the slot, seventh-most in the NFL. In fact, that seventh-best ranking was the lowest ranking he received among any major slot category. His 647 yards gained ranked sixth, and his 1.88 yards per route run average was even better, ranking fifth. Beasley is one of the most sure-handed slot receivers in the league, as evidenced by his mere two drops last season. Only one receiver (Atlanta's Mohamed Sanu) had a better catch rate (percentage of total targets caught) than Beasley's 78.9 percent. He did all of this with a rookie quarterback in the run-first offense, too. It's not crazy to think that, as Cowboys QB Dak Prescott improves, Beasley will become an even bigger and better slot weapon for the Dallas offense.
4. Doug Baldwin, Seattle Seahawks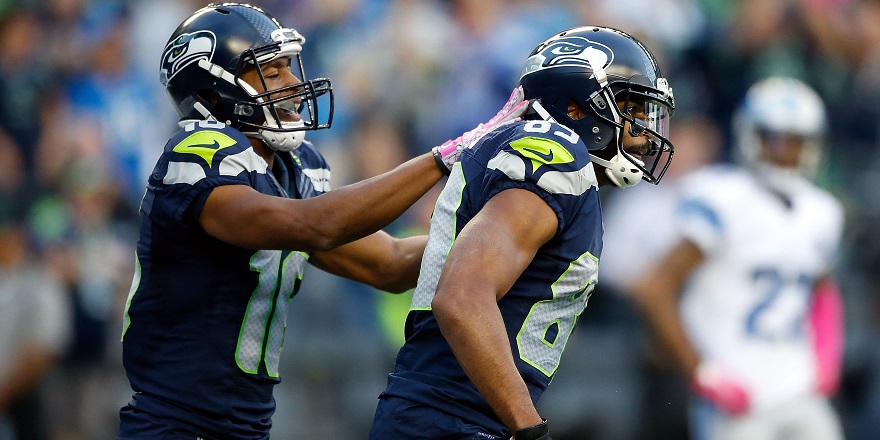 If this list was made immediately after the 2015 NFL season, Baldwin would've ranked at the top, thanks to a 2015 campaign in which he ranked first among slot receivers in yards, yards per route run, touchdowns, and catch rate. He took a slight step back in 2016, as did the entire Seattle offense. But Baldwin still finished in the top five for both receptions and yards, with 60 catches for 649 yards out of the slot. He also had the fourth-best catch percentage, at 77.9, and one of the better drop rates, at 4.76 percent (three drops last year). He's still clearly QB Russell Wilson's most trusted receiver; look for Baldwin to have a bounce-back season if this Seahawks' offense can improve upon a below-average 2016 season.
5. Willie Snead, New Orleans Saints
Snead had a very solid under-the-radar season for the Saints out of the slot last year, providing quarterback Drew Brees with a solid security-blanket receiver. Snead's 56 receptions out of the slot tied for seventh among slot receivers, but his 707 yards ranked fourth. He averaged a fourth-best 1.89 yards per route run, as well, and his catch rate of 74.7 percent ranked sixth. He did drop four passes last year, which led to a below-average 6.67 percent drop rate, but that wasn't enough to knock him off this list. With the loss of WR Brandin Cooks (traded to Patriots) from the offense, Snead has the chance to have a breakout season this year in a Saints offense that will have no shortage of passes for him to snag.
[Want more Pro Football Focus signature statistics? Be sure to check out PFF Elite.]