The most important part of a receiver's game is his hands. If a receiver can't catch the ball consistently, he won't have a very long career. There have been countless big NFL games that featured a key dropped pass by a wideout. For some receivers, this is a frustratingly constant problem. Brandon Marshall of the New York Giants has dropped 116 passes since 2006, the most in the NFL (though his total of 1,056 catchable targets leads all receivers since that time).
On the other side, there are many receivers known for their incredible hands. Arizona Cardinals WR Larry Fitzgerald has dropped a mere 34 passes on 996 catchable targets in the PFF era (2006-present). That career drop percentage of 3.41 percent is the best among any receiver in the PFF era with at least 150 catchable targets. The following list features the receivers with the best hands in the NFL today, by looking at their drop numbers from the past two seasons.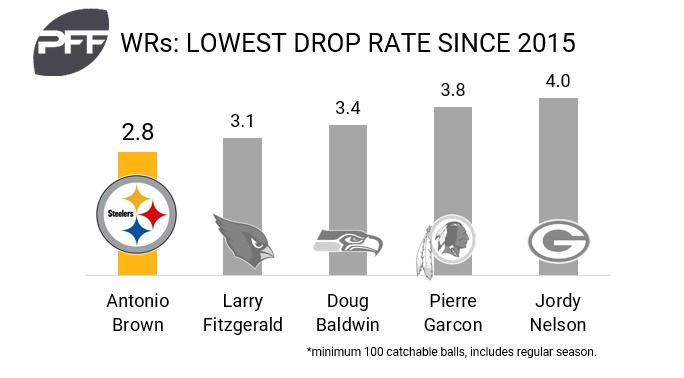 1. Antonio Brown, Pittsburgh Steelers
It should come as no surprise that the best receiver in pro football made the list for best hands. Brown is not the biggest or fastest receiver in the league, but he is known for his incredible consistency in his hands and route running. Over the past two seasons, Brown has dropped just seven passes, despite seeing a league-high 249 catchable targets thrown his way. That's good for a drop percentage of 2.8 percent, which is the highest among receivers with at least 100 catchable targets.
2. Larry Fitzgerald, Arizona Cardinals
After reading the opening paragraph discussing Fitzgerald's insane career drop numbers, it's not surprise he ends up high on this list. Fitzgerald has also dropped just seven passes over the past two seasons, but his 223 catchable targets were slightly fewer than Brown's. Still, his drop percentage of 3.1 percent over that span ranked second among receivers with 100 or more catchable targets.
3. Doug Baldwin, Seattle Seahawks
Baldwin has made it known more than once about the chip on his shoulder that he plays with thanks to people constantly doubting him due to his size and speed. But Baldwin has become a top-notch NFL receiver and a security blanket for Seahawks' QB Russell Wilson thanks largely in part to his consistent hands. Baldwin dropped just six passes over the past two years combined. That was out of 178 targets, which is good for a drop rate of 3.4 percent, one of the best marks in the league.
4. Pierre Garcon, San Francisco 49ers
Garcon earned himself a nice contract this offseason after strong play over the past few seasons with the Washington Redskins, working as a safety blanket for QB Kirk Cousins. Over the past two years Garcon has dropped just six passes total on 157 catchable targets. A drop rate of 3.8% ranks fourth among receivers with at least 100 catchable targets. Last season was particularly strong for Garcon as he dropped just one pass on 80 targets.
5. Jordy Nelson, Green Bay Packers
While Nelson missed the entire 2015 season, his numbers from the 2016 season were quite impressive. Out of the 101 catchable targets that Nelson saw, he dropped just four. That worked out to a drop rate of just under 4.0%, which was the fifth-best among receivers with 100+ targets. Nelson was as sure-handed as they come this past season and continues to be a huge weapon for the Packers offense thanks to it.
Honorable mentions: Danny Amendola, New England Patriots
Amendola hasn't seen a ton of playing time these last couple of seasons with the Patriots, but it seems that he is making a key catch for QB Tom Brady every time he's on the field. Over the past two seasons, Amendola has dropped just two passes on 90 catchable targets. That 2.2 percent drop rate is the highest in the NFL among receivers with more than 55 catchable targets, but falls short of the 100 target threshold to make this list. That included a 2016 season where he didn't drop any of his 23 targets.
Mohamad Sanu, Atlanta Falcons
While Sanu wasn't targeted nearly as much over the past two years as others on this list, his hands have been just as consistent. Sanu has dropped only three passes combined these past two years, on 95 catchable targets, just below the 100 target threshold. That's a drop rate of 3.2 percent, but factoring in his 11 playoff targets that number would fall to just 2.8 percent, as good as any receiver in the game.