Heading into the 2018 season, the New York Jets will have at least one new face in the quarterback room, as well as last year's starter after moves to re-sign Josh McCown and bring Teddy Bridgewater from Minnesota transpired during free agency. Pegged widely to finish at the bottom of their division last season, the Jets' relatively surprising success in 2017 can be partially attributed to McCown, who finished with the second-highest graded season of his career.
With Bridgewater and McCown on roster to start next season, what are the best- and worst-case scenarios for the team from their signal-caller? Below, we look at the best- and worst-case scenarios and what would keep the Jets in the middle of the pack next year with regards to play from their quarterback.
The best-case scenario
The Jets' decision to sign Bridgewater will pay off if the former Louisville quarterback can show some of the traits that made him one of the most promising talents in the NFL in 2014 and 2015 after his long injury layoff. Specifically, Bridgewater stood out with his poise under pressure from Day 1 and led the NFL as a rookie with an adjusted completion percentage of 75.9 percent under pressure. As a comparison, that completion percentage was higher in that season than the adjusted completion percentage of Aaron Rodgers, Ben Roethlisberger and Tom Brady on all attempts. Furthermore, Bridgewater was the most accurate passer in the league during his second season and was still the second-most accurate under pressure.
Bridgewater's performance under pressure will go a long way in determining whether he's successful in the Big Apple, as the Jets offensive line limped to the seventh-lowest pass-blocking efficiency rating in the entire NFL a season ago (75.9). McCown was under pressure on 38.9 percent of his dropbacks, tied for the ninth-highest rate, but he was just the 19th-most accurate quarterback in the league under pressure.
A quarterback that does not get rattled by pressure and can keep his poise when the defense gets to him can be a perfect fit for the Jets with the way their offensive line has played recently, especially since the line is still a work-in progress. As a result, if Bridgewater can perform in the way that he used to under pressure, he could very well bring the Jets' offense to a higher level in 2018.
Middle of the road
This is a scenario where Bridgewater does not have a disappointing season, but the Jets do not gain much from this signing because although he has returned to his old levels, he does not match what the Jets are trying to do on offense. Bridgewater can be a controversial quarterback, as some criticized his conservative playing style while others would praise him for taking good care of the football.
The Louisville alum tends to take what the defense gives him instead of trying to force the football deep into tight spaces. As a result, more than half of Bridgewater's career passing yards have come after the catch. Furthermore, only 45.2 percent of his passing yards came before the catch in 2015 – his last full season – which was tied for the third-lowest rate among quarterbacks in the NFL that season. Adding to this possible woe, the Jets gained just 1,589 yards after the catch over the 2017 season, which was the eighth-lowest in the NFL last season. 57.5 percent of McCown's passing yards came before the catch in 2017, significantly higher than Bridgewater's rate in either of his two full seasons.
While Bridgewater might be back to his old form and would become once again one of the most accurate quarterbacks in the NFL in this scenario, his risk-averse style might not sit well with the way the Jets' offense was built last season. To avoid this, Bridgewater's new team would need to try to build the offense around its new signal-caller instead of trying to force him into the system that they operated last season to avoid another middle of the road season.
Worst-case scenario
At this stage, it is still not known how Bridgewater can perform following his long absence from the field. There are fair concerns about how he will perform following his knee injury and whether his mobility and work in the pocket can get back to what it used to be. Naturally, crumbling under pressure after his injury could be devastating for Bridgewater due to the amount of pressure he is expected to face behind that line.
He is also a quarterback who tends to bring pressure upon himself occasionally. In fact, in 2015, he had the second-longest average time from snap to pass, only 0.1-second faster than Tyrod Taylor that year. Behind a shaky offensive line, there's a chance that tendency could turn into sacks or some forced decisions that lead to bad throws and misread coverages. Obviously, Bridgewater taking sacks and forcing bad balls would prevent the Jets' offense from finding a rhythm in games and could lead to his benching, which would ruin his market value for 2019 and beyond and stunt the team's growth while also putting McCown back on the field. Despite entering the season on the heels of his second-highest graded season, there is no telling if McCown can repeat that success from a season ago as his grades have been all over the map with his erratic play through his career.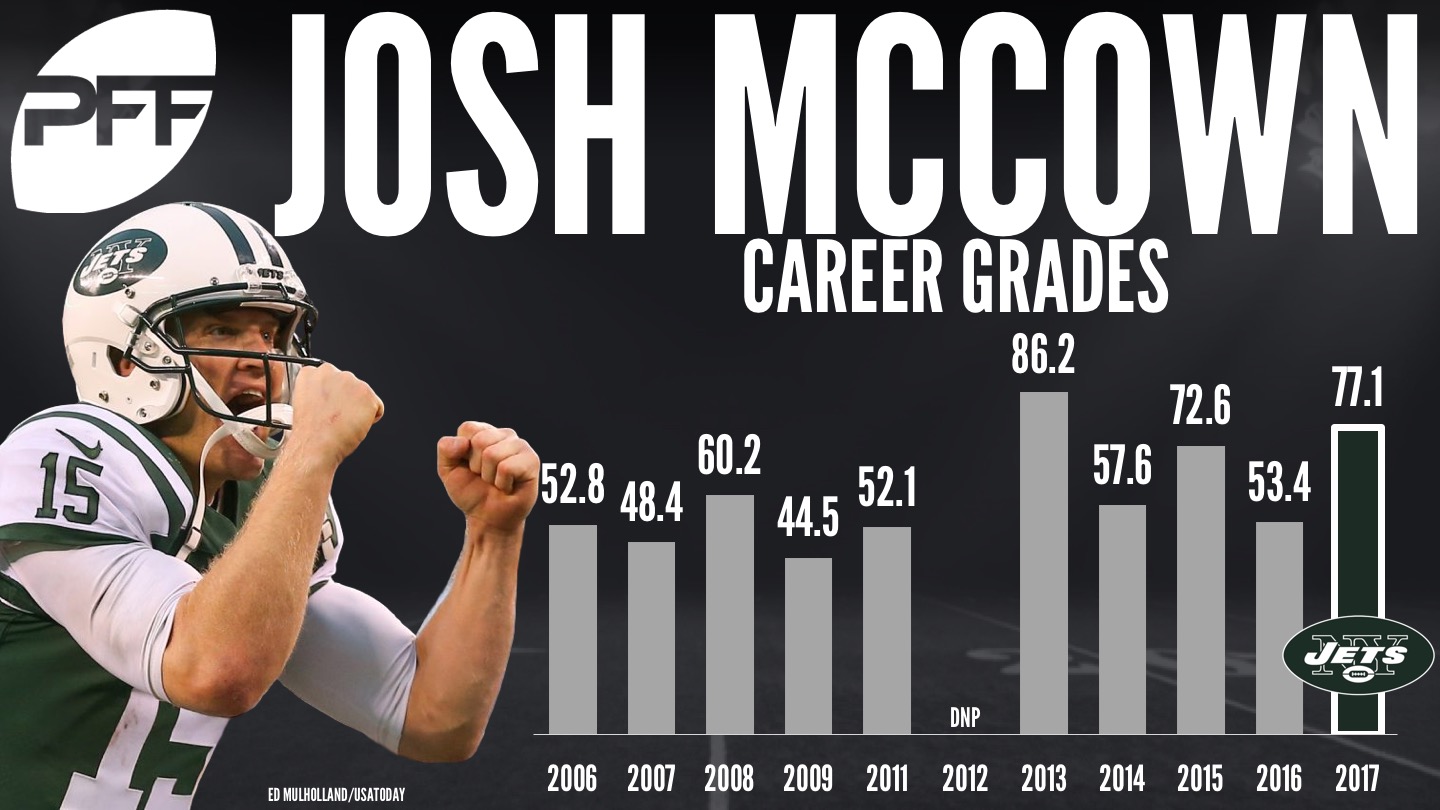 Due to his age and essentially missing two seasons, Bridgewater can be viewed very similarly to rookie quarterbacks in 2018 and it is well-documented what constant pressure and sacks can do to a young quarterback. Consequently, this would be a nightmare scenario for both Bridgewater and the Jets, as it could force the team to go back to McCown or play a young quarterback, possibly one selected with the third overall pick.