You can say a lot about the career of New Orleans Saints quarterback Drew Brees. He is, quite possibly, the most accurate quarterback ever to play the game. He is a slam-dunk Hall of Famer, he is an NFL record breaker, and he has consistently been among the very best signal-callers in the NFL.
But as well as pointing out the obvious, you can also make the case that no player in recent memory has been able to elevate receiving talent quite like Brees. After all, over the years, Brees catapulted mid-round to undrafted players like Lance Moore (undrafted), Jimmy Graham (third round), Marques Colston (seventh round), Pierre Thomas (undrafted), Darren Sproles (fourth round), Alvin Kamara (third round) and Billy Miller (seventh round) to 80.0-plus receiving grades over the course of their respective careers in New Orleans, while leading players like Colston and Graham to over 5,000 career receiving yards.
As of Tuesday afternoon, Brees now has a shot at elevating the play of yet another offensive weapon, as NFL Network's Ian Rapoport reported that a deal between the Saints and tight end Jared Cook is set to be signed. According to Rapoport, it's a two-year contract worth $15.5 million, including $8 million fully guaranteed in Year 1.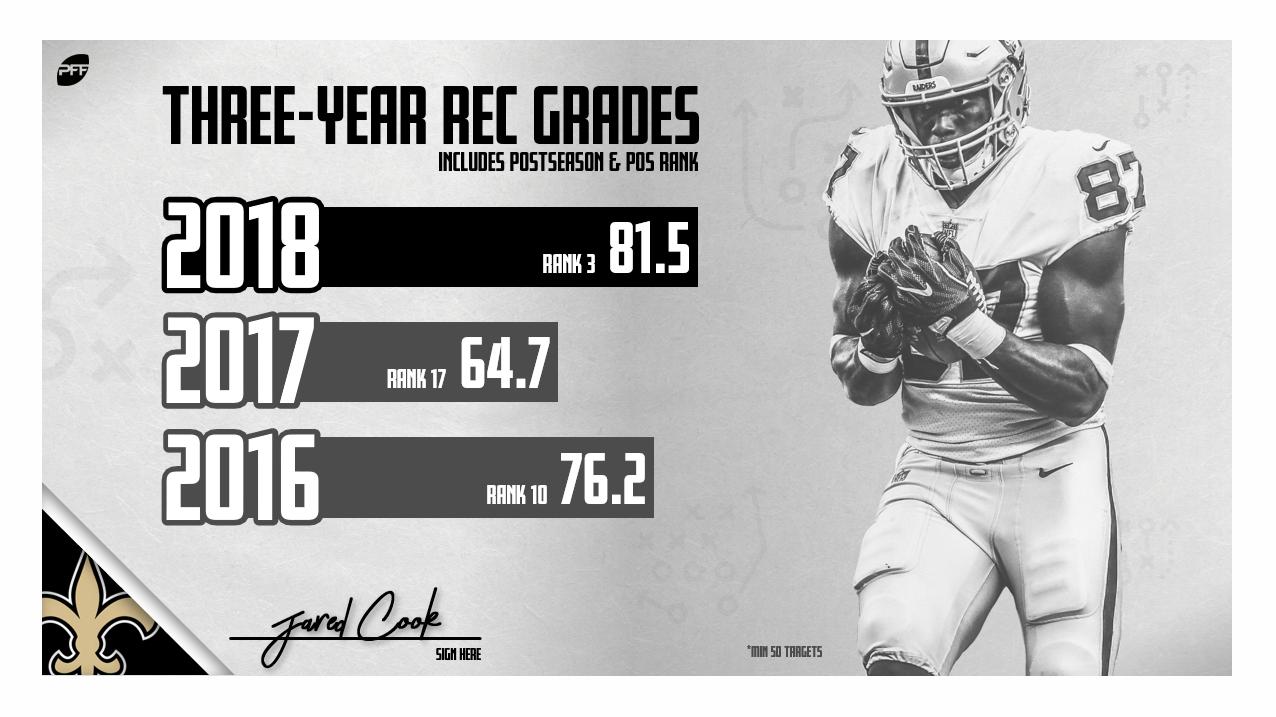 Even though he's set to turn 32 years old next month, Cook is coming off a career-best year in Oakland. After seeing the most targets among Raiders' pass catchers with 99, Cook hauled in 68 passes and set career-highs in receiving yards (896), receiving touchdowns (6), yards after the catch (361), first down receptions (46), missed tackles forced (7), plays of 15-plus yards (22) and receiving grade (81.5). Cook's average of 1.83 yards per route run was good for eighth among tight ends, and not only beat Benjamin Watson's mark of 1.54, but it also beat notable players at the position, players like Rob Gronkowski (1.73), Jordan Reed (1.64) and Kyle Rudolph (1.19).
But here's the kicker: Jared Cook was able to put up those numbers despite the fact that only 78.8% of his targets were deemed to be catchable, which was the 16th-worst mark among tight ends with at least 30 targets on the year. For comparison, Saints tight end Benjamin Watson finished second among those players with a 93.2% catchable-target rate, so imagine what Cook's production would have been like with someone like Drew Brees at the helm.
In New Orleans, Cook will join a Saints team that has been bereft of a difference maker at the tight end position since Jimmy Graham left back in 2015, and Cook has the chance to be that difference maker, as he's been among the most efficient talents at the position during his time in the league. Among 80 tight ends with at least 1000 snaps in route since 2006, Cook's career average of 12.9 yards per reception ranks fourth, while his career average of 1.64 yards per route run ties for 15th.
Of course, we've all seen just how dangerous quarterback Drew Brees can be with top-tier talent at the tight end position, as he simply dominated with Jimmy Graham on the field. Among quarterbacks with at least 100 pass attempts to tight ends from 2010 to 2014 — the duration of Graham's stay in New Orleans — Brees ranked seventh in passing grade (90.6) and eighth in passer rating (107.0), while his 6473 passing yards and 74 touchdown passes were both second to only Tom Brady over that span.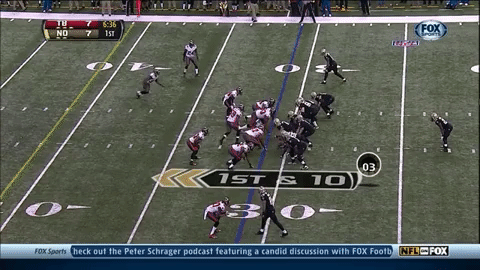 A huge weapon in Graham and Brees' arsenal was Graham's ability to stretch the seams and win on vertical routes. From 2011-2014, Graham put up an 89.9 receiving grade on vertical routes such as the one above, while his 467 receiving yards, 15 explosive plays and 31.1 yards per reception ranked second, second, and first among qualifying tight ends in that span, respectively.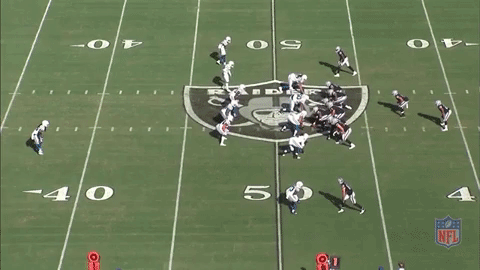 Fortunately for the Saints, Cook will bring a very similar skill set with him to New Orleans, as Cook has more than demonstrated his ability to win down the field during his career. Last season alone, he ended the year with 152 yards from go routes and seam routes, which was second to only Rob Gronkowski during the regular season. He also earned a 92.9 receiving grade and generated a 116.7 passer rating on such targets, which ranked fourth among all players at the position.
New Orleans has already compiled an abundance of offensive talent, and their high-flying offense took them to within a whisker of Super Bowl LIII last year. With Drew Brees playing as well as he's ever done and Sean Payton still orchestrating the passing attack, the addition of Cook, one more pass-catching difference maker, could very well be the final piece to the puzzle.