[Pro Football Focus recently identified Vikings CB Terence Newman as the No. 76 player overall in the 2016 NFL season. To see the full list featuring the 101 best players of the season, click here.]
The 2016 season was one defined by rookies on one end, but geriatrics on the other. Tom Brady won his fifth Super Bowl at the end of arguably the best individual performance over a season in his entire career at the age of 39, and he was only one of several notable seasons coming from players long past the age of traditional decline.
Terence Newman was another such player, and his performance in coverage was astonishing at a position where speed and athleticism is utmost.
Newman ended the season as PFF's ninth-ranked CB with a grade of 86.4, and if anything, his coverage numbers were even more astounding. Let's take a look at the numbers:
Richard Sherman was the most difficult CB statistically to complete a pass on in 2016. He went 14.9 snaps in coverage between giving up receptions, the best mark in the league, but second on that list was Newman, just behind with 14.7 coverage snaps per reception.
The big difference between the two players was when they were beat what kind of plays were they. Sherman surrendered 585 receiving yards over the year, and Newman just 245. Even when you account for Newman missing some time, he was beaten for almost half the receiving yardage per snap in coverage as Richard Sherman.
Think about that yardage total for a second. Over an entire season – 427 snaps in coverage – Newman gave up 245 yards. Raiders CB Sean Smith was at 183 after Week 1. In that game, Smith allowed 119 yards after the catch as he was torched by Brandin Cooks and the New Orleans Saints. Newman allowed 31 yards after the catch – 26 percent of the figure Smith allowed in the first game of the season – all year.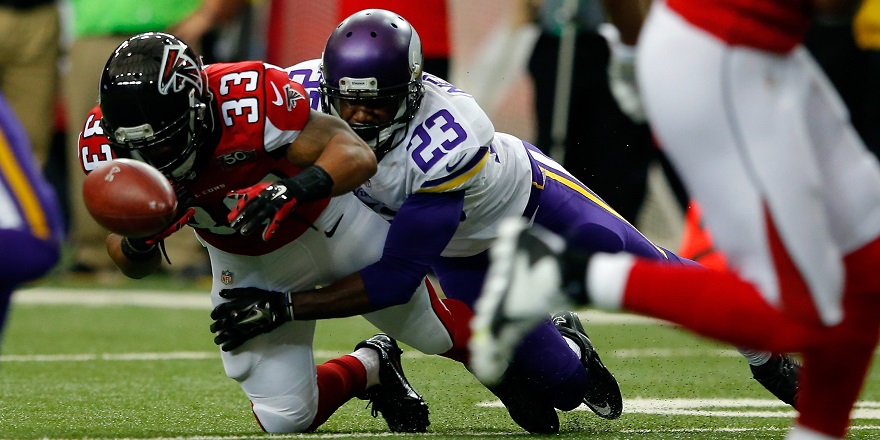 Newman finished the year with the lowest yards per coverage snap allowed figure in the league at just 0.57. That's the best mark any CB in the league has posted since the 2010 season, and significantly better than the next-best figure of this past season (from Denver's Chris Harris Jr.). It's also the best figure from any CB over the past 10 years that has been targeted more than 50 times over the season.
The Vikings cycled through a variety of coverages, and whatever it was Newman was able to prevent the big play and break on the ball preventing receptions. He still has enough speed to get by, but crucially has lost none of his quickness and ability to read and diagnose plays. He was beaten for just one touchdown all season.
Newman didn't allow a reception longer than 24 yards all season, which is better than 116 other cornerbacks.
Newman did all of this at 38 years of age, which may be more impressive at the cornerback position than at any other spot, because if you lose one step at corner you can be a touchdown catch waiting to happen at any moment.
For some context, Darrelle Revis is just 31 years old, and his play fell off a cliff this season because of his physical decline. Revis lost a step, and to cover for that he had to give himself a bigger cushion in coverage than he has in the past. To make matters worse he also lost the hair-trigger quickness he used to have to be able to mirror receivers off the line. That combination of deteriorating physical skills caused Revis to surrender 664 receiving yards this season, allow 66.7 percent of all targets to be caught, and give up a passer rating of 104.2 when thrown at, and Revis is seven years younger than Newman, or the same age gap as between Revis and second-year player Trae Waynes, the teammate Newman is keeping on the bench.
Apparently late 30s is the new late 20s for at least one player, and Terence Newman is playing some of the best football of his career for the Vikings, showing no signs of decline.