Malcolm Butler's NFL career is one of the more unique we've seen from a cornerback. Highlighted by two very different Super Bowl appearances, Butler's stay with the New England Patriots was bookended by arguably the most memorable interception in playoff history and a benching before the game's biggest stage. Butler has since moved on to the Tennessee Titans after signing a lucrative five-year contract this past offseason; however, in his first year, he didn't even crack the top 50 at his position in our grading. So was his season still a success? Well, that depends on which half you look at.

When looking at the full picture of 2018, it doesn't appear the Titans got what they paid for. After earning an overall grade of 84.1 over four years in New England, Butler finished this season with a career-low grade of 67.1. However, his season-long grade doesn't tell the entire story.
Butler's season got off to a poor start, as he registered a shockingly low coverage grade of 53.4 between Weeks 1-9. During this stretch, Butler allowed over 100 yards receiving three times, including a career-high 163 yards in Week 2. During his time in New England, Butler never allowed more than two 100 yard receiving games in an entire season. Butler's 618 yards allowed during this eight-game span ranked worst in the league, resulting in a staggering 2.31 yards allowed per coverage snap. The low point of this stretch came in Week 9 on Monday Night Football where Butler turned in a 29.7 coverage grade in a game where he gave up two touchdowns and allowed a passer rating of 145.8.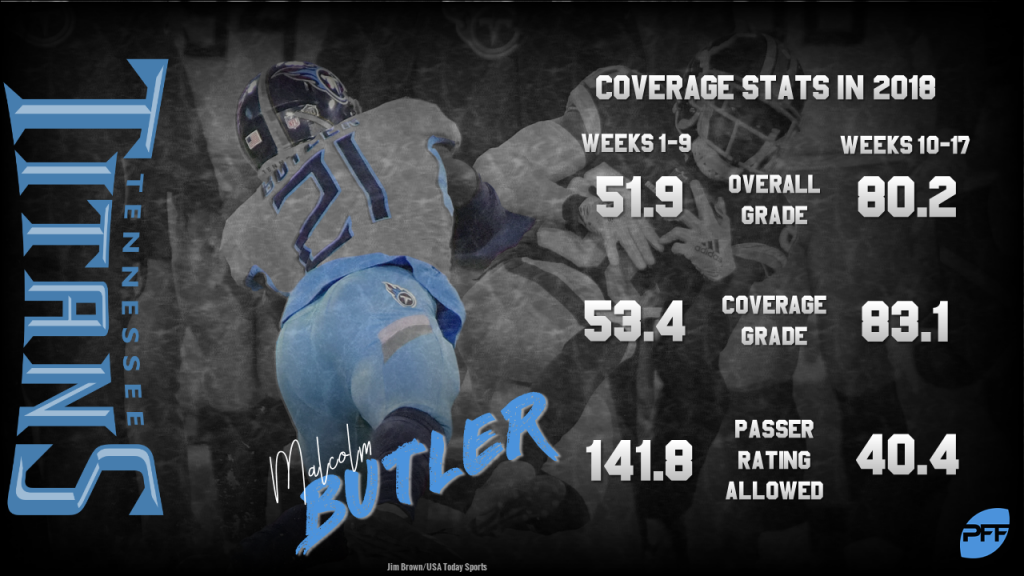 Fortunately for Tennessee, Butler reminded them exactly why they coveted him in free agency by finishing the season with an 83.1 coverage grade over their final eight games. Butler appeared to have flipped the switch starting in Week 10 – just in time for his former squad to roll into town. In a Week 10 showdown with the Patriots, Butler played 42 snaps in coverage and yielded a minuscule 0.27 yards per coverage snap, as he only allowed 11 total yards on two targets.
Five of his highest-graded games came in the second half of the season, including his best performance in Week 13 against the New York Jets. In this contest, Butler recorded his highest single-game coverage grade (91.7) since 2016 while only allowing a passer rating of 8.3. 
The fifth-year pro was spectacular down the stretch: of all corners who played at least 100 snaps in Weeks 10-17, Butler finished with the third-lowest passer rating allowed(40.4) and sixth in coverage grade (83.1).
2018 was the tale of two halves for Butler, but how he ended the season should leave Tennessee feeling plenty optimistic. Producing consistently over a full season will prove to be key for Butler, and it can help improve a Titans unit that finished 13th in our end-of-year defensive secondary rankings.