It's carousel time!
We're about to embark on an offseason of quarterback movement, from intriguing free agents, to tradable commodities, to a first round of the NFL draft that could go five or six deep in signal-callers. The 2018 NFL season could look like an entirely different league outside of the top quarterbacks, and that prospect makes for one of the most exciting offseasons in recent memory. Here's a rundown of the top available quarterbacks, a list that could add a few names depending on where certain teams decide to invest their futures over the next few weeks.
[Editor's note: All statistics mentioned below on quarterbacks can be found in the first ever PFF QB Annual, available for PFF Edge & Elite subscribers. Not a member? Sign up now.]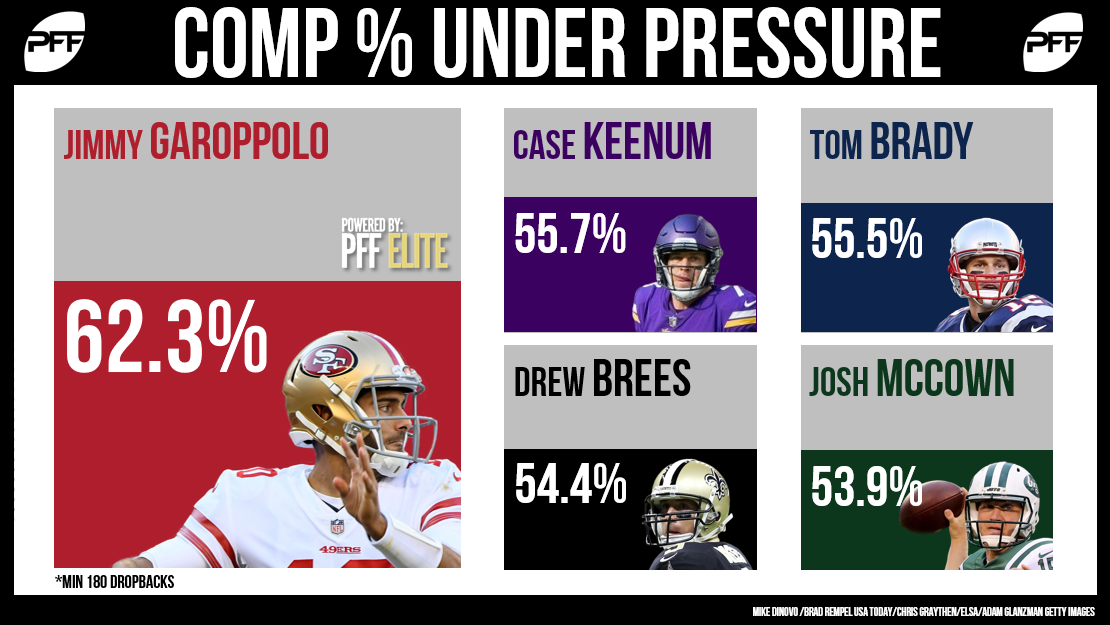 It's unlikely that Garoppolo will hit the market, so let's keep this brief. The 49ers gambled that a half-season of evaluating Garoppolo would pay off and he made them look smart with an outstanding finish to 2017 that invigorated the fan base. Whether he is franchised tagged or locked up long term, Garoppolo showed that he is the future in San Francisco after his 85.2 overall grade ranked 10th in the league and leading the way in percentage of positively-graded throws. From a quick release to strong decision-making and excellent work under pressure, Garoppolo was as advertised for head coach Kyle Shanahan and that pairing will be one of the most exciting in the NFL in the coming years.
While he's not technically on the open market, Smith will likely be available after the Chiefs selected QB Patrick Mahomes in the first round last year. Smith is coming off a career-best 87.2 grade, good for sixth in the NFL including the playoffs, so he should garner plenty of interest, especially from teams considered to be a quarterback away from the playoffs or even a championship. While quarterbacks shouldn't always get credit for wins and losses, the wins seem to follow Smith due to his ability to take care of the ball, and he once again ranked in the top-five in the league at avoiding turnover-worthy plays. The difference in 2017 was his ability to get the ball down the field, where he led the league in adjusted completion percentage (56.5), yards (1,344), touchdowns (12) and passer rating (131.4) on deep (20-plus yard) passes. Even if he can't duplicate those gaudy downfield numbers, Smith can take care of the ball as well as any signal-caller in the league and he's shown the ability to make big-time throws, a combination that will be very appealing across the league.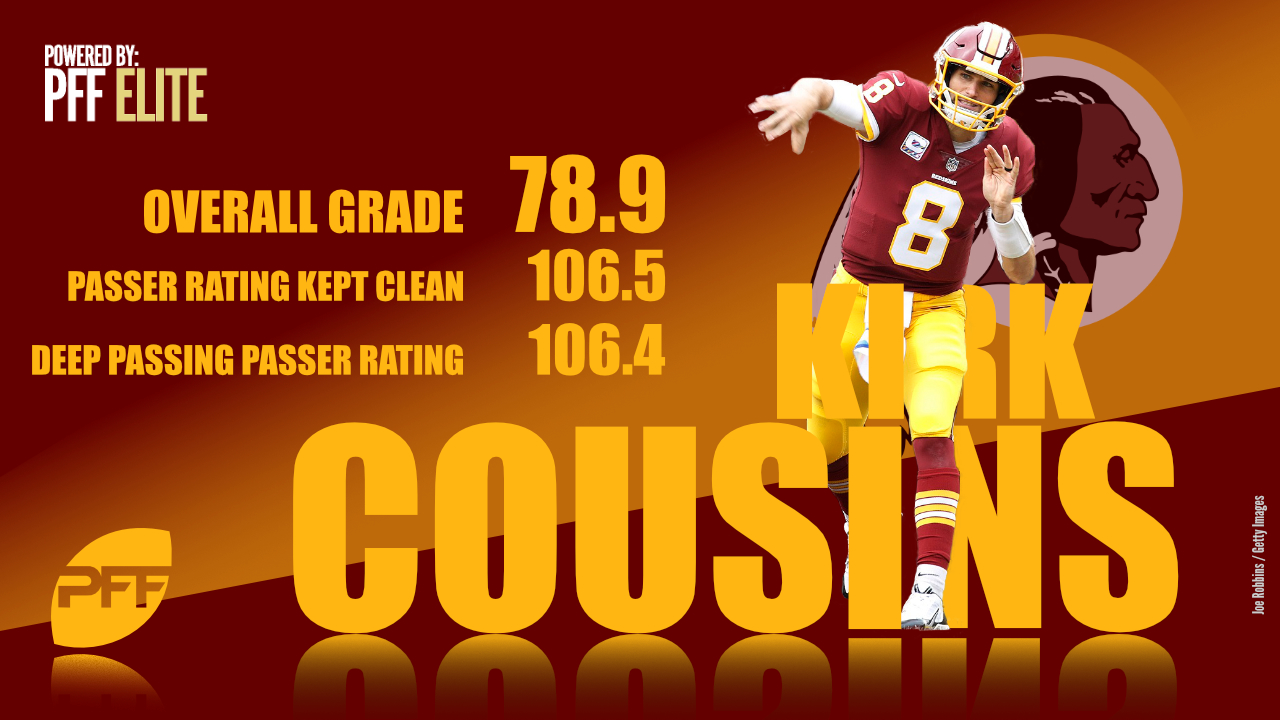 Cousins may have finally run his course in Washington, and while they may be looking for bigger and better, there are plenty of teams around the league ready to bring Cousins into the mix. When comparing traditional stats to PFF grade, Cousins has certainly been inflated statistically throughout his career (No. 5 in passer rating in 2015, No. 12 PFF passing grade; No. 14 in passer rating in 2017; No. 22 in PFF passing grade), but he's in the tier of quarterbacks capable of putting together strong seasons with the right supporting cast. Last year was the worst group of surrounding talent in his three full years as starter and it showed in his 78.9 overall grade, but there will still positive moments in which it looked like Cousins could carry his depleted offense to key wins. The problem has always been week-to-week consistency for Cousins, who will run hot and cold for extended stretches, perhaps one of the reasons the Redskins have landed squarely on the fence about his future prospects. All that said, Cousins can rank in the top half of quarterbacks in any given year with the ability to put up top-10 stats, and if you get that hot stretch of Cousins at the right time, perhaps there's a playoff run in there as well.
When healthy, Bradford has been solid the last three years with flashes of brilliance. Health has always been a concern, but there's also a fair argument that he's never performed statistically above expectations, even in years with strong PFF grades. Bradford's last two full seasons saw him post the top overall grades of his career (86.2 in 2015, 83.4 in 2016), as he showed excellent accuracy and decision-making in both seasons. Beyond the health issues, questions remain about Bradford's aggressiveness and his ability to elevate those around him, but he appeared to be on the verge of a breakout (even eight years into his career), and he'll warrant a look on the open market for teams that miss out on the top wave of signal callers.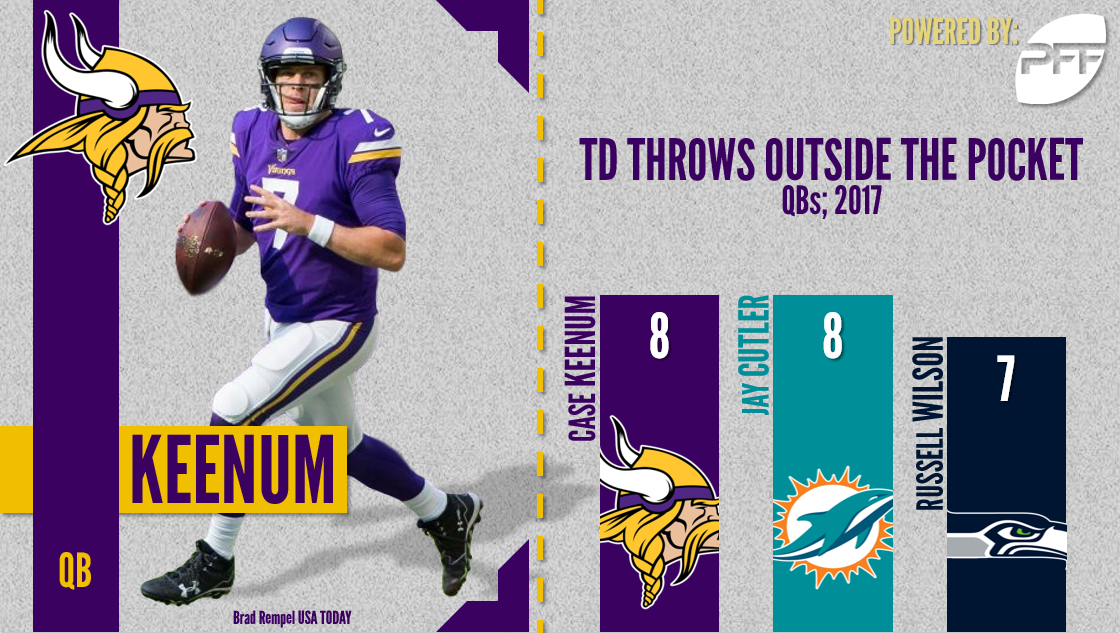 There's always risk when there's only one year of strong play, but it's also hard to ignore the improvements made by Keenum in 2017. He took care of the ball, sprinkled in tight-window throws, and perhaps most impressive, made the Vikings' makeshift offensive line look good for most of the year (if you're into judging offensive lines on sacks alone). Keenum's ability to avoid sacks helped keep the Vikings' offense on schedule while his No. 5 ranking in avoiding turnover-worthy plays was reflected in his low interception total (seven). However, Keenum was armed with the best receiving tandem in the league in Stefon Diggs and Adam Thielen, both of whom ranked among the top-five receivers in contested catch percentage, just one measurement that shows their ability to elevate a quarterback's game. Potential suitors should certainly keep the one-year wonder and supporting cast aspect in mind when evaluating Keenum, but there's also a chance that he's turned the corner in his career and worthy of a long-term deal.
It's all about managing expectations when it comes to Taylor. If you're looking for a classic, progression-reading pocket passer, he may disappoint. But if you acknowledge that an unorthodox process often leads to a desirable result in the form of a classic game-manager who can take care of the ball while making big-time throws outside the numbers, Taylor will find the right fit. His risk-averse game matches well with the team that is already fielding a good defense, and if they're willing to use Taylor's athleticism in the run game, he can win plenty of games in that controlled environment. Questions remain as to whether Taylor can go out and win games with his arm in a pass-first system, but if managed properly, there is plenty of value in Taylor's game.
The big question for Bridgewater is health, as effects from his early-2016 injury remain an unknown. Prior to the injury, he was off to a solid start to his career, grading at 84.6 as a rookie in 2014 and 82.1 in 2015. Both years saw Bridgewater fall closer to a safe, game-manager rather than a gunslinger type as he was on the lower end on both big-time throws and turnover-worthy throws, so like other quarterbacks on this list, he may fit best with a team already equipped on the defensive side of the ball, Regardless of style, Bridgewater's health is the biggest question that needs answering, but he may be the perfect low-risk, high-reward player in this cluttered market.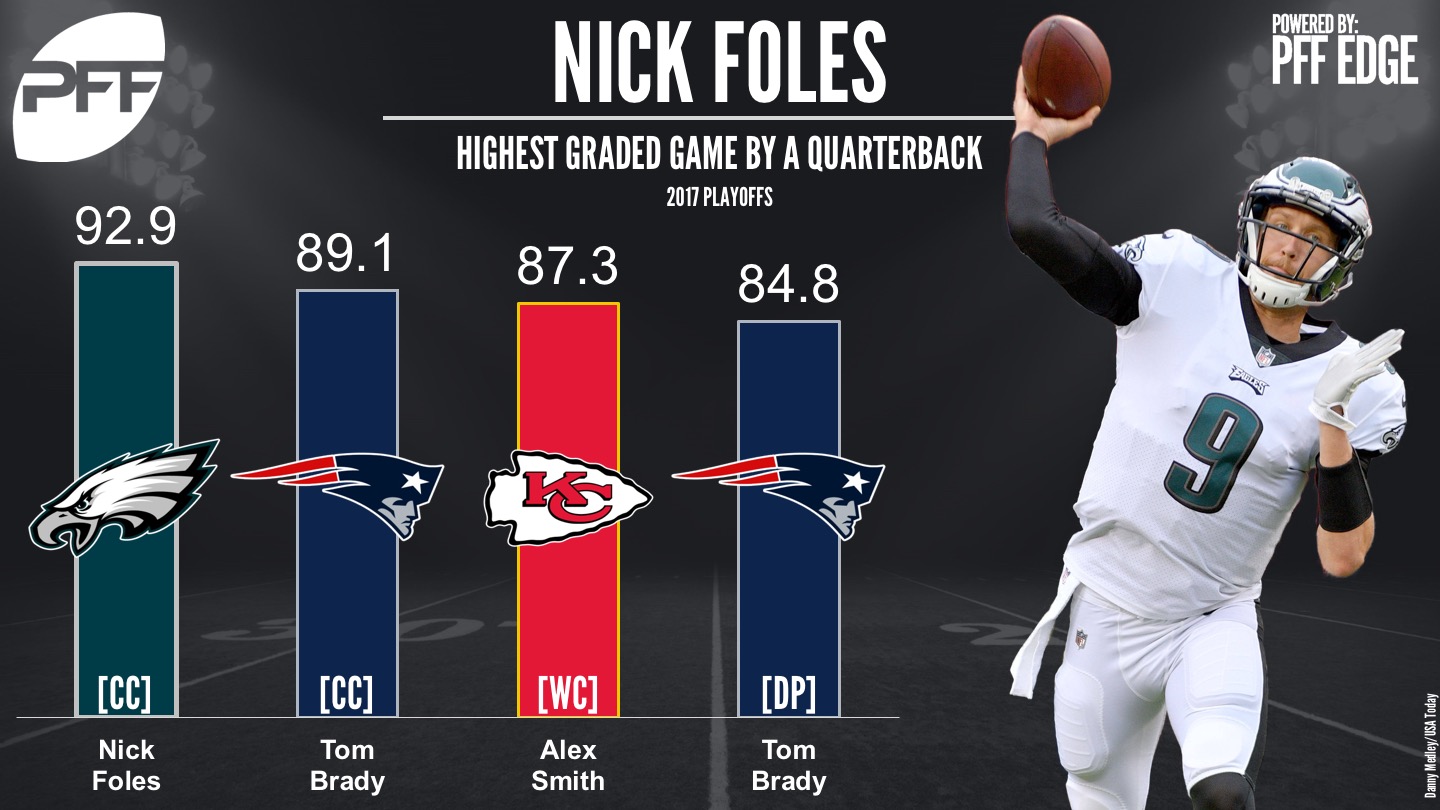 It's hard to call Foles a one-game wonder after one of the best individual playoff performances in the PFF era, but it was an unexpected turn of events that suddenly lands Foles on this list. When summing up his career, it's easy to point to 2013 as the anomaly, as he led the league with an absurd 119.2 passer rating and 27-to-2 touchdown-to-interception ratio, but a No. 16 PFF ranking highlighted it at the time as scheme/personnel-based and unsustainable. The subsequent years proved that analysis correct after two sub-par years as a starter and two years as a backup. But after flashes of good play, including a dominant NFC Championship game, could Foles be coveted for teams who miss out on the big horses on the quarterback carousel?
With only a few solid regular-season starts and a poor playoff performance under his belt, McCarron's value is unknown around the league, outside of a failed trade deadline rumor that claimed multiple picks were on the table. McCarron is a much bigger unknown compared to others on the list, though there are some around the league who will swear by his ability to win at Alabama while latching onto the few glimpses of strong play in 2015. He finished that season with a 76.9 grade during the regular season and a 73.3 overall grade when including the playoffs.
[Stay up to date with all the league's free agents by following along with our PFF Free Agent Tracker.]
Wild Cards
New head coach Pat Shurmur is saying all the right things when it comes to Manning and his ability to play for a few more years, but the reality is that the Giants are picking at No. 2 in the draft, and that opportunity is simply rare. New York has a prime opportunity to almost hand-pick their signal-caller of the future, and no level of confidence in Manning's ability will prevent that from happening. On the field, Manning hasn't graded over 80.0 since 2012, but his 2017 was actually better than expected given the injuries at wide receiver, a lack of a running game and the near-annual poor display up front on the offensive line. Assuming the Giants find their future franchise quarterback in the draft, they'll be fielding calls from quarterback-needy teams in hopes of plucking one or two good years out of Manning in a transitional role.
This one depends on Andrew Luck's health. The Colts snagged Brissett straight up for WR Phillip Dorsett and the trade paid off as Brissett showed enough to remain intriguing as long-term starter. At worst, he looks like an excellent backup who is capable of stringing together strong games and moving the chains with a big arm and athleticism. If Luck is healthy and ready to go, Brissett could be flipped to a desperate team later in the offseason after all the chips have fallen.