Through the early stages of the first NFL Sunday of the season, things looked bleak for our Week 2 Sunday Night Football challengers, and bleak might not be harsh enough of a categorization. The Philadelphia Eagles were down 17-0 in the second quarter to a Washington Redskins team that many expected to be among the worst teams in the NFL. Meanwhile, the Atlanta Falcons couldn't get anything going on offense and ended the first half sitting at the bottom of a 21-point deficit in their trip to Minnesota.

The Eagles managed to find their footing eventually, coming away with a 32-27 victory behind several deep shots to Desean Jackson, who is back in the City of Brotherly Love and *checks notes* hasn't lost a step. The Falcons, on the other hand, never pulled it together. Their 28-12 loss in Minnesota can be labeled uninspiring at best.
So, it is with the Eagles at 1-0 and the Falcons at 0-1 that the two teams prepare to face off for what will be their fourth matchup in the last four seasons. It's a game that the Eagles have won in each of the past three years, including a 15-10 victory in the 2017 playoffs that helped propel Philadelphia to a Lombardi trophy.  Will Sunday make it four in a row for Philly, or will the Falcons right the ship after an ugly loss in the opener?
It depends heavily on the answers to these questions…
All readers can preview the Eagles' matchup with the Falcons for FREE in PFF Greenline. 
WILL THE FALCONS TACKLES PUT UP MORE OF A FIGHT THAN IN WEEK 1?
Watching the Falcons and Vikings game from last weekend, it didn't take long to realize that the Vikings' edge rushers were more than the Falcons tackles could handle. Their pass-blocking grades reflected that.
Jake Matthews came away from the contest with a pass-blocking grade of 47.0 which ranked second-to-last among 32 qualifying left tackles. He allowed five pressures in 52 pass-blocking snaps, including two sacks, but that doesn't tell the story on just how overmatched he was. Matthews allowed two additional pressures on plays that ended up being nullified by penalties. Let me tell you, the fact that they didn't end up counting doesn't diminish just how bad Matthews looked on those plays. And if you don't believe me, here is Everson Griffen taking Matthews' soul with a spin-move sack that later came off the board thanks to an illegal hands to the face penalty.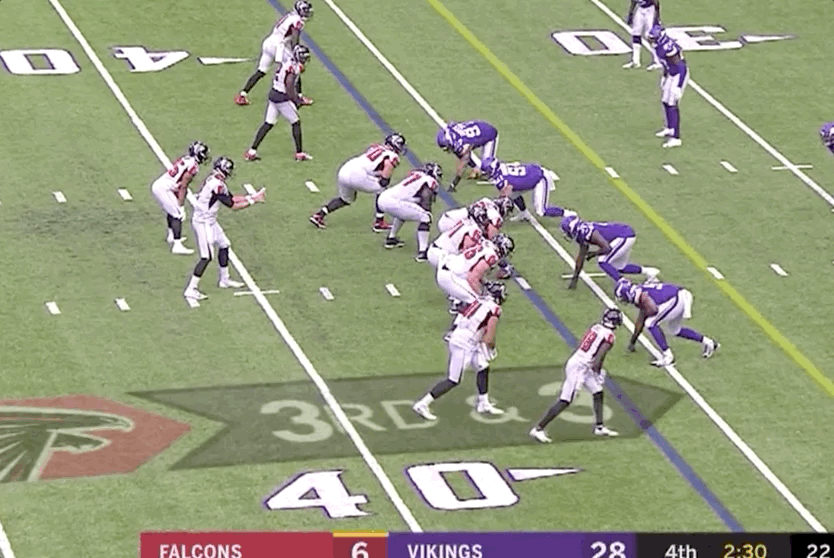 Ty Sambrailo and their first-round rookie Kaleb McGary split time at right tackle, but neither guy was very impressive, as they finished 24th and 25th, respectively, in pass-blocking grade among qualifying right tackles. They combined to allow six pressures in their 52 pass-blocking snaps, and McGary was beaten twice on plays that didn't result in a pressure. His effort appeared to be enough to win him the starting job, however, as the Falcons released an updated depth chart this week that listed the rookie as the starter over Sambrailo.
It's going to be trial by fire for McGary as he figures to see a whole lot of one of the top pass-rushers in the league, Brandon Graham. Graham's sack numbers won't blow you away, but he has consistently found himself near the top of the league in quarterback pressures. It's not just Graham, though. As a team, the Eagles generated pressure off the edge on 20.1% of their pass-rushing snaps in 2018, tied for the second-highest rate in the NFL. The departures of Chris Long and Michael Bennett make this a different group in 2019, but they still figure to be a formidable challenge to a Falcons' line that doesn't look ready for it based on last week.
WILL JULIO JONES BOUNCE BACK IN ONE OF HIS FAVORITE MATCHUPS?
Julio Jones was a complete non-factor in the opener against the Vikings to the tune of 11 targets and just 31 receiving yards. As you might imagine, just 31 receiving yards in a game isn't something that we're used to associating with Jones, especially on that kind of target volume. Over the entirety of his career, this was the first time that Julio saw 10 or more targets and recorded 50 or fewer receiving yards. What does that mean? Well, to start, it means that the Eagles will likely be on the receiving end of a Julio Jones that is determined to improve on last week's results. Given his history in the matchup, that's not a good thing for Philadelphia.
Dating back to when he entered the league in 2011, no wide receiver with 100 or more routes run against the Eagles has recorded a higher receiving grade than Julio in the matchup. It hasn't translated to wins for Atlanta, particularly recently, but the Eagles have had no answer for Jones and his matchup-high 3.46 yards per route run …until the Falcons get into the red zone.
In a fascinating conundrum that isn't simply limited to his games against the Eagles, Julio's production falls off a cliff once Atlanta crosses the 20-yard line. In those six games against Philadelphia over his career, Jones has just two catches on seven targets for 11 yards and a touchdown inside the red zone. Given his size and general athletic dominance over everyone that covers him, Jones's lack of usage and production near the goal line doesn't make a whole lot of sense. Whether or not he can finally translate the success that he's had between the 20's against the Eagles over to the red zone will be something to watch for on Sunday night.
CAN THE FALCONS GET OFF THE FIELD ON 3rd AND 4th DOWN?
Since entering the league in 2016, Carson Wentz is one of six quarterbacks to post a passing grade of 80.0 or higher, joining Tom Brady, Aaron Rodgers, Andrew Luck, Matt Ryan and Drew Brees. Solid company if I say so myself. That late-down success was amplified in the 2019 opener for Wentz. Against the Redskins, his stat line couldn't have looked much better on those money downs: 12 / 14, 197 yards, three touchdowns and a perfect passer rating of 158.3. It was really the connection with Jackson that drove the success, as the duo combined for completions on all six of their third and fourth-down targets for 146 yards and two touchdowns.
If things go the way that they did last season for the Falcons' secondary, they're in for a long night come Sunday. Only the Cincinnati Bengals allowed a higher conversion rate on 3rd and 4th down pass plays last season than the Falcons (46.3 percent). As a team, the Falcons' coverage grade on those plays finished above only the San Francisco 49ers. They simply didn't generate big plays and get off the field when they had the opportunity in coverage.
Last week, Minnesota didn't have to pass the ball against Atlanta seeing that their offensive line was having its way with the Falcons up front in the run game. Kirk Cousins coasted to one of the easiest wins you'll ever see a quarterback have, attempting only ten passes and passing for fewer than 100 yards with a passing grade of 78.9. When the Vikings did get forced into a pass on 3rd down, Cousins completed passes on both plays and picked up a first down in each of their two opportunities. The late-down pass defense is something that the Falcons are going to have to figure out and figure out fast if they hope to have success against one of the better late-down passing offenses in the NFL.
CAN DAMONTAE KAZEE BOLSTER SLOT COVERAGE FOR THE FALCONS?
As was a common theme for most of the Falcons' coverage unit in 2018 after multiple injuries took their toll on the defense, the Falcons were picked apart in the slot. Their slot defenders were targeted 176 times in 2018, second-most of any team in the league. Those targets yielded a league-high 71 first downs through the air and a top-five success rate for opposing offenses. That can fall largely on Brian Poole, who notched a sub-60 coverage grade in the slot in 2018 before moving on to the New York Jets this offseason. Rather than bringing in someone from the outside to replace Poole, the Falcons looked in-house and moved their ball-hawking free safety Damontae Kazee to the slot.
It's a new position for Kazee in that he doesn't have much familiarity with the slot, but he is certainly no stranger to playing cornerback. As an outside cornerback at San Diego State, Kazee ranked first among all FBS cornerbacks with 500 or more coverage snaps from 2014 to 2016 in overall grade. He also led that same group in total interceptions (15) and ranked among the top ten players in passer rating allowed (47.8). He was dominant on the outside, and it makes sense for the Falcons to try him out inside at the NFL level.
The Eagles will pose his first true test of the season. Not only did the Vikings hardly pass the ball, but they rarely lined up in a formation where three or more wide receivers shared the field. They only ran ten such plays the entire game, limiting Kazee's opportunities to get onto the field. He should see more run this week, however, and he should be tested by Wentz and company.
Wentz had a down year in 2018 when looking towards the slot, throwing just one touchdown and recording a passer rating of 72.5, but he led the NFL in both slot touchdowns (16) and passer rating (132.1) the prior season. Last week, he attacked the Redskins in the slot with the final damage coming in at three touchdowns and a passer rating of 147.3.  Kazee should play a big role in making sure it isn't a repeat performance for Wentz in the slot.
BONUS: WILL MOHAMED SANU ATTEMPT A PASS?
This likely won't be instrumental to the outcome of this game, but I couldn't wrap up this piece without touching on how absurd Mohamed Sanu's passing numbers were in the NFL. Yes, it's only eight pass attempts, but on his eight career attempts, Sanu has gone 7-for-8 for 233 yards and four touchdowns. Among all players with five or more regular season pass attempts since Sanu entered the league, Sanu is the only player with a perfect passer rating and his 29.1 yards per attempt lead the NFL by 14.7. Four of his eight attempts have registered as big-time throws on the PFF grading scale. The Falcons have a legitimate trick-play weapon on their offense, and it seems as if he should have more than eight career pass attempts. If the offense comes out stagnant like it did in the opener, why not give Sanu a chance at another big play with his arm?
Read More PFF Analysis