It's rare that a player signs with a team on a one-year "prove-it" type of deal only to go on and win a prestigious end-of-season award, but that's exactly what Shaquil Barrett is on track to do, putting himself in the running to be the NFL Defensive Player of the Year with a stunning first quarter of the 2019 campaign. While he has exceeded everyone's expectations so far with the Buccaneers, his ability as a pass-rusher should have never been in question, and he should have been in much higher demand than he was this offseason.

Barrett is costing the Tampa Bay Buccaneers just $4million against the cap this season, and really right now the only negative for them is that it's just a one-year deal, because Barrett is going to cost significantly more than that to keep in 2020 and beyond. Through the first four weeks of the season, he is tied with Los Angeles Chargers edge defender Joey Bosa as our second-highest player at the position, with only Chicago Bears star Khalil Mack out-grading them. 
His work as a pass-rusher has been phenomenal, particularly over the past three weeks. From 172 pass-rushing snaps in 2019, he has already racked up nine sacks, two hits and 14 hurries. He leads all edge defenders in sacks, ranks fourth in total pressures and is tied for second with three forced fumbles.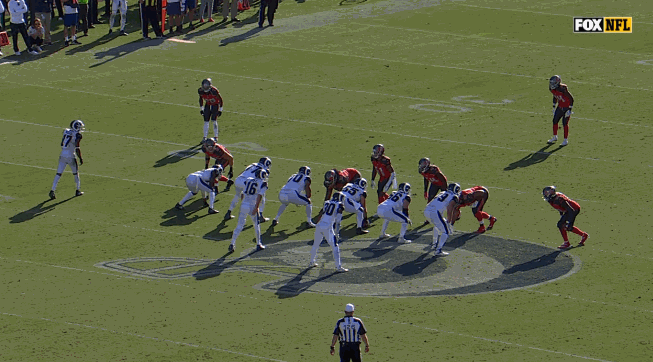 Those forced fumbles have been vital, and we saw just how important he is to this defense late against the Los Angeles Rams. On 1st-and-20 with 1:17 on the clock in the fourth quarter, the Rams down were eight points and in Tampa Bay territory. Enter Barrett, who destroyed right tackle Rob Havenstein with a spin move before forcing the fumble as he sacked quarterback Jared Goff. Defensive tackle Ndamukong Suh duly picked that ball up and sprinted for the end zone, sealing the win for the Bucs.
It is already one of the most important games of the season, but making plays is all Barrett has done in 2019, so it shouldn't shock anyone. Even in just the game against the Rams he also had an interception that he tipped to himself, and he recorded pressure against six difference blockers for the Rams. He racked up four sacks and nine pressures in total against the New York Giants, forcing two fumbles along the way. To put it simply, he's having an incredible season.
This season has been impressive, but there were clear signs that he was a player who was capable of a big season based on his time in Denver. From 2015 to 2018, the former undrafted free agent was on the field for 861 pass-rushing snaps, racking up 15 sacks, 22 hits and 67 hurries. Fifteen sacks over four seasons might not seem that impressive, but as we know, total pressures are a better indication of pass-rush success than sacks, and in that span, he averaged a pressure once every 8.3 pass-rushing snaps. To put that into perspective, Mack has averaged a pressure once every 6.9 pass-rushing snaps, while Seattle Seahawks edge defender Jadaveon Clowney averages a pressure once every 9.7 pressures. So while Barrett might not be Khalil Mack, he has been a more productive pass-rusher than Clowney thus far into their respective careers. 
Whether or not Barrett can maintain his sack rate going forward remains to be seen. In order to win the NFL Defensive Player of the year award, he's likely going to have to get close to the NFL single-season sack record, set by Michael Strahan back in 2001. We don't track sacks as halves here at PFF —  instead, we give full credit to players who got there at the same time — so right now, Barrett is on pace for 36 on the year. That would be ridiculous, and when you consider that it would require him to average more than two sacks per game for the rest of the year, staying on the pace is not going to happen. However, to reach 23 sacks, he needs to average 1.2 sacks per game over the final 12 contests this year, which is much more doable. 
If there is one thing that could derail that though, it's the two games against the New Orleans Saints, starting with this Sunday's battle. The Saints' bookend tackles in Terron Armstead and Ryan Ramczyk have yet to allow a sack between them on a combined 510 pass-blocking snaps in 2019. With Ramczyk allowing just one hit and seven hurries, and Armstead allowing only three hits and three hurries, they are allowing a pressure just once every 31.9 and 42.5 pass-blocking snaps, respectively, so far this season. That makes their matchup with Barrett one of the most highly anticipated of this weekend. Should Barrett find a way to come out of this matchup with another pair of sacks or more, Michael Strahan should probably start to worry.