Quietly, right guard Shaq Mason has strung together three straight dominant seasons along the New England Patriots offensive line. He's proving to be an NFL Draft steal as a former fourth-round selection out of Georgia Tech, and while it took him a while to get up to speed in pass protection, Mason ended the most recent season as the highest-graded guard in the entire NFL.
As a fixture of the Patriots' Super Bowl-winning team, Mason produced an 85.0 overall grade (including playoffs) that ranked fourth among all offensive linemen in 2018, with the next closest guard being Zack Martin of the Dallas Cowboys who graded at 78.6. Mason also ended five games with an 80.0 single-game grade or higher last season, with his best single-game grade coming in Week 6 against the Kansas City Chiefs, where he ended the contest with an elite mark of 90.6.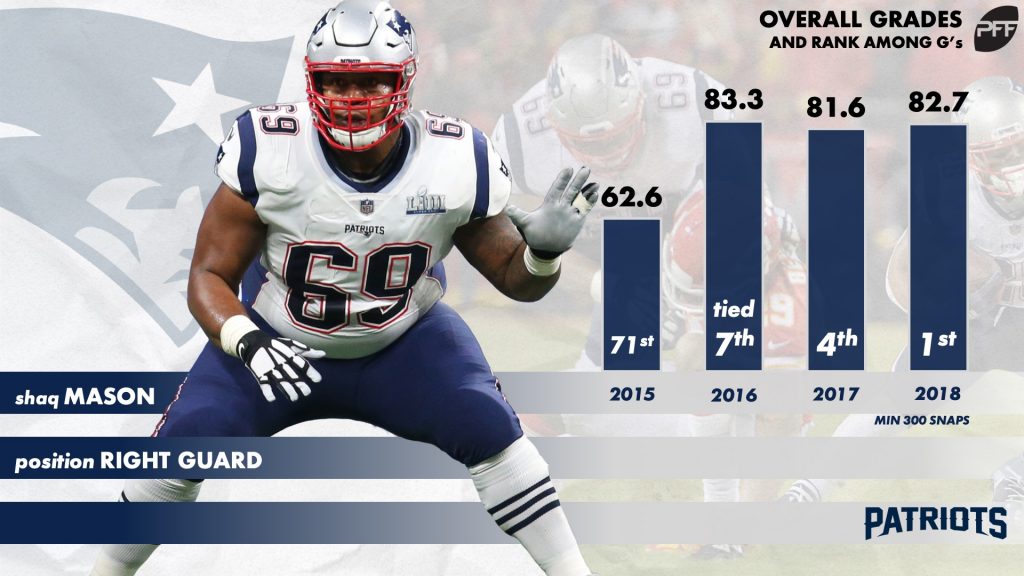 His 80.6 run-blocking grade ranked first among offensive guards, while his 80.2 pass-blocking grade was a career-best and ranked in the top 15 at the position. In total, Mason allowed 20 pressures on quarterback Tom Brady, but he allowed only one sack. 
It's an understatement, but Mason has been an ironman along the interior offensive line for New England. The 2018 season marked his third straight year with over 1,200 snaps at right guard, and over those last three seasons, Mason has produced an overall grade no less than 81.6, which he recorded in the 2017 campaign.
From 2016 to 2018, Mason has earned an 87.8 three-year overall grade, second only to Zack Martin (90.2) over that span, but his three-year run-blocking grade of 86.6 is good for first, which shows the extent of his domination in the ground game.
The Patriots offense offers up a diverse game plan from week to week in their attempts to open up lanes for their running backs, and Mason's ability to adapt to their different schemes at a high level might be his most valuable asset. Over the last three seasons, the team ran the ball on 1,687 snaps, with 44.1% of their plays being either an outside-zone or man-blocking scheme, which just so happen to be two areas where Mason excels.
On his 355 run-blocking snaps utilizing the man-blocking scheme, Mason has produced a 76.5 grade, 15th among guards over the last three years. He performed even better in the outside-zone scheme, where he earned an 88.7 run-blocking grade, fourth at the position throughout that span.
As stout as Mason has been as a blocker in the running game, he's also performed at a high level in pass protection. Although he hasn't been among the elite in this category, Mason has shown improvement each season, with 2018 being his first season with a pass-blocking grade above 80.0. In his three seasons since 2016, Mason has generated a 97.7 pass block efficiency rating (22nd among qualifying guards), and he has allowed a pressure rate of only 4.0% (21st).
Mason may go about his business quietly, but his consistent dominance among offensive linemen cannot be overlooked. Prior to last season, the Patriots locked up Mason with a five-year, $45 million contract extension with $23.5 million fully guaranteed, which is an absolute bargain for the league's highest-graded guard. Currently, his $9.0 million average yearly salary ranks 41st among all offensive linemen and seventh among right guards, per Over the Cap, which means that the Patriots have won…again.
Mason is just entering the prime of his career, and if his career trajectory tells us anything, it's that he's positioned be an elite offensive lineman for many years to come.