During the NFL season, our team of 300-plus staff spend around 20,000 man-hours grading and analyzing every play of the NFL season, from the kickoff in the Hall of Fame game to the final play of the Super Bowl.
Now that the 2018 season is officially in the books, we can now take a look back at the season through the eyes of each NFL team and using the grades and statistics that we have compiled, we and detail what went right, what went wrong, and explain what that team has to look forward to.
Below is the 2018 season recap for the Seattle Seahawks.
Overview
The Seahawks made an impressive playoff run in 2018 before falling to the Dallas Cowboys in the wild-card round. They've rebuilt the roster in recent years, but there are still stars remaining in Seattle.
What went right?
Bobby Wagner's seventh year in the NFL turned out to be his best yet. Wagner posted a career-high 91.8 overall grade, all while missing just one tackle all season long.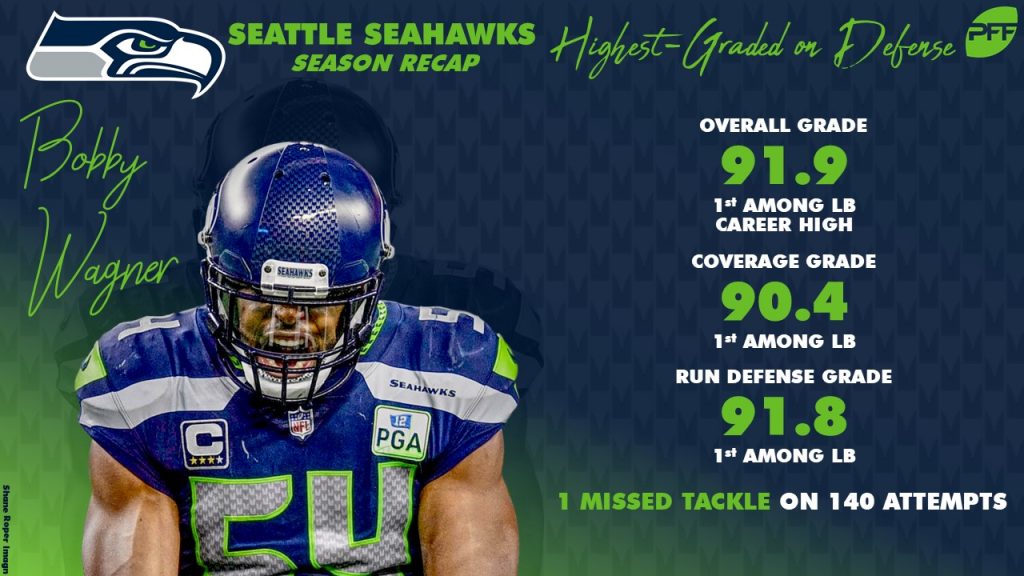 Russell Wilson continued to lead the Seattle offense in 2018 by registering the second-highest overall grade of his career at 87.2. Wilson also proved to be touchdown-throwing-machine, as he tied with Matt Ryan for third-most passing scores in the league (35).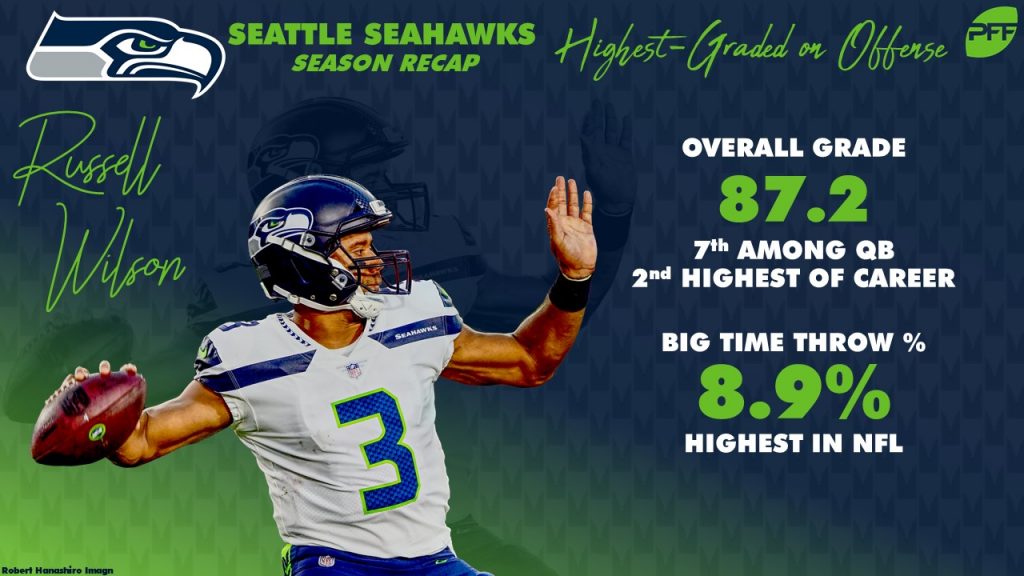 Despite drafting rookie running back Rashaad Penny in the first-round, Chris Carson stole the show in the Seahawks' backfield in 2018.  Carson posted an 85.6 overall grade with 831 of his 1,151 rushing yards coming after contact.
What went wrong?
Although the Seahawks had a league-low 502 pass snaps, their offensive line tied for the 12th-most sacks allowed in the NFL.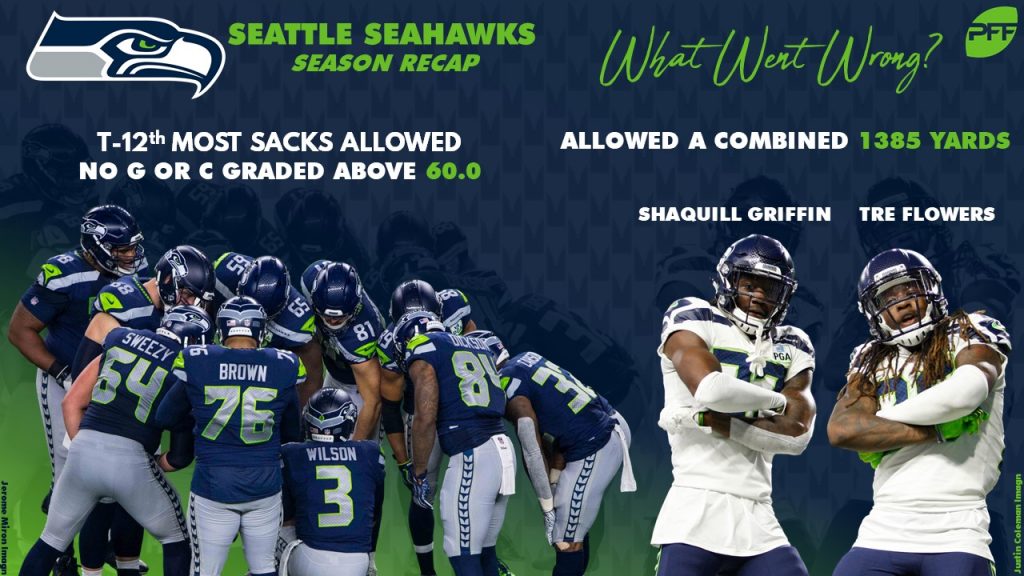 Replacing the Legion of Boom is a work in progress, as starting cornerbacks Shaquill Griffin and Tre Flowers combined to allow 1,385 receiving yards.

The Seahawks' interior offensive line struggled this season; of their six linemen to log snaps at center or guard, none of them earned an overall grade above 60.0.
Highest-graded player on offense

QB, Russell Wilson, 87.2
Wilson was the highest-graded offensive player at 87.2 overall, good for seventh-best during the regular season. He had the highest percentage of big-time throws in the NFL.
Highest-graded player on defense
LB, Bobby Wagner, 91.9
Wagner was the highest-graded defensive player as he paced all linebackers with a 91.9 overall grade. He ranked second in the league with a 91.8 run-defense grade and first with a 90.4 grade in coverage.
Breakout Player/Secret Superstar
Fourth-year WR Tyler Lockett showed up in a major way this season for the Seahawks. He posted a career-high 80.3 overall grade and earned a  remarkable, perfect passer rating of 158.3 on balls thrown his way.

Key Rookie
Undrafted interior defensive lineman Poona Ford showed potential in a part-time role for the Seahawks this season. Ford, who appeared in 11 games during the regular season, registered an overall grade of 90.3 while finishing fifth in run-stop percentage among interior defenders with at least 100 snaps against the run.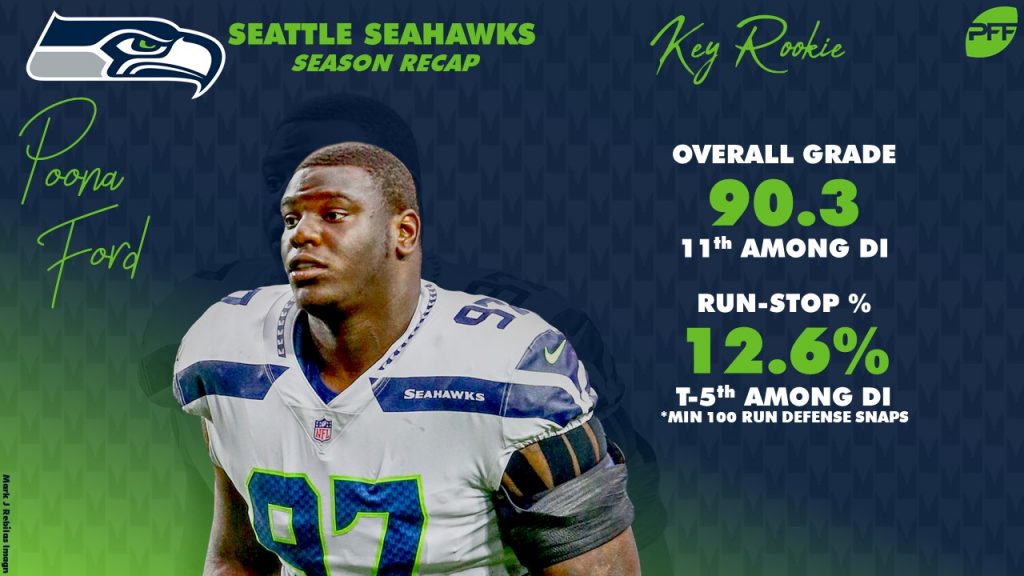 In conclusion
Seattle's rebuild continues and 2018 was a step in the right direction. An influx of talent and another year of development for the youth movement should do them well in 2019.