In PFF's grading system, we have a simple motto for pass-rushers: Pressure equals production. Sacks can be fickle. The difference between a sack, a hit, and a hurry usually has more to do with the quarterback throwing the ball than anything a defensive lineman can control. No better player exemplifies this more than Seattle Seahawks DE Michael Bennett.
By official NFL statistics, Bennett has tallied 34.5 sacks over the last four seasons. That's 16th-most in the league over that span. In terms of pressures, though, Bennett has 292 in the same time frame. Only J.J. Watt was better. (That's pretty good company.) Bennett is also far from a one-trick pony. He's had a top-10 run-stop percentage among 4-3 defense ends each of the past three years, as well.
So with elite production, why doesn't Bennett have the reputation as an elite player? 38 different defensive linemen/3-4 outside linebackers make more than Bennett on an average per-year basis, and he only signed his contract two years ago. His name won't be uttered in the same breath as Von Miller or Justin Houston as far as edge players are concerned. In the end, it comes down to two universal biases: sack totals and draft status. If a guy doesn't put up big sack numbers, he can't be elite. If a guy goes undrafted—with extremely ugly combine numbers—then he can't be elite. Both couldn't be further from the truth when it comes to the Seahawks' defensive lineman.
Bennett's combine numbers couldn't be more of a red herring. He's freakishly athletic, he just didn't show it on one day seven years ago. There might be no one in the NFL right now better at stopping on a dime and crossing the face of an offensive lineman. All day long he swims and swats his way into the backfield as Seattle allows him the freedom to leave his gap if he thinks he can win. The play below is classic Bennett against the run. He's lined up as a 4i (inside shade of the left tackle), and at no point on a stretch run to his side should he ever end up in the A-gap. But because he wins with such speed and has the balance to close on the ball-carrier, he makes the tackle for a loss.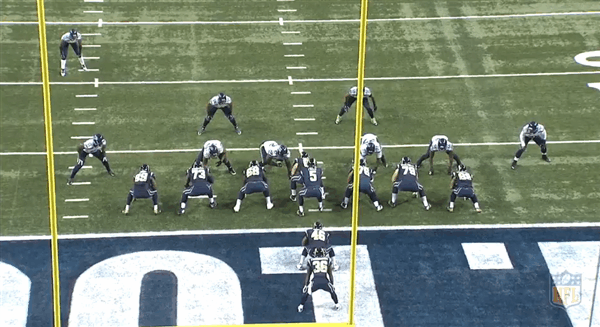 What you may have noticed in that play was that, while Bennett is listed as a defensive end, he wasn't lined up in a position you'd traditionally expect a DE to be. This isn't uncommon for a player whose versatility is almost as valuable as his production. Bennett actually lines up between the tackles (61.4 percent) more that outside the tackles. That's a higher rate than Muhammad Wilkerson (53.5 percent) and J.J. Watt (33.0 percent). The result is that Seattle can deploy their full stable off edge rushers—Bruce Irvin in the past and Frank Clark this year—on opposing offenses without losing anything in run defense.
Bennett's secret to dominating guards and tackles alike? Keeping them off balance. He has a fantastic array of pass-rushing moves that all complement each other. We saw him exploit an overextending offensive lineman earlier. He counters that below by faking the inside move before redirecting outside and easily swatting the hands away of the opposing offensive lineman. It's a move that's far more difficult to execute than Bennett makes it look.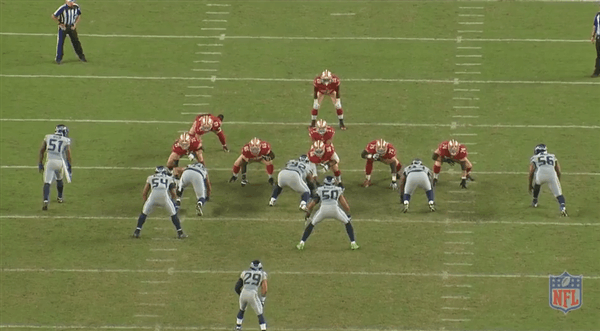 Is this the year Bennett breaks out and gets 15 sacks? Probably not. It's simply difficult to put up sack numbers playing from the interior like he does. But he'll be the same dominant force and anchor the Seattle defensive line. Hopefully this is the year, though, his ability gets the respect it deserves.
[More: See where Senior Analyst Sam Monson ranked Bennett in his 101 best players list.]