Seattle Seahawks 37, San Francisco 49ers 18
Here are the top-graded players and biggest storylines from Seattle's dismantling of San Francisco.

Quarterback grades: Russell Wilson, 79.8; Trevone Boykin, 45.1
Wilson cruises prior to exit
Russell Wilson was cruising through this one before being forced to leave after being wrestled to the ground via horse-collar tackle. Wilson was especially effective when throwing the ball over the middle of the field, when targeting throws between the hashes he was 11 of 12 for 178 yards and a touchdown, he completed all three of his throws that traveled at least 20 yards in the air between the hashes.
After Wilson was forced from the game, rookie Trevone Boykin took over. Boykin played well for the most part — with the Seahawks tethered to a big lead he was able to rely on the run game, make use of play-action and hit some quick short passes that kept the chains moving (eight of his nine attempts traveled fewer than 10 yards in the air). His afternoon took an ugly turn though with his very last throw, a bad misread on a quick curl route where he didn't see the linebacker underneath as he tried to beat a blitz. Boykin showed that if Wilson were to miss any time that he could step in and provide Seattle with some competent play in stretches, he also showed that he's still very much a raw rookie though who has a ways to go before he's able to be relied upon to lead an offense.
Top offensive grades:
WR Doug Baldwin, 88.3
QB Russell Wilson, 79.8
G Mark Glowinski, 78.9
HB Christine Michael, 75.0
T Bradley Sowell, 73.7
Doug Baldwin puts on a show
The 49ers simply did not have an answer for Seattle's star receiver. Baldwin had a field day on Sunday, catching 8 of 10 targets thrown his way for 164 yards and a touchdown; Seattle QBs had a 152.1 QB Rating when targeting him. Baldwin didn't just produce against one lowly DB either, he caught passes against seven different defenders, with Chris Davis being the only 49er he went back to for a second time. Baldwin was extremely effective out of the slot where he caught 6-of 7 targets for 87 yards and a touchdown. Through three weeks of the season Baldwin ranks third among all receivers with an overall grade of 84.8.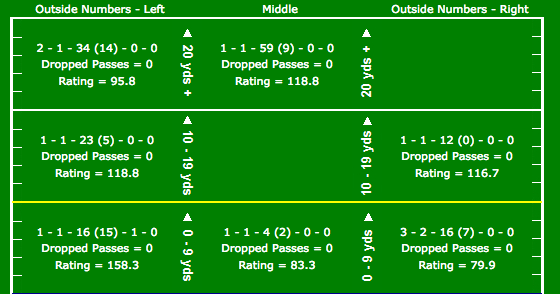 Top defensive grades
S Kam Chancellor, 88.4
LB Bobby Wagner, 84.5
CB DeShawn Shead, 80.9
CB Richard Sherman, 80.8
DE Michael Bennett, 79.2
Defense shuts down Niners' passing game
The 49ers struggled to get anything going offensively thanks largely to a Seahawks secondary that saw every defensive back with a positive grade on the day. Much of the Niners passing attack came with quick/short passes where the Seahawks swarmed for minimal gains. Leading the way was Kam Chancellor, allowing 5 catches for just 13 yards. DeShawn Shead and Richard Sherman also showed extremely well in coverage, allowing just 3 catches on 7 targets for 21 yards between them.

Quarterback Grade: Blaine Gabbert, 43.4
Everything looked difficult for Gabbert, as he finished with just 119 yards. Of the 24 passes thrown on the day, 17 came on throws that traveled less than 10 yards in the air. It appeared all game that Gabbert was not going to hold on to the ball for bigger plays with a fierce pass rush on hand. He struggled on the plays he was under pressure, going just 1-for-5 for 6 yards on such plays. Coverage was tight, but you would have liked to see Gabbert challenge the defense when opportunities were there.

Top offensive grades:
C Daniel Kilgore, 75.8
WR Torrey Smith, 73.0
RB Carlos Hyde, 72.5
LG Zane Beadles, 70.9
RT Trenton Brown, 69.0
49ers abysmal on offense
The 49ers offense struggled to get anything going all day against a stingy Seahawks defense. Much of the struggles came on third down, where they found their first conversion in the fourth quarter after starting 0-for-10. The lone bright spots came in the running game, as RB Carlos Hyde finished with 103 yards and two TDs, albeit with many of those coming when the game was out of reach. Many of Hyde's yards came behind LG Zane Beadles who was effective on pull blocks throughout the day. The pass game was held in check with only 3 completions traveling for more than 10 yards from a conservative Gabbert. Torrey Smith ended as the leading pass catcher with three catches for 55 yards.
Top defensive grades:
LB Nick Bellore, 81.8
DI Mike Purcell, 81.3
S Eric Reid, 79.2
LB Gerald Hodges, 77.4
DI Arik Armstead, 76.8
Eric Reid builds on strong start
Given his pedigree as a mid-first-round pick out of LSU and how successful he was as a rookie in 2013, many figured that Eric Reid would be a star in the NFL for years to come. Years two and three brought some tepid results though as he floated right around average, in terms of overall grade and it no longer looked like a sure thing that he would be that shining star. Through three games though in 2016, Reid looks like he's ready to enjoy the breakout season 49ers fans have been hoping for. Reid finished Sunday's game with an above-average 79.2 overall grade, making three out of three weeks now in which he's graded out as at least above-average. One thing that especially stood out in Seattle was that Reid tallied four more stops, bringing his season total to eight — a stop is a solo tackle that constitutes as a loss for the offense given the situation. During Reid's rookie season he tallied 17 total Stops but from 2014-2015 he only managed 18 Stops… well this season he's on pace to finish with 43 stops, it's no coincidence that he also happens to be on pace for what would by-far-and-away be his best overall grade as well.
PFF Game-Ball Winner: Seahawks WR Doug Baldwin
PFF's player grading process includes multiple reviews, which may change the grade initially published in order to increase its accuracy. Learn more about how we grade and access grades for every player through each week of the NFL season by subscribing to Player Grades.