Kyle Shanahan made it clear with his second- and third-round picks that he wants versatile chess pieces in his offense. While this draft will obviously be defined by Nick Bosa and how he fares on the edge for the San Francisco 49ers, the Day 2 picks are going to be the key for Shanahan's offense to reach the heights it saw with the Falcons. They didn't address every need on the roster, but they hit a number of valuable positions and had one of PFF's favorites sleepers in the class.
The Bosa pick was a no-brainer. They needed an edge, and he's as good as it gets at the position. He had a 93.4 career pass-rushing grade for his career – the highest we've ever seen in our five years of grading at the college level.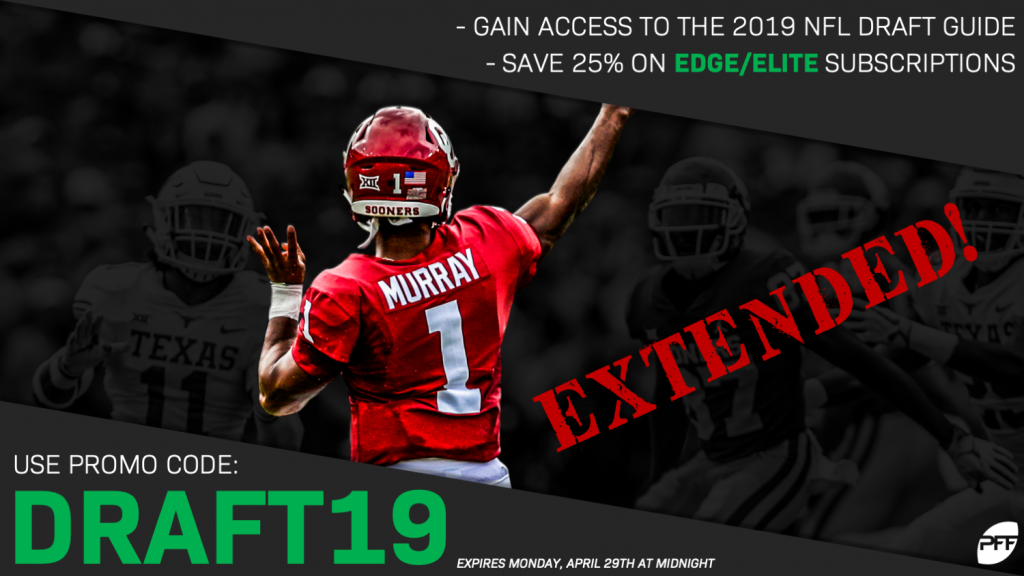 Deebo Samuel at the top of the second round was a much tougher decision. Samuel might not be your prototypical X-receiver, but he is a smooth route-runner with legit tackle-breaking ability after the catch. Last season, Samuel broke 21 tackles (fifth-most in the country) on only 62 catches. That's a ridiculous rate. The 49ers have a 1-2-3-4 punch in George Kittle, Dante Pettis, Marquise Goodwin and Deebo Samuel that can all separate at a high level. That's how you build a modern receiving corps.
That also makes the third-round pick of Jalen Hurd all the more head-scratching. Hurd does not separate at that level and has shown to be a middling athlete on tape. The best thing you can say about him is that he looked better as a wide receiver than most running backs would and can line up in the backfield if need be. Truthfully though, I'd rather try to coach up Samuel on taking carries from the backfield than get Hurd to learn the nuances of receiver play if I really wanted that sort of dual-threat weapon. Hurd dropped nine of his 78 catch opportunities last year and hauled in only 4-of-18 contest catches.
Day 3 was also a mixed bag, as they went for Utah punter Mitch Wishnowsky at pick No. 110 with a good deal of positional talent left on the board. They capped it off, though, with PFF favorite Tim Harris. The Virginia cornerback likely would have gone much sooner if it weren't for two season-ending injuries in his six-year (!!) career with the Cavaliers. He's got ideal size (6-foot-2, 197 pounds), speed (4.45s 40-yard dash) and explosiveness (39" vertical and 11′-7″ broad jump) for the position to go along with a passer rating of only 43.0 into his coverage this past season. If he stays healthy, Harris could legitimately compete for a starting job.
This draft won't likely fix all of their woes overnight, but it will go a long way towards setting them up for future success. The secondary may very well take their lumps for a second straight season, but the added pass-rush will cover up some of those holes on the back end. Their hopes obviously lie with one Jimmy G, but John Lynch and company have done an excellent job setting up their franchise quarterback for success.