Dominant offensive line play is hard to find in the NFL, and that's a problem for a league that is gearing more and more towards a pass-first approach with each passing year.
The problem with that lack of top-tier play is that when even a slightly above-average offensive tackle hits the open market — given how valuable even the slightest upgrade can be at the position — teams will fall over each other in the attempt to sign that player to a big-money deal. As an example, look no further than the Oakland Raiders' signing of Trent Brown. Brown — a player whose three-year grade ranks 51st among the 113 offensive tackles with at least 500 snaps since 2016 — is coming off a reasonably middle-of-the-road 2018 campaign, but he still inked a deal that will make him the highest-paid offensive lineman in NFL history.
While the beneficiaries of that kind of supply-and-demand market are quite rightly the free agents themselves, there is, behind the scenes, an even greater beneficiary — the dominant offensive lineman who can sit and wait for the market price to be driven up by above-average players and then take advantage of that market price when the right time comes.
Such will be the case for New Orleans Saints right tackle Ryan Ramczyk.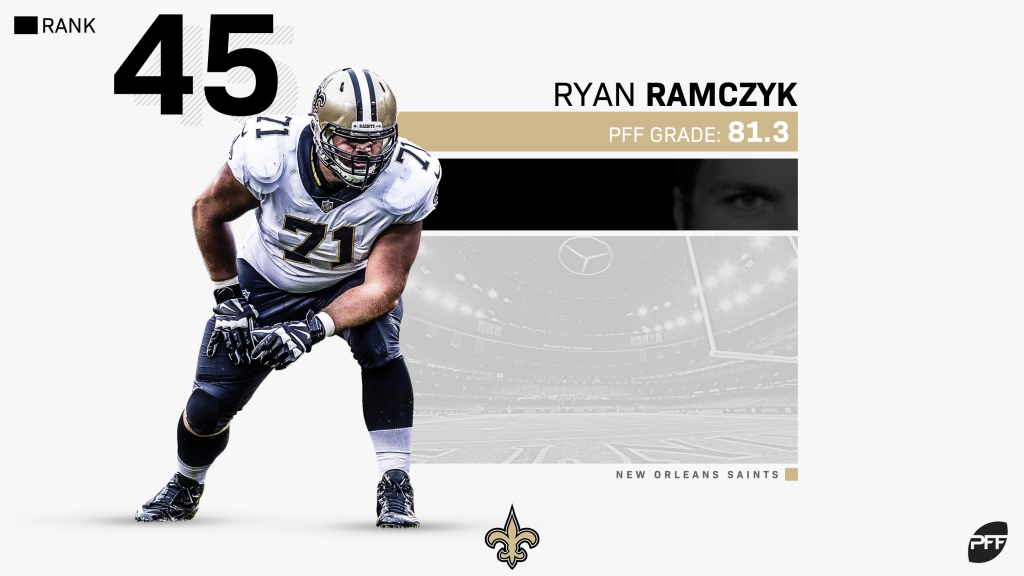 KEEPING HIS QB FREE FROM PRESSURE
We've said it before, and we'll say it again: The downfield pass is king in today's NFL. And the more (the good) teams rely on the passing attack, the more important the guys responsible for keeping the franchise quarterback on his feet will become.
And Ramczyk has become one of the league's best at doing just that.
This, of course, will come as absolutely no surprise to those who watched Ramczyk during his time in college. During his 2016 season at the University of Wisconsin, Ramczyk allowed just one sack, three hits and eight hurries across 373 pass-blocking snaps on the year, and he ended the campaign with the class' sixth-highest pass-blocking grade. All told, he allowed pressure on just 3.3% of his pass-blocking snaps, while his pass-blocking efficiency of 98.2 ranked tied for 16th among the 80 draft-eligible tackles with at least 250 pass-blocking snaps.
So far, that remarkable skill set has transferred seamlessly to the NFL level. In his first two years of pro-level play, Ramczyk recorded pass-blocking grades of 77.0 and 76.7, respectively, making him one of only 24 tackles to have surpassed the 75.0 mark in each of the last two seasons. Among that same group are the likes of Andrew Whitworth, David Bakhtiari, Jason Peters, Joe Staley and Trent Williams — some of the best to ever do it.
Over the last two regular seasons, Ramczyk's cumulative body of work from the right tackle spot has been, quite frankly, some of the very best in the league. In said span, the Saints right tackle has allowed a total of just six sacks, six hits and 30 hurries across his 1,006 pass-blocking snaps. Among the 47 players who have logged at least 300 snaps at the right tackle spot since 2017, Ramczyk's pressure rate (4.2%) ranks tied for third, his pass-blocking efficiency (97.6) ranks tied for fifth, his 83.8 snaps played per knockdown allowed ranks 10th and his 79.3 pass-blocking grade ranks fifth.
It goes without saying, but Ramczyk's excellent performance as a pass blocker has stemmed from his remarkable technical discipline and his ability to hold up against his man. On those same 1,006 pass-blocking snaps, Ramczyk has been flagged for offensive holding just once, and he's received a downgrade in PFF's grading system on only 6.6% of his plays — the latter being a mark that is tied with Packers right tackle Bryan Bulaga for fourth among the 47 right tackles with at least 300 regular-season pass-blocking snaps since 2017.
As the old saying goes, if you want to be the best, you've got to beat the best — and if we go by this standard, Ramczyk is quickly making his case as one of the NFL's best right tackles. Among the casualties of Ramczyk's stout pass blocking is Danielle Hunter, who has registered zero pressures on 48 snaps against Ramczyk; Gerald McCoy, who has registered zero pressures on 37 snaps; Aaron Donald, who has registered zero pressures on 22 snaps; Trey Flowers, who has registered zero pressures on 24 snaps; Fletcher Cox, who has registered zero pressures on nine snaps; Myles Garrett, who has managed zero pressures on seven snaps and Brandon Graham, who's managed just one pressure on 13 snaps.
DOMINANT IN THE RUN GAME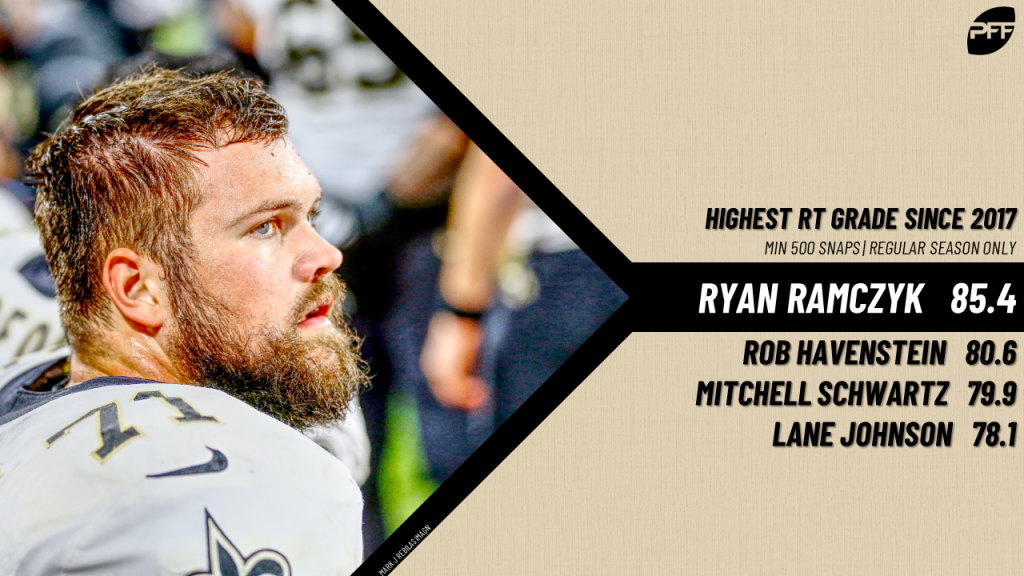 There's no question that Ramczyk's work in the passing game has put him among the very best players at the position — but incredibly, that's not even the best part of his game. For as long as he's been in the league — and even before then  — Ramczyk's best attribute has been his ability to bulldoze as a run blocker.
Looking back to his 2016 college season at Wisconsin, Ramczyk earned an elite 91.4 run-blocking grade that not only ranked first in the nation that year, but it's also the 13th-best single-season mark that we've ever given to an offensive tackle over the course of a season. This astonishing display was thanks in part to a remarkable 18.9% run-block success percentage which still stands as the second-best single-season mark ever recorded in the PFF college era (2014 – present).
And to say he's brought that success with him to the NFL would be an understatement.
Ramczyk ended his rookie season with a 77.5 run-blocking grade that ranked seventh among qualifying players at the position, and he followed that up with a 77.1 run-blocking grade in Year 2 that was good for fourth. Looking at his work across the last two regular seasons combined, Ramczyk's two-year run-blocking grade of 80.0 ranks third among the 68 tackles with at least 500 run-blocking snaps in that span, and Ramczyk's 11.6% impact run-block percentage ranks second to only Joe Staley — who plays left tackle — among that same group of players.
And the Saints know precisely what they have in him. Over the last two regular campaigns, the Saints have run the ball to the right on 455 of their 915 total rushing attempts. They've run to the left on just 384 of those attempts. Only three teams have run to the right more frequently than the Saints, who have called 49.7% of their run plays to the right of the center.
Looking at only rushing attempts to the right-hand side of the offensive in that same period, the Saints lead the NFL's 32 offenses in team rushing grade (89.4), in yards per carry (5.0), in touchdowns (23) and in the percentage of carries that have resulted in either a first down or a touchdown (28.0%). Their average of 1.75 yards before contact per attempt ranks ninth.
In comparison, the Saints have earned a 74.1 team rushing grade when running to the left (10th among offenses), while their 4.6 yards per carry to the left ranks tied for fifth.
FINAL THOUGHTS
The Saints have seemingly hit a home run with Ramczyk, as the former Wisconsin product has been nothing but outstanding in his two years in the league. The former Badger has earned 81.0-plus overall grades in each of his first two seasons in the NFL, all while playing at least 1,000 offensive snaps each year. He's also earned 76.0-plus pass-blocking grades and 77.0-plus run-blocking grades in each of the two seasons and has graded way above the likes of Trent Brown (71.0 overall grade in 2018) and Ja'Wuan James (70.8), who rank first and second, respectively, among right tackles in average yearly salary, per OverTheCap.com.
Finding a dominant offensive lineman who can step in and produce from Day 1 is rare, but the Saints have found precisely that in Ramczyk. He's shown no signs of slowing down, and he's proved to be a vital component of one of the league's best offenses. When the time comes, the team should be prepared to hand over a blank cheque if they want to keep him around.