The New Orleans Saints have placed the original-round tender on restricted free agent cornerback Ken Crawley. An original-round tender is a one-year contract which will be worth a guaranteed $2.025 million, and it means that the Saints can now match any offer that Crawley receives from another team.
The start of Crawley's career has gone about as smoothly as one might expect from a former undrafted free agent that has always shown the big-play, big-game ability, but he has also shown a propensity to give up big plays in big games. He had an up-and-down rookie season in 2016,  the good: He showed the ability to find and make plays on the football, as evidenced by his Week 11 game against the Carolina Panthers in which he broke up both of the targets that were sent his way and earned an elite overall grade of 91.6. The bad: He gave up far too many big plays, as evidenced by his Week 8 game against the Seattle Seahawks in which he allowed all five of his targets to be completed for 73 yards. At the end of the year, Crawley had had more rough outings than good ones; he allowed a catch rate of 65.5 percent and a passer rating of 101.2 – the 88th- and 93rd-best marks, respectively, among cornerbacks with at least 25 targets.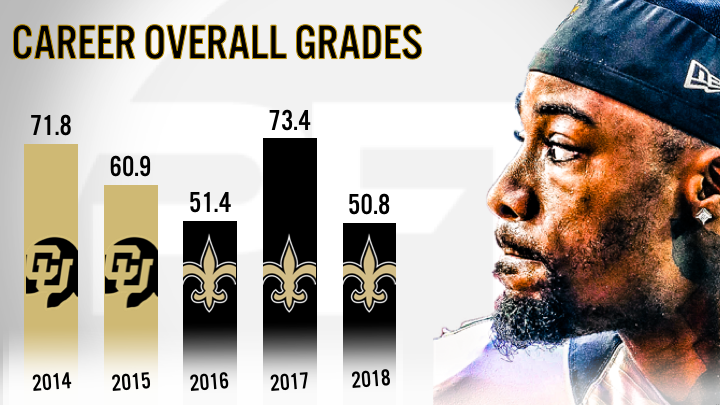 Along with the rest of the Saints' secondary, Crawley took a huge step forward in 2017, and he teamed up with rookie cornerback Marshon Lattimore to form one of the better cornerback tandems in the NFL. He elevated his playmaking ability by breaking up 13 passes throughout the year, and he allowed just 50.0 percent of the passes thrown into his primary coverage to be caught, which was tied for the seventh-best mark among cornerbacks with at least 50 targets. He ended the year allowing a passer rating of just 80.7 – a dramatic improvement from the year before.
On the back of a promising season, Crawley opened the 2018 campaign as the team's starting cornerback, but unfortunately, his struggles returned in a big way. Through the first two games of the season, Crawley allowed 10 catches from 14 targets in coverage at an average of 3.10 yards allowed per coverage snap that ranked 102nd out of 104 qualifying cornerbacks in that span. In the wake of such an underwhelming performance, the coaches had no choice but to bench him in Week 3, and while an injury to free agent signing Patrick Robinson made way for Crawley's return to the starting lineup, the late-season acquisition of former first-round cornerback Eli Apple limited Crawley to just  62 defensive snaps from Week 8 onward.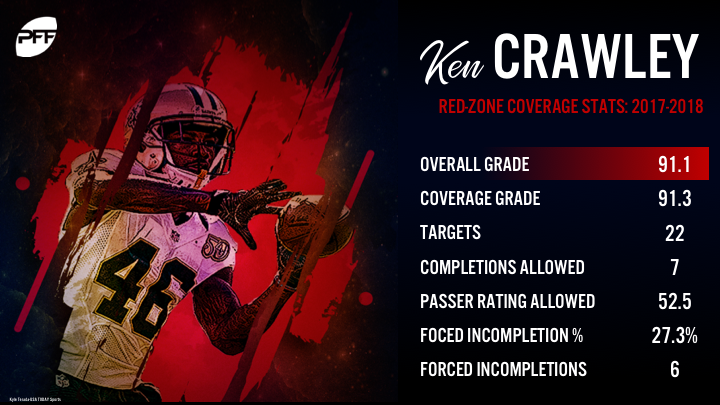 Up-and-down is the perfect phrase to use when describing Crawley's time in the NFL, but there is one aspect of his game that has been remarkably consistent over the last two seasons, and that's his play in the red zone.
With his work in the 2017 and 2018 seasons, Crawley earned red-zone coverage grades of 90.4 and 86.7, which ranked fifth and sixth, respectively, among cornerbacks with at least 50 snaps in each of the last two years. This makes him one of just two cornerbacks in the NFL who have recorded red-zone coverage grades of 80.0 or more in each of the last two seasons, Jacksonville's standout cornerback Jalen Ramsey being the other.
Combined, Crawley has allowed just seven receptions from 22 targets inside the red zone over the last two years; those catches went for 31 yards and two touchdowns, but Crawley also forced six incompletions and came down with one interception, while his 52.5 passer rating allowed ranks second among cornerbacks with at least 20 red-zone targets in that span. His elite two-year coverage grade if 91.3 is good for first place among players at the position, beating second-place Ramsey (91.0) and third-place Stephon Gilmore (90.7).
And it's not as if Crawley has been primarily tasked with covering underneath routes at the 10-yard line either. Over the last two seasons, 11 of those 22 targets have been end-zone targets, and Crawley allowed just two of those targets to be completed. When defending his own end zone in said span, Crawley has picked off one pass and has allowed a passer rating of just 41.3 – third among all defenders with at least 10 end-zone targets.
It's been a bumpy ride for the former Colorado cornerback, but the Saints obviously feel like he's shown enough to deserve at least one more year with the team. Entering his fourth year and coming off his lowest overall grade to date, Crawley now has the chance to build off his strong red-zone play and prove to the team that he can shut down receivers everywhere else on the field too.