Now is always one of the most universally optimistic periods on the NFL calendar, as April's draft has the ability to turn underperforming franchises around very quickly if a team can hit on multiple picks. This was certainly the case this past season for the New Orleans Saints, as four outstanding rookies saw them go from three consecutive losing seasons to a miracle (disaster) play away from the Conference Championship game.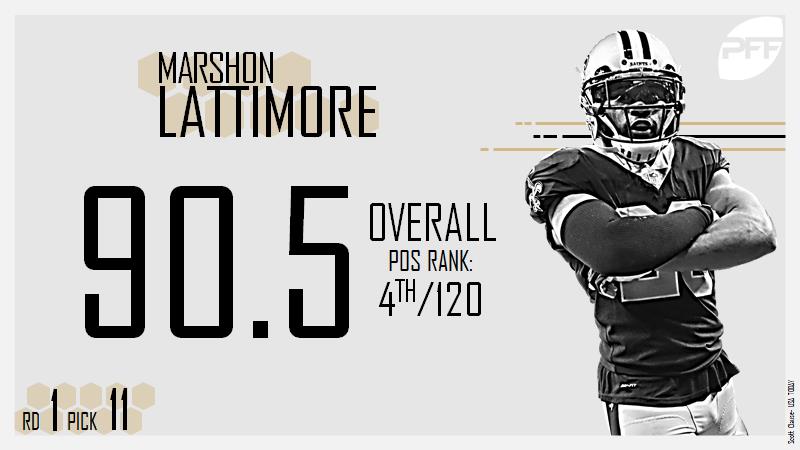 Sitting at pick No. 11 overall on Day 1 of the 2017 draft, the Saints were gifted cornerback Marshon Lattimore from Ohio State, as eight of the top 10 picks preceding New Orleans' selection were offensive skill players. Lattimore lived up to his pre-draft hype, posting the fourth-highest overall grade at the cornerback position in 2017 (90.5), and taking home the league's Defensive Rookie of the Year award.
The Saints then used the last pick of the first round (acquired from the Patriots in the Brandin Cooks trade) to select Wisconsin offensive tackle Ryan Ramczyk. Expected to be a luxury in the short term, Ramczyk was immediately thrust into the starting lineup due to injury and played every offensive snap on the season (with two starts at left tackle, 16 at right). During the final eight games (including both playoff matchups) he surrendered just one quarterback hit and no sacks.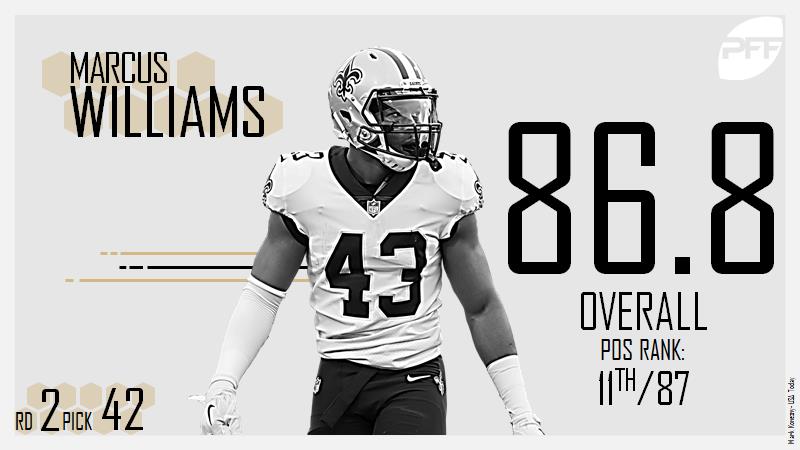 Saints fans certainly have second-round pick Marcus Williams' season-ending missed tackle currently engrained in their nightmares, but his body of work for the balance of the season was otherwise excellent. That play was the only touchdown he surrendered into his coverage all season, as he picked off five passes while breaking up another three, finishing second among safeties with at least 200 coverage snaps in number of coverage snaps per reception allowed (114.4).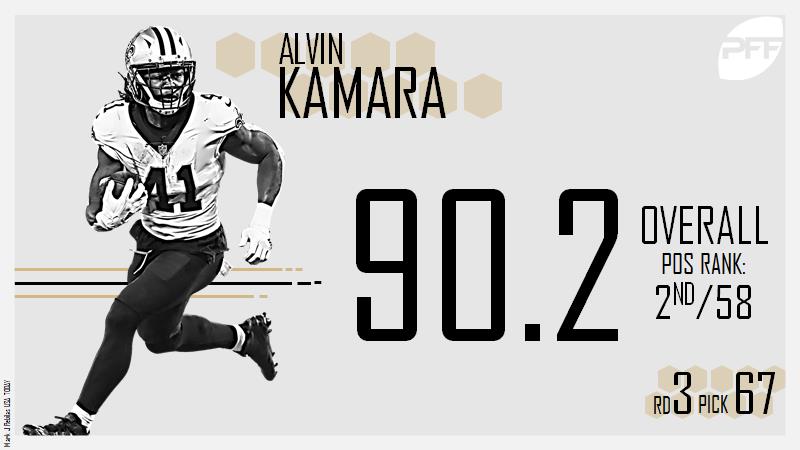 The fourth rookie standout for New Orleans can hardly be classified as "icing on the cake," as running back Alvin Kamara took home the league's Offensive Rookie of the Year honors. His receiving grade of 92.7 led all backs in the league, as did his elusive rating of 108.5.
Conventional wisdom says hitting so spectacularly on so many picks from one draft is rare, and to an extent, this is true. The only other time in the history of the Rookie of the Year awards has one team taken home both was in 1967, when Lions RB Mel Farr won OROY and Lem Barney DROY. However, each of the four seasons prior to the Saints' big haul saw a team nail multiple key picks, and in each of the four cases that team made significant jump in competitiveness within the first two years of its respective rookie class.
2016
Working backward from this past season, 2016 saw the Jacksonville Jaguars add three stellar defenders critical to the 2017 near-Super Bowl run. Cornerback Jalen Ramsey was selected fifth overall, and this past year his 91.8 overall grade ranked third at his position, as he forced a whopping 25 total incompletions. Linebacker Myles Jack also played a huge part in the dominant play of Jacksonville's back seven this past season, as his 85.3 coverage grade ranked eighth among all linebackers. The most surprising standout from the 2016 draft class has been pass-rush specialist Yannick Ngakoue, as he ranked among the top 10 edge players this year in both sacks (13) and quarterback hits (14) during the regular season and added another 12 total pressures in the three playoff games.
2015
The 2015 draft saw the Atlanta Falcons draft a trio of players who proved to be instrumental in the club's 2016 season that saw them lose to the Patriots in the first overtime in Super Bowl history. First-round pick Vic Beasley posted 65 total quarterback pressures that year, and his former Clemson teammate, Grady Jarrett (selected in the fifth round), posted three sacks and five total pressures in the Super Bowl, 26 run stops in 2017 (ranking ninth among all defensive tackles) and an impressive overall grade of 87.1. The final piece was running back Tevin Coleman, who has formed an excellent tandem with Devonta Freeman. His 2.96 yards after contact per attempt this past season ranked eighth among backs with at least 150 carries, and in 2016 he ranked fifth with 40.5 percentage of his ground yardage earned on breakaways (defined as runs of over 15 yards).
2014
In 2014 it was the Oakland Raiders' turn, as their class elevated the franchise to a playoff appearance in 2016, its first since 2002. Khalil Mack led all defenders in pass-rush productivity in 2016. His 96 total pressures that season was the most for a 3-4 outside linebacker since Tamba Hali's 97 for the Chiefs in 2010. While that year's second-round pick, quarterback Derek Carr, took a step backward in 2017, he performed very well in 2016. In particular, his 51.8 adjusted completion percentage on deep passes (as well as his 117.6 passer rating in the discipline) ranked fifth in the league. Guard Gabe Jackson was also unable to match prior performances in 2017, but he has started all four seasons of his career at right guard for the Raiders and has surrendered just three total sacks. Cornerback T.J. Carrie rounds out the group, as he had a breakout 2017 season (84.3 overall grade).
2013
2013's standout class belongs to the Detroit Lions, as four players from that group are among the club's best currently, with a fifth having departed via free agency last year. Ezekiel Ansah was to the be the prized catch of the 2018 free agent edge class until the Lions gave him the free agent tag last week. In 2014 and 2015 he posted back-to-back seasons of 60-plus pressures and at least 30 total defensive stops. Cornerback Darius Slay has developed into one of the top cornerbacks in the league, and in 2017 led the league in interceptions (eight) and total passes defensed (21). Running back Theo Riddick is currently one of the top third-down specialists in the league, having posted 224 combined catches over the past four seasons. Since 2015 he has forced 73 missed tackles after the catch, the most in the league. The last current Lion from the 2013 draft class is punter Sam Martin, who posted top-10 grades three consecutive years prior to a 2017 campaign stunted by injury. Guard Larry Warford is the aforementioned free agent departee, as he was picked up by the Saints last year and started all but two games for them at right guard. His best season was his rookie year, as his overall grade of 86.5 ranked sixth among all guards in 2013. Before this draft class, the Lions had enjoyed a winning season just once in the prior 12 years; they've now accomplished this feat in three of the past four years.
While no team should be expected to duplicate the draft success the Saints enjoyed last year, the recent performances of these five teams should give hope to fans of teams seemingly stuck on the bottom rung of the league. Cleveland is obviously in particularly strong shape this year from a pure volume sense, as it owns six of the first 65 picks of this year's draft. Whether the Browns, or any other team will be able to strike gold on three or more selections this April of course remains to be seen, but the depth of the class again suggests it is possible, thus again perpetuating the annual spring cycle of NFL optimism.