Since he entered the league in 2012, Russell Wilson has consistently been one of our highest-graded quarterbacks. He has played at a high level against almost every team in the NFL, but there's one team that has had his number over the years. That team is none other than the Green Bay Packers.
Wilson is 3-3 against the Packers, with all three of those wins coming before the 2015 season, back when the Legion of Boom was impenetrable. Despite the .500 record against Green Bay, Wilson has struggled mightily against them, so with the Seahawks' season on the brink in a primetime matchup against the Packers tonight, Wilson will have to flip the script on his biggest nemesis.

When playing against teams not named the Packers, Russell Wilson has completed 2087 passes on 3243 attempts (64.3%) for 25,786 yards, 194 touchdowns and 62 interceptions. That's all good for a passer rating of 100.8 and an average of 8.0 yards per attempt.
When playing against the Packers, however, Wilson has completed 98 passes on 174 attempts (56.3%) for 1,134 yards, eight touchdowns and 10 interceptions. This is all good for a passer rating of only 67.6, more than 30 points lower than it is against non-Packers teams. His TD:INT ratio of 3-to-1 against non-Packers teams drops below 1-to-1 against the Packers, and his 8.0 yards per attempt drops to 6.5.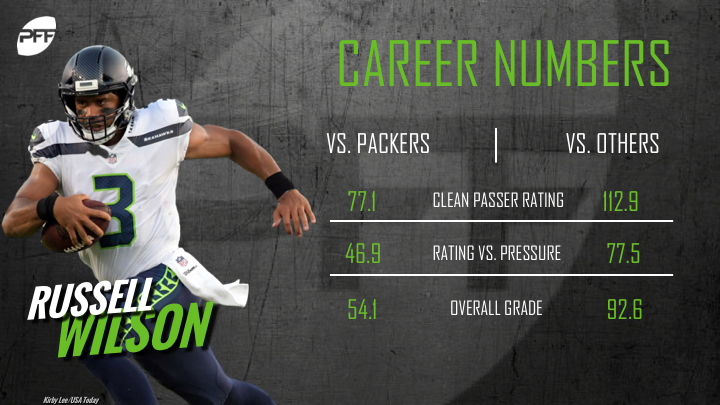 Wilson's struggles against the Packers are evident even when he has a clean pocket to throw from, as he has completed 75-of-119 attempts for 862 yards, six touchdowns and seven interceptions from a clean pocket against the Packers. Wilson has attempted at least 30 passes from a clean pocket against 25 different teams, but his 77.1 passer rating and his nine turnover-worthy throws against the Packers both rank 25th.
Wilson is also usually pretty good against pressure, but his pressured numbers against the Packers are also subpar. All told, he's completed 23-of-55 attempts for 272 yards, two touchdowns and three interceptions – all good for a 46.9 passer rating, which is more than 30 points lower than his passer rating when he's faced everyone else.
Sometimes, plain numbers don't tell the whole story, and that's where our grades come in. We watch every player on every play of every game – and unfortunately for Russell Wilson – our grades agree with the box score in this case. He has a 52.6 career overall grade against the Packers, which is almost 40 points lower than his 92.8 overall grade against everybody else. Part of the reason for Wilson's drop-off in grade against the Packers is that he has committed a turnover-worthy play on 6.9% of his attempts against them, which is his second-highest against any opponent.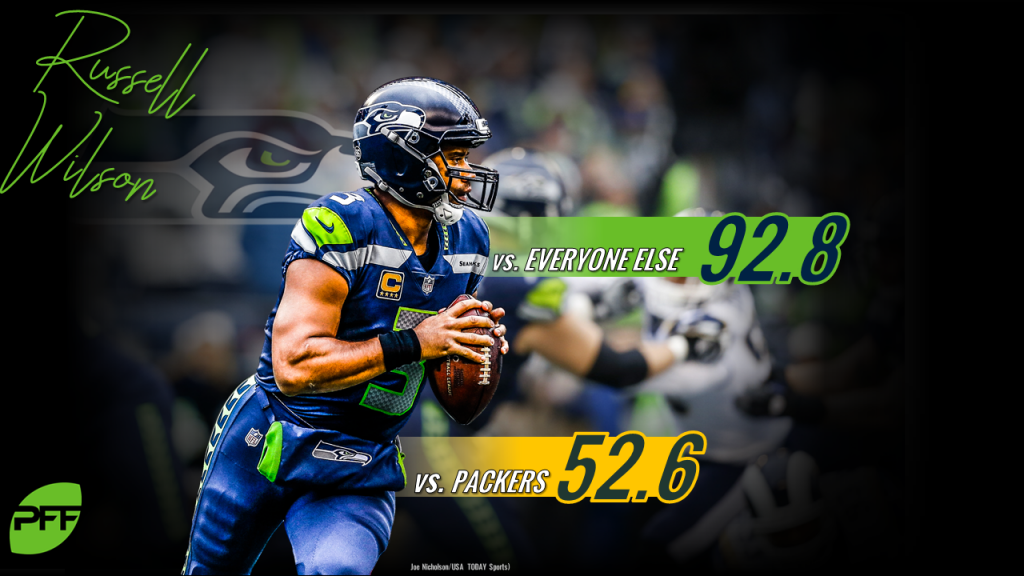 Maybe Wilson tries a little too hard to one-up Aaron Rodgers when they meet, or maybe the Packers just know something about Wilson that no one else does. But one thing is for certain: if the Seahawks hope to keep their season alive, Wilson will have to overcome his Packers nightmares tonight.