Thursday night, Washington Redskins fans all over the country will sit down in front of their televisions to watch their team take on the New England Patriots in their first competitive football game since December 31, 2017.
While there's a lot to be excited about, the team will enter the contest with an abundance of question marks over an offense that has been infiltrated with new faces, yet one question will be more familiar than the others. That question is, who will start at the running back position alongside newly-acquired quarterback Alex Smith and the dynamic, dual-threat back, Chris Thompson.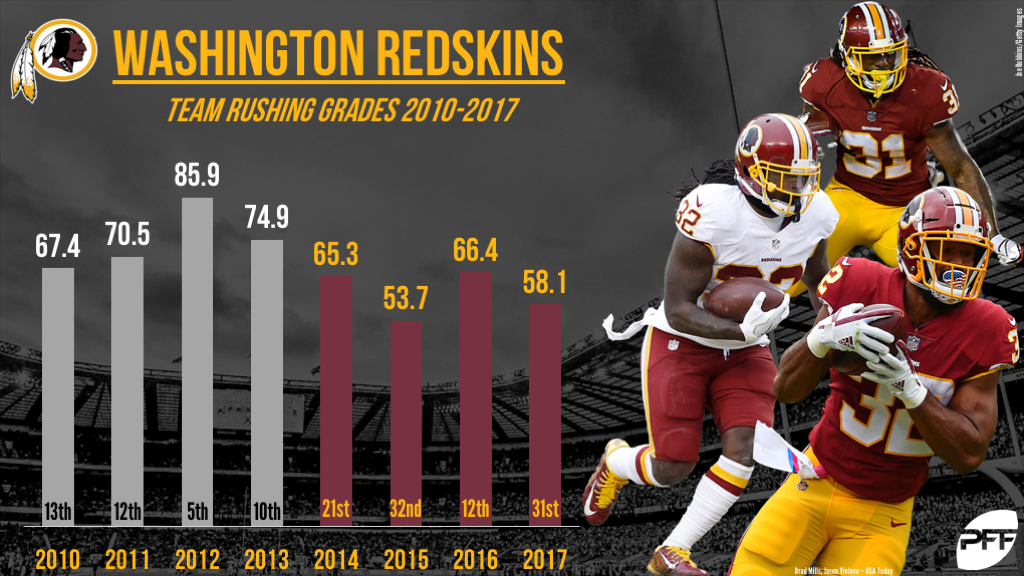 The words 'Redskins running back competition' triggers a certain déjà vu at this point. The organization hasn't realistically been sold on a starter since Alfred Morris and the team has had players battle it out every training camp since his departure. This has led to uncertainty and inconsistency at the position and the rushing attack has struggled as a result.
According to the newly-developed team grades that are a part of Premium Stats 2.0, the Redskins have struggled to find consistency on the ground since Jay Gruden took over as the team's head coach. From 2014 to 2016, the team accumulated rushing grades of 65.3, 53.7 and 66.4, which respectively ranked 21st, 32nd and 12th among rushing units in the NFL. The Redskins then followed that up with yet another sub-par season on the ground last year and ended the 2017 campaign with a rushing grade of just 58.1, the second-lowest mark in the league.
The grades aren't the only metric that can back up Washington's underwhelming backfield performance. If we take out trick plays, quarterback kneel-downs and quarterback scrambles, the Redskins rushing attack ranks 20th in total rushing yards (7,524), 17th in yards after contact (4,541), 25th in missed tackles forced (239), 25th in first-down conversions (309), 25th in yards per carry (4.03), 12th in yards after contact per carry (2.43) and 31st in carries per fumble (69.1).
Heading into his fifth year in charge, Gruden simply needs to find a starting-caliber running back that can provide the balance to his passing attack and help take the pressure off Smith during his first year in Washington. So, as we head into the preseason, all eyes will be on the competition between third-year back Rob Kelley, second-year back Samaje Perine and rookie running back Derrius Guice, as the three battle it out in training camp.
After being signed as an undrafted free agent in back 2016, Kelley burst onto the scene during in his rookie year in Washington. He made his first NFL start in place of Matt Jones in Week 8 against the Cincinnati Bengals, where he rushed 21 times for 87 yards and one touchdown, forcing five missed tackles in the process. His performance was good enough for a promotion to the starting role, and he never looked back.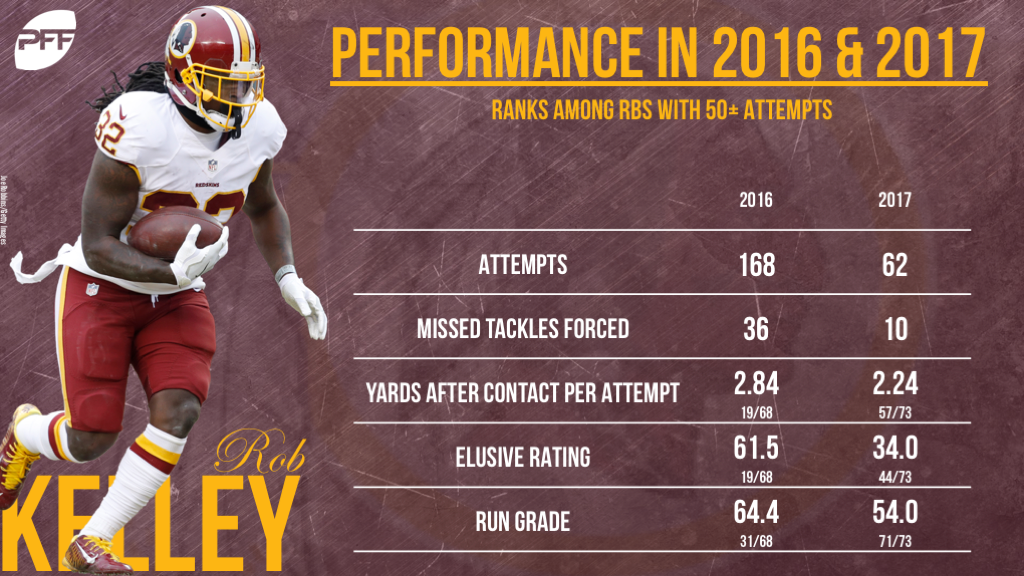 Kelley ended his rookie season with run grade of 64.4, which ranked eighth among the 23 rookies with at least 10 attempts. Throughout the campaign, he established himself as one of the most elusive players at the position, averaging an impressive 2.84 yards after contact per carry, which ranked 15th out of 53 backs with at least 80 carries. What made Kelley stand out, was his ability to make defenders miss with apparent ease and throughout his rookie campaign, Kelley forced 36 missed tackles on 168 rushing attempts, which was the third-most among first-year running backs. Even more impressively, Kelley was only one missed tackle behind Dallas Cowboys running back Ezekiel Elliot, who had 154 more rushing attempts next to his name. Kelley ended an impressive debut season with an elusive rating (the PFF metric that distils the success and impact of a runner with the ball independently of the blocking in front of him by looking at how hard he was to bring down) of 61.5, which ranked eighth among the 68 running backs with at least 50 carries.
Unfortunately for Kelley, he couldn't quite emulate this same success in his sophomore season. During a campaign that was marred by numerous injuries, he was limited to just 62 rushing attempts over just seven games. His yards after contact per carry average dropped from the impressive 2.84 to just 2.24 and his elusive rating dropped down to just 34.0, which ranked 44th among the 73 running backs with at least 50 carries. He was placed on injured reserve following his team's Week 10 defeat to the Minnesota Vikings and he took with him a running grade of just 54.0 – the third-lowest run grade among players at the position.
The University of Oklahoma's all-time leading rusher enjoyed an incredibly productive collegiate career, which led the Redskins to take him with the 114th overall pick of the 2017 NFL Draft. The highlight of his career came in 2014, where he ended the season with a 79.7 overall grade and ranked fifth in the nation with an average of 3.61 yards after contact per attempt.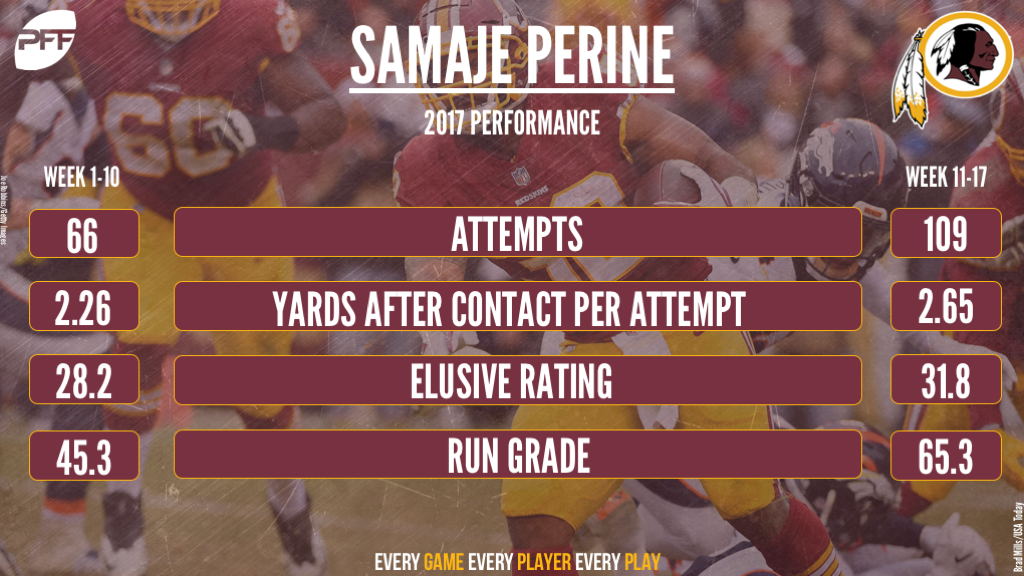 After being drafted by the Redskins, Perine saw limited action during the first half of the season and spent the majority of his snaps backing up starter Kelley. From Week 1 to Week 10, he logged 66 rushing attempts but failed to live up to his draft-hype, managing to average just 2.26 yards after contact per carry – the ninth-lowest mark among running backs in that span. However, with Kelley placed on IR, the Redskins gave the fourth-round pick an opportunity to take on the starting role and he more than rose to the task. From Week 11 to the close of the season, Perine managed to raise his average yards after contact per attempt from 2.26 to 2.65 and his running grade from 45.3 – the lowest mark among running backs from Week 1 to Week 10 – to 65.3, which ranked 26th among 42 players at the position.
Prior to the draft, many scouts and front-office executives had put a first-round grade on the LSU playmaker, so it came as a huge surprise to many when he tumbled down the board on draft day. Eventually, he fell to Redskins in the second round and the team promptly took him with the 59th overall pick.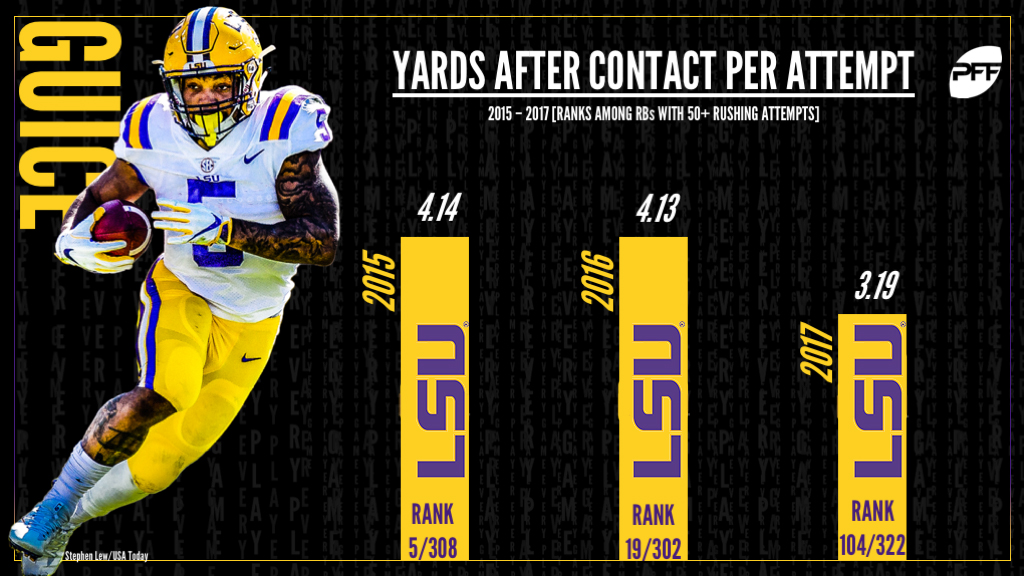 By taking Guice, the Redskins added a much-needed playmaker to their running back battle, a runner with great size and speed with the potential to make an instant impact in the Nation's capital. In 2015 and 2016, Guice averaged 4.14 yards after contact per carry and 4.13 yards after contact per carry, which respectively ranked fifth and 19th among running backs with at least 50 attempts and from 2015 to 2017 Guice racked up a staggering 1,499 yards from breakaway runs – the 13th most among college running backs in that span.
The Competition: What do the coaches need to see?
SCHEME
There will be several factors that will decide the fate of these three talented players, but arguably the most important factor will be how they perform in Gruden's running scheme.
Since being named head coach of the Washington Redskins, Gruden has relied on three main running schemes: outside zone (which has accounted for 32.1 percent of rushing attempts), man (14.9 percent) and inside zone (12.7 percent). Thanks to countless hours that we at PFF have spent grading every player on every play of every game, we can actually compare the performance by each of the three running backs in these respective schemes.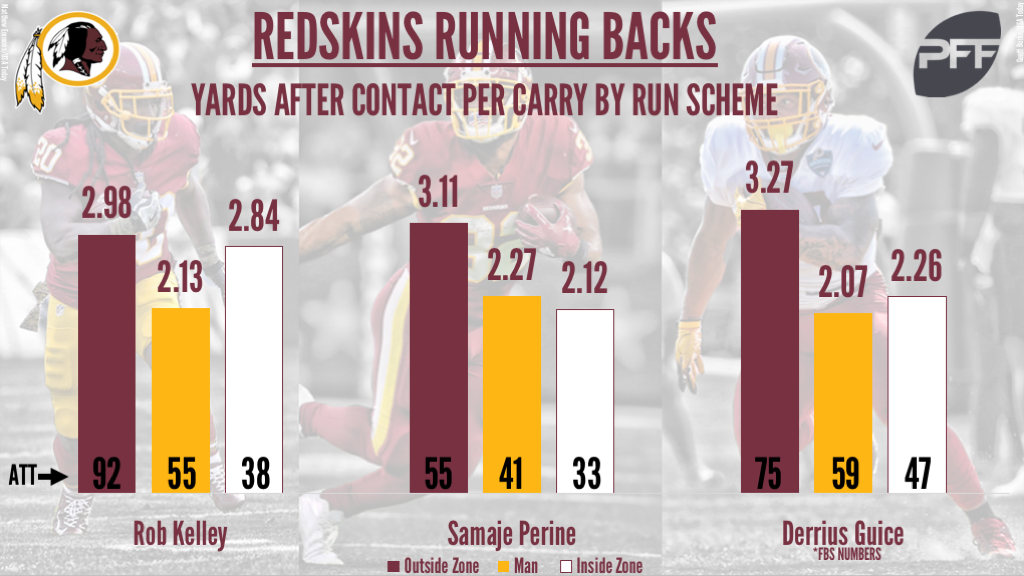 Last year, Perine performed well in the outside zone scheme which could really help him in establishing a larger role in the Redskins backfield. On 55 attempts last season, he accumulated 222 rushing yards and 171 yards after contact, for an average of 4.0 yards per carry and 3.11 yards after contact per carry – both of which ranked first among all Redskins backs with at least 20 outside zone carries since 2014. This bettered the marks of Kelley, who has averaged 3.2 yards per carry and 2.98 yards after contact per carry on his 92 outside-zone rushing attempts.
However, in his final season at college, Guice showed scouts that he can perform in a number of running schemes, but really performed well on outside zone runs. Throughout the year, Guice was our eighth-highest graded player on his outside zone attempts and accumulated an average of 3.27 yards after contact per attempt, which ranked 25th among running backs in the nation.
THIRD DOWN
Another area that the Redskins staff will be looking at is their efficiency on third down. Since 2014, the Redskins have converted just 47.6 percent of their third-down rushes into either a first down or a touchdown, which ranks 22nd among the league's rushing attacks. Going forward, this simply has to improve, and they need their running backs to run tough on their late-down attempts, so that they can move the chains and keep Gruden's offense on the field.
It's on these third-down rushing situations where Kelley has the upper hand in the competition. In his time in the league, Kelley has converted 70.0 percent of his third-down rushes into either a first down or touchdown and has averaged a very healthy 2.90 yards after contact per attempt on his third-down rushes, which is second to only Thompson (4.30) in that span. Going forward, this is a key area in which Perine has to work on, as he converted just 12.5 percent of his third-down rushes into either a first down or a touchdown last year, averaging just 0.88 yards after contact per carry, which ranked last among Washington's running backs.
If Guice can carry his college form over to the pro level, the Redskins may well have found the answer that they've been looking for, as Guice earned either a first down or a touchdown on 69.2 percent of his third-down carries last year, ranking 32nd among 330 running backs in the nation with at least 10 third-down rushing attempts.
The running back 'three-for-all'
With the 2018 season just around a corner, there sure are plenty of reasons to be hopeful if you're a Washington fan. The team is set with a new quarterback in Smith, who is coming off the highest-graded season of his career at 82.1 overall. They have a promising offensive line which is headlined by star left tackle Trent Williams and a top-10 pass-rushing unit which is headlined by the perennially underrated Ryan Kerrigan. If they can find the right man to take control of the running game, the team could very well turn a few heads in 2018.