The NFL is a meritocracy; a sport that thrives on competition not only against NFL rivals but also against teammates who desperately want to break the starting lineup. At some point or another, established veterans on the decline will be unseated by up-and-coming rookies, and that has always been the way. Below are 10 rookies from the class of 2019 who have the potential to steal starting roles away from established veterans.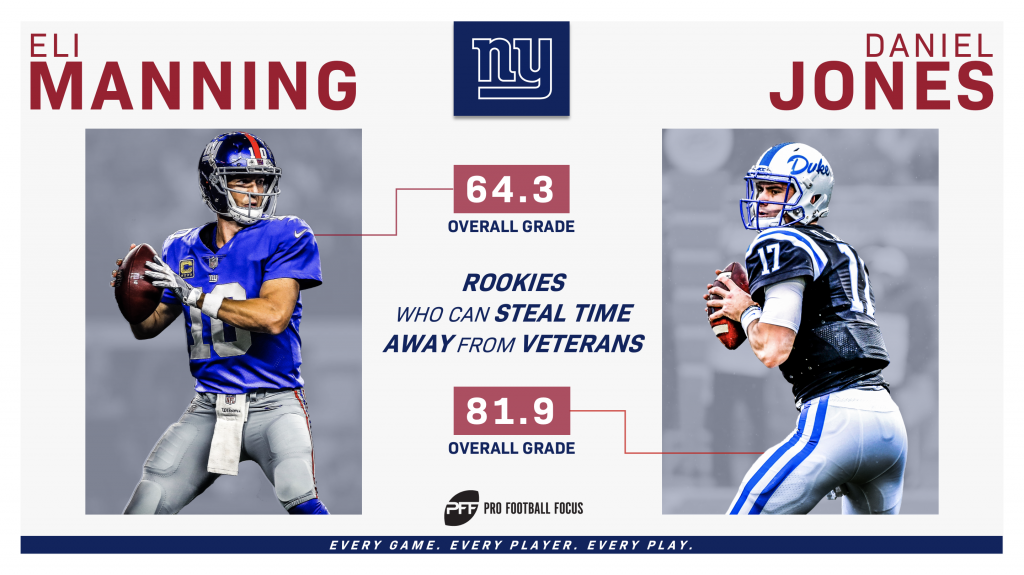 When an NFL team selects a quarterback with a top-10 draft pick – it is not a matter of IF they'll start, but when. With Eli Manning being 38 years young, it's no question that the Giants hope former Duke quarterback Daniel Jones is their quarterback of the future, especially with Manning's downward trend as of late.
After a hot three-game stretch to start his junior year, Jones put forth mediocre grades for the rest of 2018. However, his hot start fails to tell the story of his entire collegiate career, as he earned a 68.0 grade across three seasons of play. Even with lacking production in college, that's not to say he doesn't display pro potential. Dive into the tape, and it is not hard to find individual plays that would make you think so.
Although Giants' General Manager Dave Gettleman believes Manning's poor play is a false narrative, the quarterback seems to be wearing thin on the organization as he hasn't recorded an 80.0-plus season grade since 2012. All signs point to the Jones era beginning in New York sooner rather than later.
Before the draft, the Packers' pair of tight ends atop the depth chart both were over the age of 31, with Jimmy Graham carrying the brunt of the workload (83 targets) last season. Seven players on the Packers' roster received 30-plus targets last season, but just two of those players earned a grade that exceeded 65.0.
Green Bay selected Texas A&M tight end Jace Sternberger in the third round of the draft, and with that pick, they got the highest-graded receiving tight end in the draft class (91.1). The opportunity is there for Sternberger, as Graham earned an 87.2 passer rating when targeted last year — 33rd among tight ends with at least 30 targets. Graham has been one of the best tight ends of the last decade, but the data suggests it may be time to turn over a new stone in Green Bay regarding the tight end position.
Brown was ranked second in the PFF rookie draft class behind his Ole Miss counterpart D.K. Metcalf, and he will likely fall into place behind Corey Davis with the Titans. Tennessee has been itching to revamp their receiving corps as the team's receiving grade has declined in each of the past four seasons — and Brown possesses the explosiveness to add new life into the unit.
The 2019 second-round pick forced 17 missed tackles and amassed 600 yards after the catch in 13 games played last season. He played 58.5% of his snaps from the slot, and both Titans receivers who played 60.0% or more of their snaps in the slot last season (Tajae Sharpe & Darius Jennings) earned a sub-65.0 receiving grade.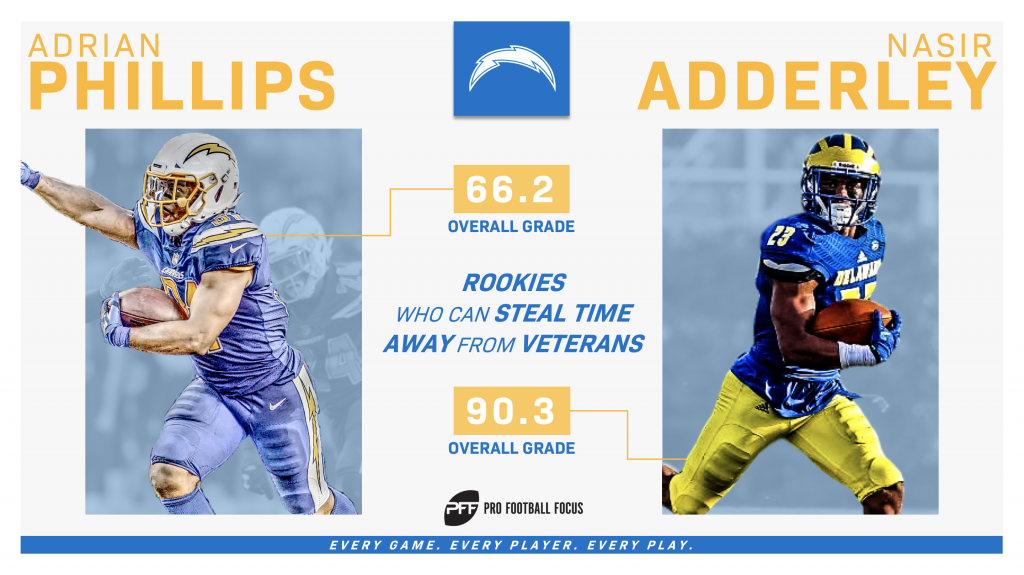 No one played more defensive snaps for the Chargers in the last two seasons than Jahleel Addae, but Los Angeles cut ties with the six-year veteran a month before the draft. Adrian Phillips (66.0) and Rayshawn Jenkins (63.1) appeared to be the next men up in the Chargers secondary, but General Manager Tom Telesco decided to spend a second-round pick on Delaware safety Nasir Adderley.
Adderley will enter a promising Chargers secondary having allowed a 1.3 passer rating on throws into his primary coverage last season, and he will add a much-needed free safety presence that will complement Derwin James' versatile playstyle. 
Minnesota has made it clear that Smith is set to play a significant role in the upcoming season, and that has caused a myriad of speculation and trade rumors surrounding veteran Kyle Rudolph. The sure-handed pass-catcher Rudolph has been consistently above-average throughout his eight-year career with the Vikings, but he has seen his season grade decline in each of the last two.
Smith saw 74 targets in his collegiate career at Alabama but was incredibly efficient with his small sample size, as he tied for first among a loaded draft class with an average of 2.56 yards per route run. If his college production translates to the NFL, the Vikings have found themselves a younger, more athletic option at the tight end position.
Not often is a player who just earned the fourth-most all-purpose yards at his position in danger of losing a portion of his workload to a rookie, but Rams running back Todd Gurley finds himself in that situation. Just last month, Los Angeles spent a third-round pick on Memphis' Darrell Henderson, who was PFF's fifth-ranked draft-eligible running back. Henderson's 70.8% breakaway rate proves he is an explosive player, but more importantly, he fits the Rams' offensive scheme.
Los Angeles ran outside zone run plays 217 times during the 2018 regular season – 52 more than any other team. On these plays in college, Henderson managed 10.7 yards per carry and 7.0 yards after contact per attempt, both of which led the nation. Gurley, the Rams' bell-cow back, rarely left the field in the previous two seasons. However, following reports of arthritis in his knee and the trade-up for Darrell Henderson, it seems clear Gurley will see a reduced workload in 2019.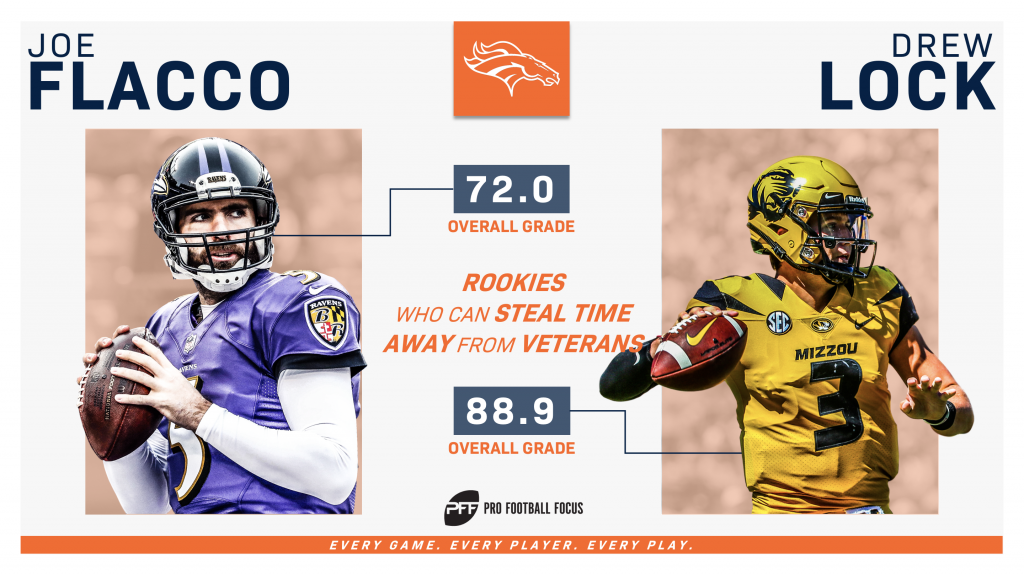 Missouri alumnus Drew Lock improved considerably in his four-year collegiate career in Columbia, beginning with a 43.7 grade his freshman year and peaking with an 88.9 grade his senior year. Meanwhile, veteran quarterback Joe Flacco has been on an opposite trend, maintaining a sub-85.0 passer rating in each of the last four seasons.
The change of scenery has occurred at the right time for Flacco, who is coming off a year which included a Week 9 benching in favor of rookie quarterback Lamar Jackson. Do not be surprised if history repeats itself though, as Lock was the fourth-ranked signal-caller on PFF's Big Board and possessed an SEC-best 126.3 passer rating a season ago.
New England has a history of slotting veteran players into situations of need, but the team ventured in a different direction this year by obtaining Chase Winovich as a replacement for edge defender Trey Flowers. 
PFF was higher on Winovich than most and even had him ranked higher than his Wolverine counterpart Rashan Gary. Winovich maintained the fourth-highest pass-rush win percentage (21.7%) in the FBS last season, while he racked up an impressive 53 quarterback pressures in the process. The rookie edge defender will compete with Deatrich Wise Jr. and Michael Bennett for snaps in 2019. 
Indianapolis' defense continues to get younger, as Bobby Okereke competes for a starting linebacker role. Okereke Played a career-high 917 defensive snaps last season, the 17th-most of all FBS linebackers, and he earned a 78.0 overall grade for his efforts.
The Colts' veteran linebacker Anthony Walker earned a 61.1 grade over 824 total snaps last season. He was excruciatingly average with his first full-workload season for Indianapolis, earning between a 55.0 to a 65.0 grade in all facets of the game except the pass-rush, where he only played 22 snaps. Walker's short leash and underwhelming production might result in a reduced workload should Okereke standout in training camp and early-season games.
Tampa Bay saw holes in their defense, and they addressed them early in the draft. The side spent their first five picks on defensive players, selecting Sean Bunting & Jamel Dean in the second and third round, respectively. Bunting and Dean both ranked inside the top 10 of PFF's positional rankings and allowed two combined touchdowns in coverage all season (Bunting allowed zero).
On the opposite end of the spectrum lies Tampa Bay's secondary, whose highest-graded corner a season ago was Javien Elliot (63.8). This duo of rookies may be the most obvious on the list, as veteran cornerback Vernon Hargreaves III has struggled to stay healthy and has been inconsistent during his time on the field.