Rookie wide receivers rarely come out of the gates at blazing speeds. As our very own Scott Barrett highlighted in a tweet on Sunday, first-year wideouts are known for slow starts and better finishes down the stretch. And that's been exactly the case for rookies Tre'Quan Smith and D.J. Moore.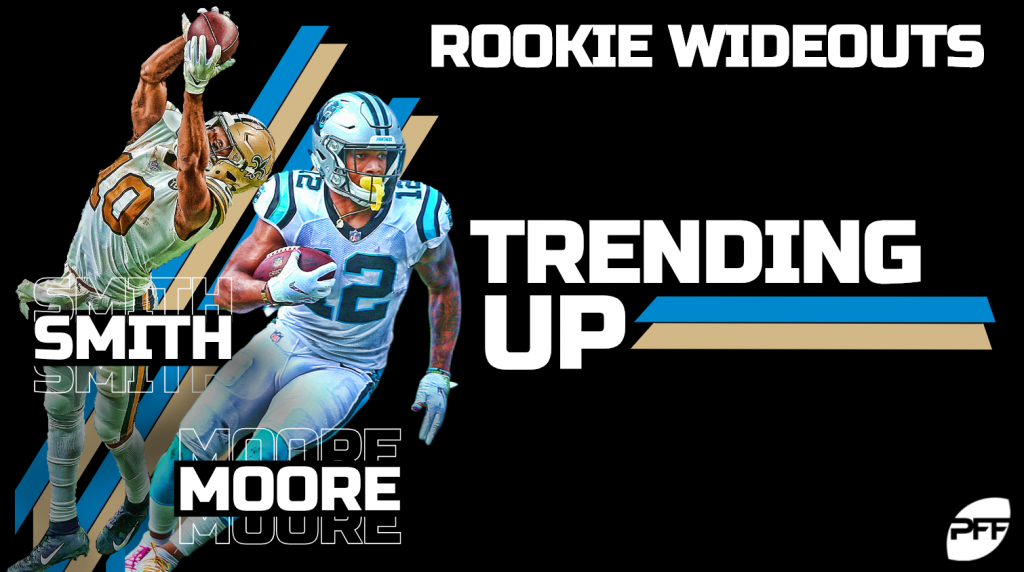 Through Week 4, Smith and Moore combined for just eight total targets and three receptions. Though Moore did turn one of his receptions into a 51-yard touchdown, both rookie pass-catcher still weren't positioned high in the game plan and struggled to garner consistent production – as evidenced by the duo's low target totals.
Smith and Moore didn't last long as afterthoughts in their respective offenses, however.
Following the Carolina Panthers' bye in Week 4, Moore burst onto the NFL scene as a homerun threat with playmaking ability before and after the catch. In Weeks 5-11, Moore has caught 28-of-35 targets for 420 yards (249 yards after the catch), 17 first downs and one touchdown across his 175 routes run. Among the 96 NFL wideouts with 100-plus routes run in the six-week span, he ranks first in yards after the catch per reception (8.89), 11th in yards per route run (2.40) and 14th in passer rating when targeted (126.2).
Propping up his play after the catch, Moore ranks fourth in forced missed tackles per reception (0.21) and first in yards after contact per reception (5.50) among the 50 wide receivers with at least 20 receptions in Weeks 5-11.
Moore put all of his high-end abilities on display against the Detroit Lions in Week 11, picking up career-highs in receptions (7), targets (8) and receiving yards (157). On his best play of the day, Moore pulled down a high pass from Cam Newton, secured the ball through contact from a Detroit defender and turned upfield for an 82-yard gain, 70 of which coming after the catch.
D.J. Moore making plays!

(via @NFL)pic.twitter.com/pfUZiAbYtj

— Pro Football Focus (@PFF) November 18, 2018
Moore's career day improved his overall grade to 80.0 on the year, which ranks 19th among qualifying wide receivers and all rookies at his position.
Smith, of course, is hot on Moore's trail, as he too put together a career single-game performance in Week 11 and now ranks second among rookies wideouts in overall grade (75.1) on the season.
In the New Orleans Saints' bludgeoning of the Philadelphia Eagles on Sunday, Smith caught 10-of-13 targets for 157 yards, all of which eclipsing preview career-highs. In fact, Smith didn't have any more than three targets in any single game prior to Sunday's affair with Philadelphia. But the days of three-target outings may be long gone for the former UCF product, as his Week 11 performance may have solidified his standing as New Orleans' No. 2 wide receiver alongside Michael Thomas.
Like Moore, Smith is a big play waiting to happen. Among the 50 NFL wideouts with 20-plus receptions in Weeks 5-11, Smith ranks fourth in percentage of receptions resulting in a first down or touchdown (60.7) and 10th in percentage of receptions resulting in a gain of 15-plus yards (42.9).
While Smith hasn't matched Moore stride for stride in terms of making plays after the catch, his ability to take the top off defenses and create separation before the catch has been among the league's best. He ranks fifth in yards per target (12.6), 14th in yards per route run (2.31) and second in passer rating when targeted (156.3) among wide receivers with 100-plus routes run in Weeks 5-11.
Smith's career day against Philly was highlighted by his 15-yard touchdown catch that drew high praise from his quarterback, Drew Brees.
After this play, #Saints' Tre'Quan Smith said:

"[Drew Brees] was like, 'Why do you think I threw you the ball? I trust you.' And (as) a rookie, that just made me so happy inside." – per @jkatzenstein

What a big-time play from the rook'.pic.twitter.com/LziYnRNyNB

— Austin Gayle (@PFF_AustinGayle) November 19, 2018
Brees' confidence in Smith to secure the catch through two defenders speaks volumes to rookie's play this season, especially considering the other options Brees has at his disposal (i.e. Thomas, Alvin Kamara).
Smith and Moore have earned the confidence of their respective signal-callers and are only just now nearing their potential as high-caliber wideouts in the NFL. And all signs point to this being just the tip of the iceberg for the rookie duo.