With the 77th pick of the 2019 NFL Draft, the New England Patriots got themselves one of the steals of the draft in Michigan edge defender Chase Winovich. As our 29th overall prospect and fourth-ranked edge defender, we here at PFF viewed Winovich as an undervalued talent and one of the draft class' top pass-rushers.
While at Michigan, Winovich was consistently one of the more dominant edge rushers in the college game. From 2016 to 2018, Winovich recorded the eighth-best pass-rush grade (91.2) and the 13th-best pass-rush win rate (19.4%) in the FBS.
During his time in Michigan, the team complemented their pass-rush with an array of different blitzes, as the Wolverines had the fourth-highest blitz rate in the FBS at 57.1%. However, the Wolverines' bag of tricks didn't just stop there. In 2018, Michigan ran a stunt at an above-average rate at 23.9% — ranking 30th in the FBS — and they had one of the best pass-rushing units when a stunt was applied, as they posted an astounding 50.5% pressure rate that ranked second in the Big 10. This success, in large part, was due to Chase Winovich.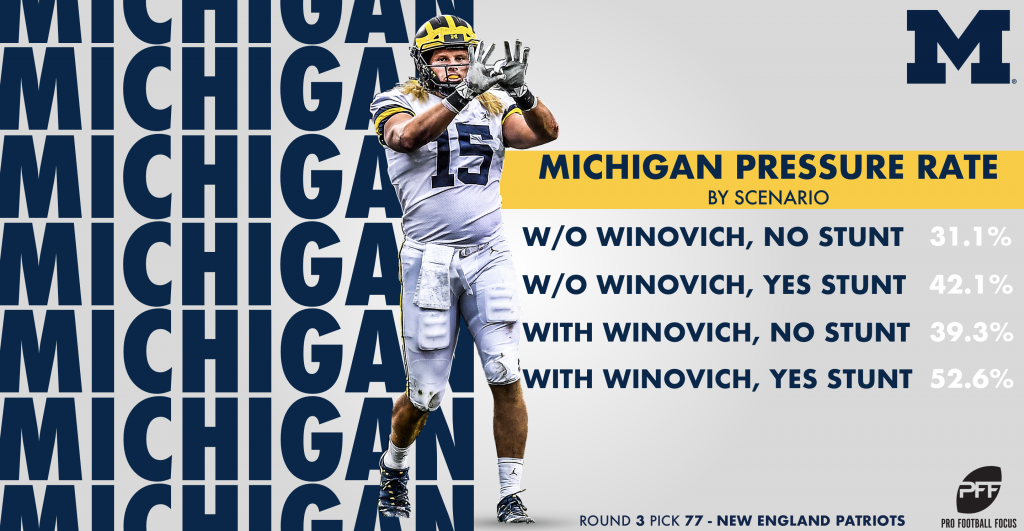 From 2016 to 2018, Winovich earned an 89.7 pass-rush grade and 26.3% pass-rush win rate when a stunt was applied, both of which ranked third among FBS edge defenders in that span. In 2018 alone, Winovich recorded an 89.4 pass-rush grade and a 31.6% win rate on stunts, which ranked second and fourth, respectively, among qualifying players at the position.
Michigan was clearly a much better pass-rushing unit when they had Winovich on the field and they executed a stunt, as the Wolverines recorded a 52.6% pressure rate in such cases. When they left Winovich off the field and still executed a stunt, Michigan's pressure rate fell over 10% to 42.1%.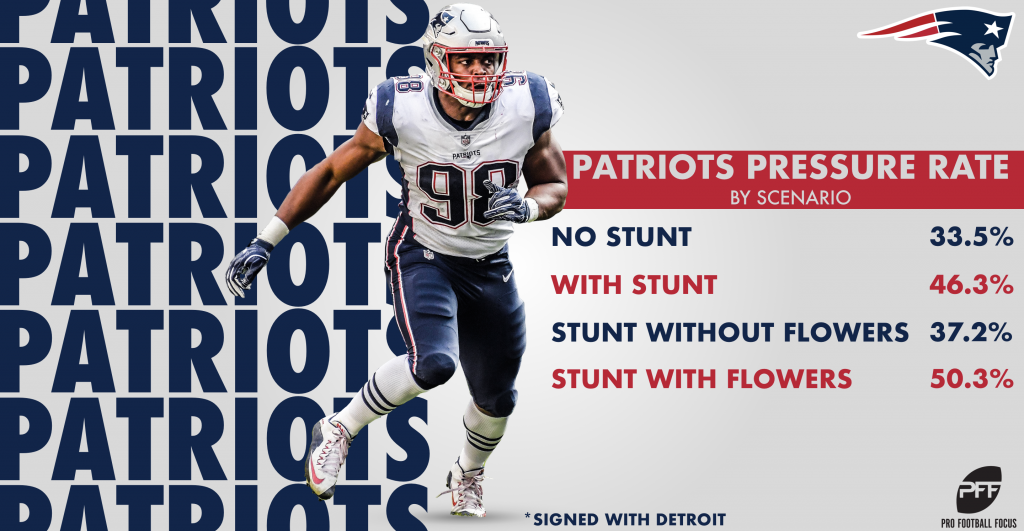 Prior to the draft, I broke down how New England's defensive stunt usage was instrumental in their Super Bowl run. Consequently, New England's head coach and defensive mastermind, Bill Belichick, should be ecstatic that one of the top stunt rushers in the FBS fell in their lap at Pick 77. Winovich's stunt performance and usage at Michigan is similar to that of the team's former edge rusher Trey Flowers. Flowers was a vital piece in New England's stunt success in 2018, and with Flowers leaving New England to join his former defensive coordinator and now Lions head coach Matt Patricia in Detroit, Belichick had to find Flowers' replacement — and may have found the perfect one in Winovich.