Another year, another Super Bowl victory for the New England Patriots. As usual, quarterback Tom Brady was the key to New England winning a sixth championship as he finished the season with an elite 90.6 overall grade that ranked fourth among quarterbacks. However, there was another key contributor for New England that has got lost in all of Brady's glory: the defensive stunt.
For the layman, a defensive stunt is a pass-rushing maneuver on which two or more defensive players switch assignments in order to cause chaos on the offensive line. Defensive stunts can be dialed up in a number of ways, and they can vary in intricacy, but simply put, it is the act of looping defensive linemen around one another to shred a protection scheme and get pressure on the quarterback.
Orchestrated by Head Coach Bill Belichick, the Patriots' use of the stunt was essential to their defensive success throughout the season and in their eventual Super Bowl victory against the Los Angles Rams, who fielded PFF's highest-graded offense last year.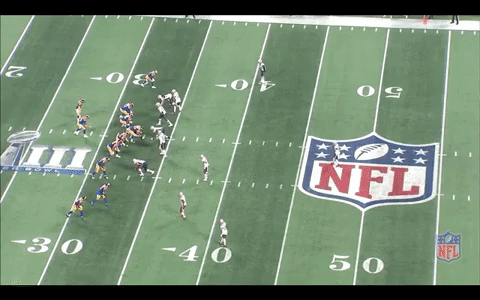 In each of the last three seasons when they made it to the Super Bowl, Belichick and the Patriots defense finished in the top three in stunt usage. In 2015, when they fell just short of a Super Bowl appearance, New England ranked 18th in stunt usage. Nonetheless, Belichick and the Pats increased the number of stunts run by over 20% from the regular season to the playoffs in 2018 (28.5% in the regular season, 51.1% in the postseason). Not only did New England increase their overall stunt usage in the postseason, but they also increased their stunt pressure rate by a significant amount as well.
During the regular season, the Patriots finished with a respectable 42.6% pressure rate from their defensive stunts, which ranked 15th among teams. When it came to the playoffs though, their pressure rate grew to an astounding 56.7%, which was by far the highest among all playoff defenses.
With great stunt success from New England, came poor play from the opposing quarterback. When New England ran a stunt, the opposition finished with a combined big-time throw to turnover-worthy play ratio of 14:13; when no stunt was executed, the opposing quarterbacks had a combined BTT-to-TWP ratio of 31:16. Furthermore, almost every quarterback New England faced faltered significantly when they went up against a Patriots stunt, including reigning NFL MVP Patrick Mahomes.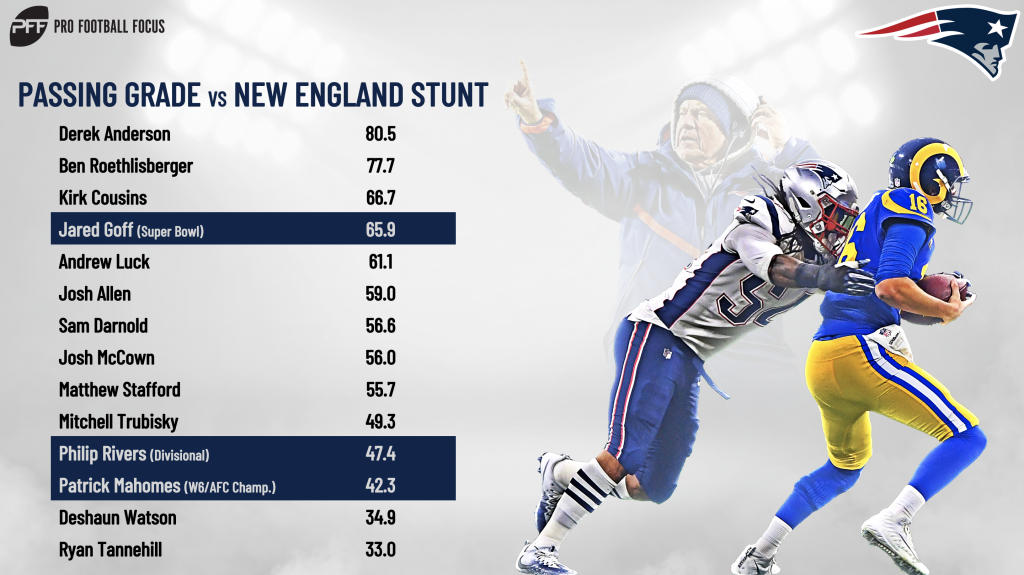 As shown, the Patriots benefited greatly from their usage of stunts in the regular season and postseason. When it came to the Super Bowl, New England ran a stunt on 45.2% of Jared Goff's dropbacks, with 47.4% of those stunts ending in a pressure. If it weren't for Goff's last attempt at a miraculous comeback on the final drive of the game (which included two big-time throws against dime and quarter packages), his passing grade against the Patriots when they ran a stunt would have been just 49.3.
When looking at individual pass-rushing success from their stunt snaps, every notable New England pass rusher benefited.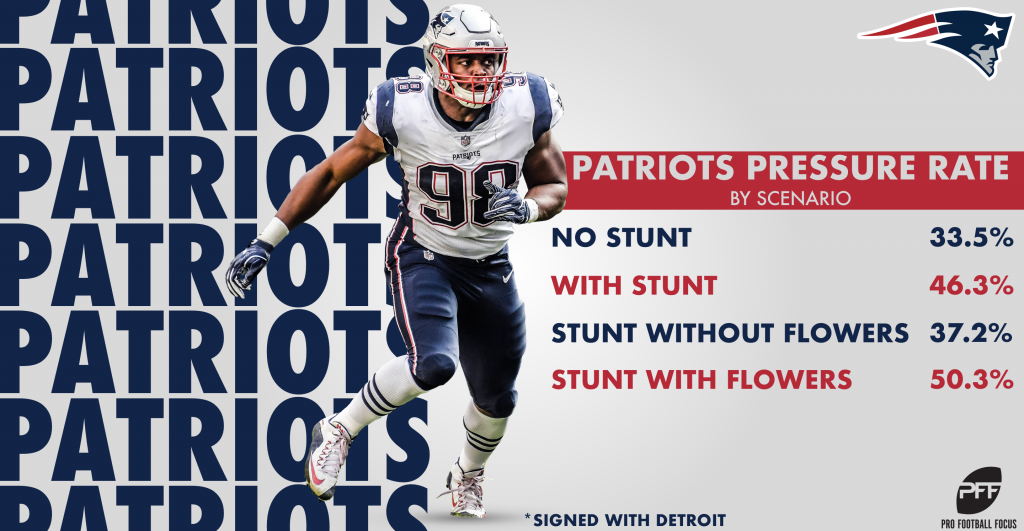 Edge rusher Trey Flowers finished eighth among edge defenders in pass-rush grade when running a stunt, ninth in pass-rush win rate at 20.3%, and 10th in total pressures with 25 (including postseason). As a result, New England's future looked bright with Flowers – that is until he signed a five-year, $90 million contract with the Detroit Lions when free agency opened.
With Flowers leaving PFF's second-highest graded defense to join his former Defensive Coordinator Matt Patricia in Detroit, questions now arise on the defensive side of the ball in New England as to how they will be able to sustain their stunt success without their top pass rusher. Without Flowers on the field, the Patriots' stunt pressure rate dropped a notable 13 percent. Though at the end of the day, worries should be put on hold for New England as they still have the most vital piece to their defense: Bill Belichick.