Running back Ronald Jones will be heading into his second year with the Tampa Bay Buccaneers, and there's no doubt that both sides are looking to forget last season and start afresh. Despite being selected 38th overall in the second round of the 2018 NFL draft, Jones barely saw the playing field last season. Whether it be from injury or just a lack of consistency, Jones logged only 23 rushing attempts as a rookie and earned a disappointing 52.4 rushing grade — a figure that ranked second-lowest among all first-year running backs.
There are a few reasons to think Jones could turn the ship around, however. Firstly, the Buccaneers hired offensive guru Bruce Arians as their new head coach — a coach who has a proven track record with offensive weapons at his disposal. Secondly, Jones is only two years removed from one of the best college performances from a running back in the PFF College era (2014-present).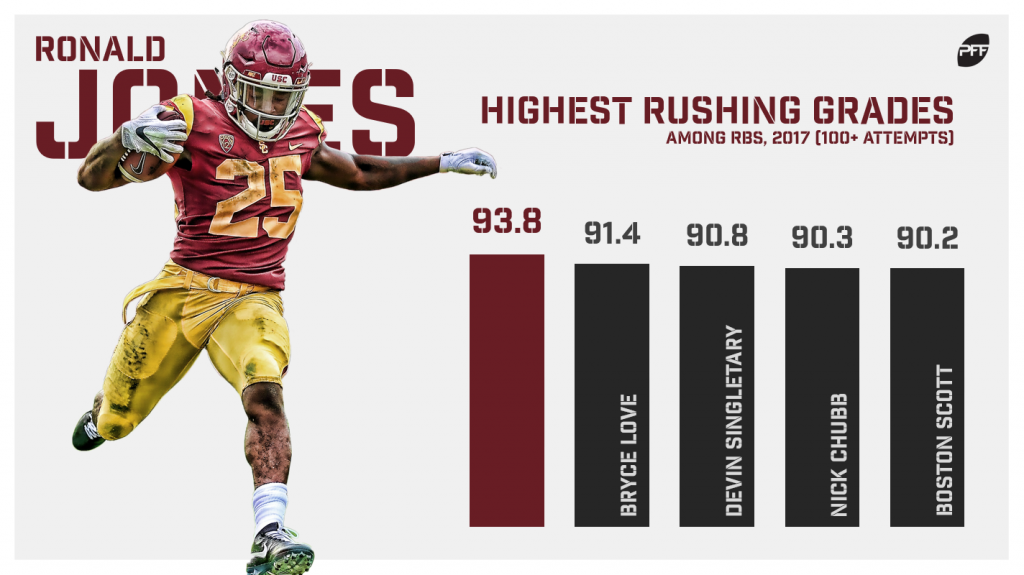 Jones' final season at USC was downright stellar. For starters, his 93.8 rushing grade and 93.1 overall grade both ranked first in the nation. That rushing grade, in particular, is impressive, as it's the highest single-season grade by running back since PFF started grading college games in 2014. 
By the time the 2017 season had wrapped up, and bowl games had been played, Jones left his mark by finishing in the top 10 of multiple rushing categories, including yards (1,550), touchdowns (19), first downs gained (82), runs of 10-plus yards (32), tackles avoided (58) and yards after contact (914). Jones also showed off his explosiveness on breakaway runs (runs of 15-plus yards), as he accumulated 719 rushing yards from such runs — the seventh-best mark in the country.
Perhaps the most impressive (and valuable in the NFL) is that Jones and fellow 2018 rookie Phillip Lindsay, were the only two running backs in the NCAA to have at least 250 rushing attempts without recording a single fumble. Although used sparingly in the passing game, Jones was still able to have an impact totaling 186 yards and one touchdown. Overall, Jones hauled in 14 of his 15 targets resulting in 140.6 passer rating when targeted.
When breaking down his production by rushing direction, Jones was as balanced as they come doing damage running on both sides of the center. During his final college season in 2017, he had close to a 50/50 split of carries and yards gained from both sides of the center. However, nothing was as fruitful as running around the right end. When doing so, Jones was unstoppable, tallying 231 yards, 8.3 yards per attempt and four touchdowns all while avoiding 16 tackles on just 28 rushes.
That dominating 2017 campaign didn't appear out of thin air either, as Jones put up promising numbers from 2015-16 finishing with rushing grades of 81.6 and 77.7, respectively. In total, Jones ran for 2,064 yards and 20 touchdowns while averaging over six yards per attempt over his first two years at USC.
Jones' three-year resume at USC provided plenty of optimism for his NFL career — and while that didn't exactly translate into much in Year 1, there's no reason for Arians & Co. to write him off just yet. With the running back depth chart likely to be wide open during training camp, Jones should have plenty of opportunities to show his days at USC were anything but a fluke.