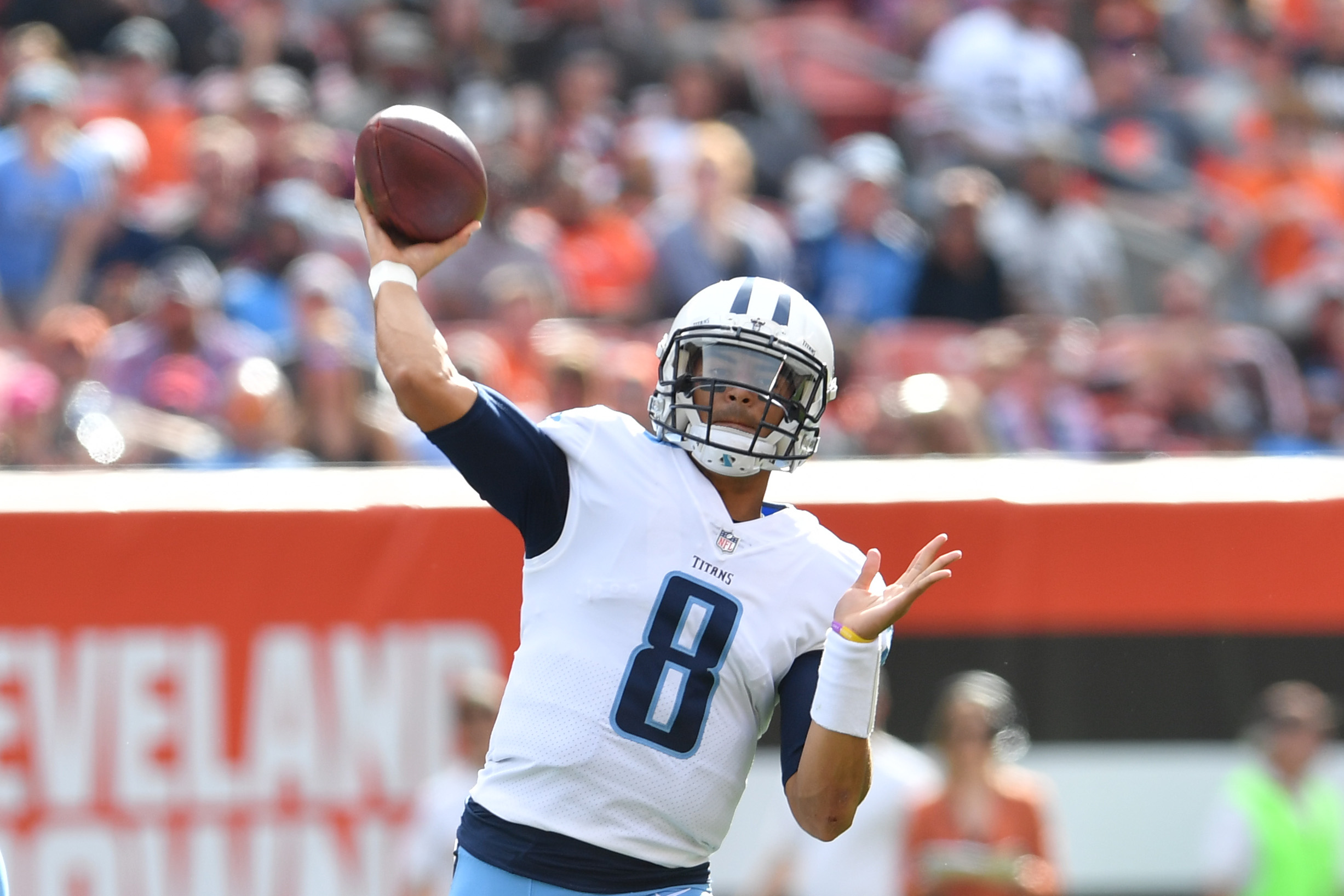 CLEVELAND, OH - OCTOBER 22: Marcus Mariota #8 of the Tennessee Titans passes in the second half against the Cleveland Browns at FirstEnergy Stadium on October 22, 2017 in Cleveland, Ohio. (Photo by Jason Miller/Getty Images)
In a battle of field goals, Tennessee Titans kicker Ryan Succop had the final say in his team's 12-9 overtime win over the Cleveland Browns on Sunday.
Succop's four field goals lifted the Titans to a 12-9 win over the Browns in Cleveland's FirstEnergy Stadium, the last of which coming from 47 yards out with 2:00 left in overtime.
After two first-half interceptions, Browns rookie quarterback DeShone Kizer was again benched in favor of Cody Kessler. However, neither of the Cleveland signal-callers could get anything done offensively, as the two combined for just 235 passing yards, zero touchdowns and three interceptions.
Though he wasn't in line to be benched, Tennessee's Marcus Mariota also put together an underwhelming statistical performance in Cleveland. He completed 21-of-34 passes for 203 yards and zero touchdowns. Mariota did just enough in the overtime period to get his team in field goal range for the victory however.
Titans safety Kevin Byard was the man behind the Browns' interceptions, as he recorded all three of the game's interceptions and added four combined tackles (two solo) to his stat line. With that, we give you our PFF exclusive takeaways from the contest for each team.

Top 5 Grades:
LB Avery Williamson, 91.3 overall grade
S Kevin Byard, 89.0 overall grade
S Da'Norris Searcy, 82.9 overall grade
QB Marcus Mariota, 82.6 overall grade
T Jack Conklin, 82.4 overall grade
Performances of Note:
Despite throwing for just over 200 yards and failing to throw a touchdown pass, this was another encouraging effort from Mariota. He never put the ball in danger and his numbers would have looked a lot better if not for four drops from his pass catchers. Given how much time he had (only pressured on four dropbacks despite being blitzed on 16 plays) that's not earth shattering but it shows that his floor remains that of a signal caller who won't lose the game for you.
We heard Myles Garrett's name called for penalties and one sack on a busted shovel pass. The rest of the game? Not so much. That was largely because Lewan had the better of him most of the day, outside of one pressure on the penultimate play of the first half. There's a reason he's one of the best tackles in the league.
Was there a hint of good fortune to Byard picking off a couple of overthrows? Perhaps. But he was there to make the plays and peeled off nicely to grab his first pick and set the wheels in motion for a quarterback benching. Byard isn't a player who gets a lot of press and his tackling (seven misses on the year) could improve, but he's one of the emerging players on this suffocating defense.
DI Jurrell Casey, 76.6, overall grade
A good game by the standards of most, but the expensively-assembled Browns offensive line found a way to bring out the rare so-so game from the usually-excellent Casey. He walked away with a hit and two hurries to go with three stops in the run game, but it was an uncharacteristically quiet game for the former Trojan.

Top 5 Grades:
LB Joe Schobert, 89.0 overall grade
CB Briean Boddy-Calhoun, 85.1 overall grade
CB Jamar Taylor, 84.4 overall grade
S Ibraheim Campbell, 84.4 overall grade
G Joel Bitonio, 83.4 overall grade
Performances of Note:
Things weren't going well with Deshone Kizer, who was playing efficiently until he started turning the ball over when he began to open up his game. Kessler came in and provided a spark and moved the ball downfield more effectively, but the bar was a low one, and he himself threw a pick and couldn't move the offense when it needed it most. He looks the best option right now and the failures of the other men in the quarterback room have earned him that right, but you'd get long odds on him keeping that job the rest of the season.
In the battle for running back snaps, Johnson lost to Isaiah Crowell 39 to 36, and as ever was featured prominently in the passing game with a team high seven targets. Johnson remains the X factor in this offense, seeing a number of decent receptions called back on penalties and looking effective enough between the tackles in a game where the line struggled to get any push. We, like you, will continue to be interested by his usage going forward.
Schobert hadn't looked completely comfortable at the middle linebacker spot in the first six weeks, but this was a much better effort where he finally looked at home. He led the team with seven defensive stops and showed some good closing speed in coverage. In a young defense, the 2016 draft pick stood out in a heartening effort.
In a big day for the Browns secondary, Boddy-Calhoun stood out with his efforts. He was targeted just three times as Mariota opted to avoid him, and the results were  just one completion and one pass break up. He added two stops in the run game, and while he let himself down with two special teams penalties, he was a major part of a great showing by a unit missing it's top corner.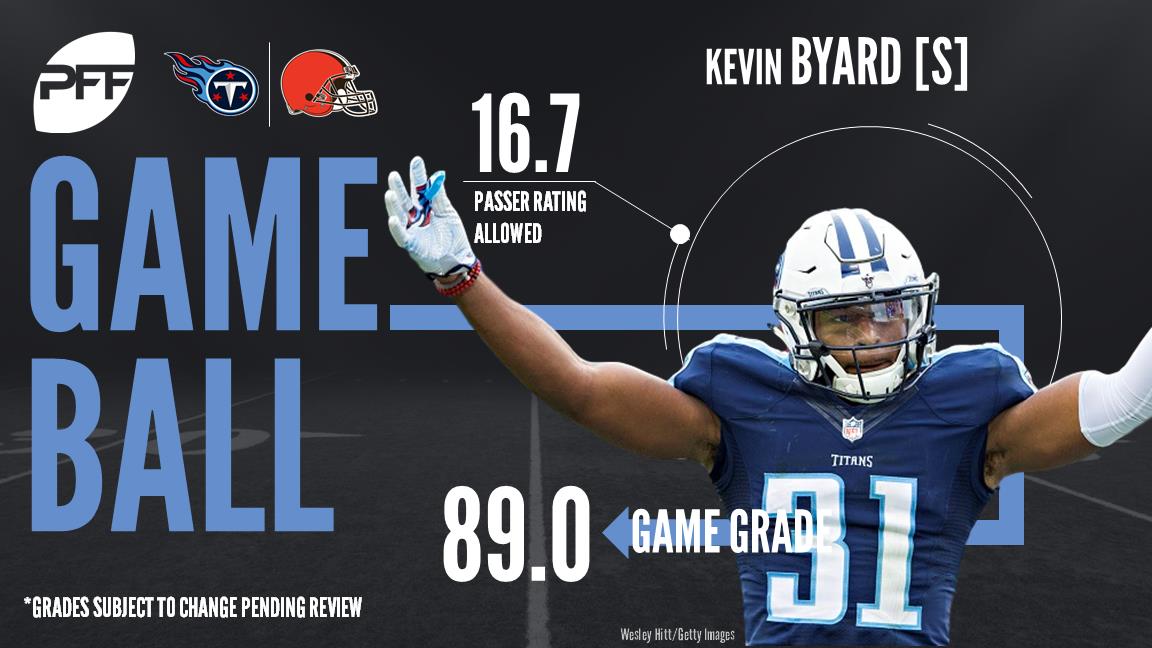 *Grades are subject to change upon review