The Tampa Bay Buccaneers got their season off to a hot, albeit later than anticpiated, start, after blanking the Chicago Bears in the first half 26-0. The Bucs defense forced four first half turnovers including a pick-6 by CB Robert McClain, who was just named the starting nickel cornerback a mere four days ago. Bucs QB Jameis Winston hit WR Mike Evans for a pretty toe-tapping touchdown after one of those turnovers in a very succinct half of football for Tampa Bay.
The second half was much slower as the team's combined for just 10 points before the Winston-led Bucs were officially victorious over former Bucs QB Mike Glennon and the Bears, 29-7. With that, we give you our PFF exclusive takeaways from the contest for each team.

Top 5 Grades:
RT Demar Dotson, 91.0 overall grade
LB Lavonte David, 90.0 overall grade
DT Gerald McCoy, 89.6 overall grade
LB Kendell Beckwith, 86.8 overall grade
S T.J. Ward, 84.8 overall grade
Performances of Note:
This was a performance of characteristic high and lows from Winston in the Bucs' opener with some erratic and dangerous passes paired with some exceptional passes particularly to Mike Evans. This connection and the balance of big plays to erratic plays was comfortably in favour of the positive side of the ledger and plenty enough to ease past the sputtering Bears. Working the middle of the field at the intermediate level was problematic for Winston (3-of-8 for 51 yards) but this was a solid start for Winston with plenty to indicate bigger and better things to come.
TE O.J. Howard, 77.3 overall grade
Howard was not a feature in the passing game with his only reception on three targets picking up a first down on a 17-yard gain but his run blocking was far above what you would ordinarily expect from a rookie tight end on debut. Howard showed good control and got consistent movement to help the Bucs gain 55 yards on 10 rushes wide of the tackles.
Kwon Alexander got his season off to a fast start with an interception but his season opener only lasted 17 snaps after a hamstring injury. Beckwith filled extremely well in sub packages with a strong showing in coverage where he was tested often and never found wanting. Targeted eight times Beckwith surrendered only four receptions for 43 yards and even though these numbers saw him benefit from a slew of drops by Chicago's receivers he was always in position to limit any gains if the passes had been caught.
Just another seven pressure performance for  McCoy to start the season. The Bears were forced to roll five players through their interior offensive line due to injuries at both guard spots and McCoy bested most of them at some point during the game. His seven pressures were his most since the Bucs' Week 12 win over the Seahawks last year and Tampa fans will hope this can be part of five game winning streak as that display was.

Top 5 Grades:
DE Mitch Unrein, 83.6 overall grade
LB Pernell McPhee, 79.6 overall grade
CB Kyle Fuller, 78.7 overall grade
S Eddie Jackson, 78.3 overall grade
LB Danny Trevathan, 76.8 overall grade
Performances of Note:
Early in the game, Glennon worked the middle of the field well, standing in against pressure to build drives and work the middle of the field as the Bucs' vacated space. However, the solid starts to drives weren't backed up with the right ending until the very end of the game. There were solid gains throughout but a series of disastrous turnovers completely took the Bears out of this game and Glennon much bear the brunt of the blame for those plays.
Thompson was a rare bright spot on offense with some solid gains at the intermediate and deep level. Glennon only missed Thompson on one of his five targets and hit the Cover-2 hole in the Bucs' back up defense to ensure that the Bears didn't return to Chicago without any points.
After a subdued debut last week against the Falcons, Jackson was far more active against the Bucs this week racking up three defensive stops to fall one shy of the Bears' team lead. A persistent presence in the box against the run, Jackson surrended two catches in the passing game with sure tackling there as well allowing only three  yards after the catch on those two targets.
Too few of the Bears' noteworthy defensive performances were noteworthy in a good way against the pass. Goldman's sack came courtesy of Jameis Winston stepping straight up into his arms where he was mobbed by Goldman and two other Bears defenders. However it was Goldman's work against the run that impressed the most getting the better of Bucs' C Ali Marpet to grab two run stops of his own and limit the Bucs' to 28 yards on 13 A-gap carries.
PFF Game Ball: Lavonte David, LB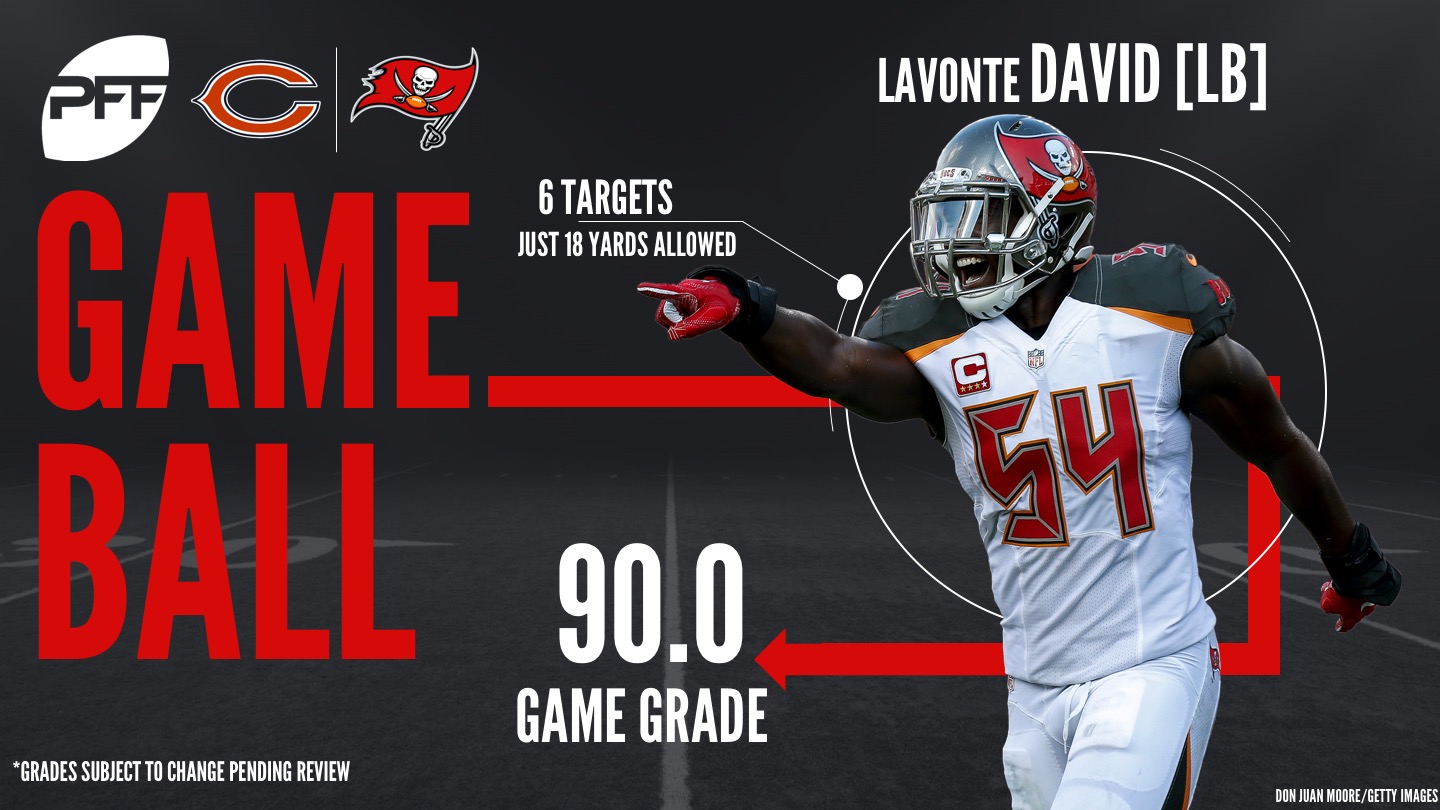 *Grades are subject to change upon review