Blair Walsh opened the scoring with a field goal, but the Colts would respond in an unconventional way; they secured their first points by sacking QB Russell Wilson in the endzone for a safety. In the second quarter, Seahawks CB Justin Coleman returned an interception for a score, however the Colts would score two touchdowns, including a QB Jacoby Brissett touchdown throw to WR Donte Moncrief, to take a 15-10 lead into halftime.
Seattle would grab the lead on a Wilson touchdown run and would scarcely look back. They scored five total second half touchdowns, including two scores from HB J.D. McKissic, one each rushing and receiving. The Seahawks would go on to win 46-18. With that, we give you our PFF exclusive takeaways from the contest for each team.

Top 5 Grades:
QB Russell Wilson, 93.8 overall grade
LB Bobby Wagner, 90.9 overall grade
S Kam Chancellor, 87.2 overall grade
CB Justin Coleman, 84.3 overall grade
DI Sheldon Richardson, 83.9 overall grade
Performances of Note:
This was the Russell Wilson that makes the Seahawks one of the best teams in the NFL. While he had two interceptions, the second was a good pass that hit Jimmy Graham in the hands. Outside of his two interceptions, Wilson was electric, making plays with his legs and his arm. When Wilson was under no pressure, he had a passer rating of 119.4.
The Seahawks offensive line is led by Justin Britt, and although he wasn't at his best, he still was able to put on a solid performance. The key to the win was the whole play by the Seahawks offensive line. While the young tackles might not have been akin to Joe Thomas, they limited pressure for Wilson, as the offensive line only gave up 6 hurries on 38 dropbacks.
We're only one-quarter of the way through the season, but Bobby Wagner may be on track for the highest-graded season of his career. Wagner had four total pressures on five snaps of rushing the quarterback, and added four defensive stops overall. To top off the great night, he not only recovered a fumble, but was able to make his way through traffic to find the end zone, which really seemed like the turning point in the game.
Richardson has had a slower start to the season than Seattle probably hoped, but he turned in a better performance against the Colts. He had four pressures while rushing the quarterback, but actually made his mark in run defense. He had two run stops and disrupted a few other runs at the point of attack to setup stops for his teammates.

Top 5 Grades:
S Matthias Farley, 89.0 overall grade
CB Rashaan Melvin, 88.9 overall grade
EDGE Jabaal Sheard, 84.9 overall grade
DI Al Woods, 79.6 overall grade
LB Jon Bostic, 77.1 overall grade
Performances of Note:
The Colts' offense struggled as a whole, with few positive performances to speak of. Moncrief had a decent outing, catching three passes for 30 yards, including one touchdown, all of which came against Seattle CB Shaquill Griffin. His 97.1 wide receiver rating was the highest of the game for the Colts.
This was easily Brissett's worst performance this year. While the offensive line didn't make his job any easier, allowing Brissett to be pressured on 52.4 percent of his dropbacks, some of it still falls on Brissett. He was able to complete just 5-of-13 passes when under pressure. When kept clean, Brissett fared somewhat better, with an 87.5 adjusted completion percentage after accounting for three drops. However, his dreadful pick-six came without pressure, as it was just the result of just a very poor decision.
Sheard was the one defender who got consistent pass-rush on Wilson. Sheard had one sack and five hurries more than the rest of Colts defense put together. But Sheard's biggest strength on the night was in the run game, where he recorded five stops, as he was too strong on the edge for the Seahawks tackles.
One of the most impressive players for this Colts defense through four games this season has been cornerback Rashaan Melvin. Against the Seahawks, Melvin was again a force, even though he allowed four catches on five targets, he only allowed 28 yards for an average of 5.6 yards per target. On top of that he had a pass defensed on his other target and was able to knock down another pass where he was not in primary coverage.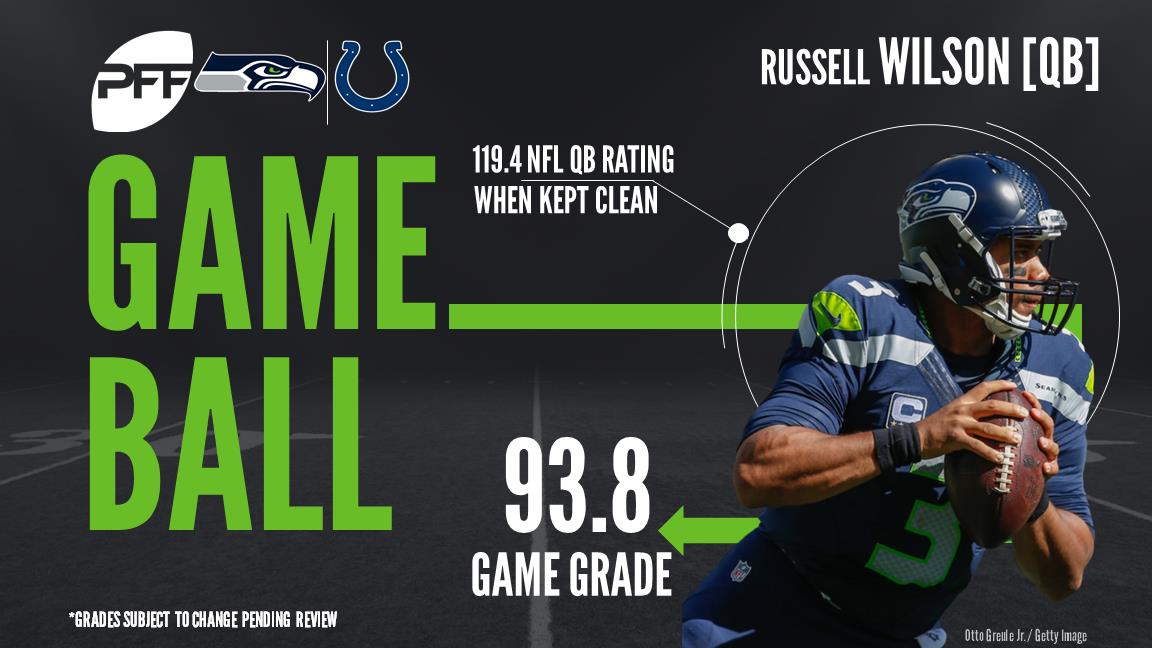 *Grades are subject to change upon review