The Seahawks opened the scoring with a pair of field goals in the first quarter. Not to be outdone, the 49ers answered with a pair of field goals in the second quarter.
The 49ers would add another field goal in the second half, but it would be a QB Russell Wilson touchdown pass to WR Paul Richardson that would prove to be the difference, and the Seahawks would walk away with the 12-9 victory. With that, we give you our PFF exclusive takeaways from the contest for each team.

Top 5 Grades:
RB Chris Carson, 86.6 overall grade
LB Bobby Wagner, 84.4 overall grade
LB K.J. Wright, 83.7 overall grade
DI Michael Bennett, 82.4 overall grade
C Justin Britt, 80.6 overall grade
Performances of Note:
Carson led all Seahawks running backs with 51 snaps and 20 carries, making the most of them for 93 yards. He did a fine job of maximizing what the offensive line gave him, whether it was finding four yards in tight quarters or hitting the edge for 10-plus. Carson picked up 58 yards after contact, fourth-highest so far this week, while forcing four missed tackles on those 20 carries.
While he played magician in the end with an incredible play to avoid pressure and hit WR Paul Richardson with the game-winning touchdown, Wilson was playing with fire all afternoon. He threw at least four passes that could have been intercepted, three of which were dropped by the defense. Whether overthrowing a short route that was earmarked right for CB Rashard Robinson had another 49er defender not gotten a hand on it or floating a ball up the seam that Robinson dropped, Wilson's had excellent luck as his turnover-worthy throws did not come back to bite this week.
Wagner made plays all over the field, both against the run and pass. Playing as the Cover 1 free player in pass coverage, he followed Brian Hoyer's eyes on a crossing route for a first quarter interception that set the tempo for the passing game the rest of the day. Wagner finished with an impressive 5 solo stops on the day.
The Seahawks didn't apply the type of pressure you may have thought coming in but Bennett was still able to affect the passer on some occasions. Bennett had 1 sack and 1 batted pass and was effective against the run disrupting a few plays in the backfield and finishing with 3 solo stops.

Top 5 Grades:
DI DeForest Buckner, 90.8 overall grade
T Joe Staley, 86.8 overall grade
T Trenton Brown, 86.0 overall grade
S Jaquiski Tartt, 82.6 overall grade
S Jimmie Ward, 81.3 overall grade
Performances of Note:
QB Brian Hoyer, 32.7 overall grade
Hoyer was provided solid protection for the majority of the game (under pressure on just 5 attempts) but was unable to find open targets, throwing for just 99 yards. Lack of separation for his targets and inaccuracies made it a tough day as Hoyer attempted just 3 passes over 10 yards with 0 completions.
T Joe Staley, 86.8 overall grade
Staley was one of the few brights spots for the 49ers, especially effective in the run game, finishing with a 87.5 run grade. Staley helped pave the way for Carlos Hyde's 100 yard day, clearing a lane for him on his 61 yard run in the second quarter.
Buckner was disruptive, both as a pass-rusher and against the run, as he finished with nine total pressures (four hits, five hurries) on his 40 rushes. He also got in on two run stops, while consistently shedding blocks on the backside of zone runs and clogging up those running lanes. Buckner's 68 snaps led all 49ers defensive linemen and his 121 snaps on the season now rank third among all interior defensive linemen.
Tartt made his presence felt with an early pass breakup against TE Jimmy Graham over the middle of the field as he dislodged the ball with a big hit. He was also right there to ensure that WR Tanner McEvoy did not have a second opportunity to recover his end zone drop as Tartt once again got in the play. It was a solid all-around game for Tartt, who played all over the defense, including 39 of his 84 snaps at free safety and another nine in the slot.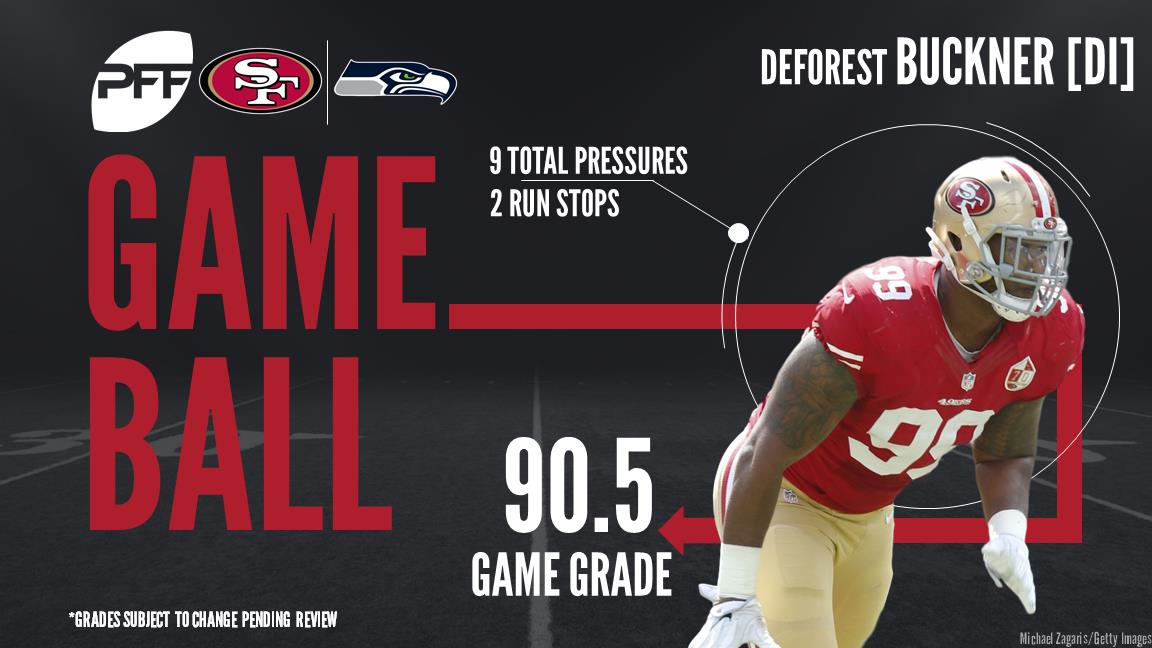 *Grades are subject to change upon review