QB Jimmy Garoppolo remains undefeated in his San Francisco 49ers starts, as the team managed to outlast the Tennessee Titans 25-23 at Levi's Stadium.
Garoppolo was 31-of-43 for 381 yards, tossing one touchdown and committing no turnovers. He didn't receive much help on the ground, as the 49ers as a team rushed for 51 yards on 22 carries. Through the air though, WR Marquise Goodwin was a major contributor, catching 10 passes for 114 yards.
QB Marcus Mariota was 23-of-33 for 241 yards and he had two touchdowns versus no turnovers on the day. Neither RB DeMarco Murray nor RB Derrick Henry produced much on the ground, combining for 78 yards on 25 carries. TE Delanie Walker caught one of Mariota's touchdown throws but also lost a fumble in the game.
With that, we give you our PFF-exclusive takeaways from the contest for each team.

Top 5 Grades:
T Joe Staley, 86.8 overall grade
WR Marquise Goodwin, 86.4 overall grade
TE Garrett Celek, 85.7 overall grade
CB K'Waun Williams, 83.2 overall grade
TE George Kittle, 81.7 overall grade
Performances of note:
Not only was Marquise Goodwin productive against the Titans, turning in his second straight 100-yard receiving game and besting Adoree' Jackson in a matchup of two of the NFL's speedsters, he also put in the extra work to spare his quarterback's blushes on two occasions. Goodwin had a lot of production on slants, beating Jackson for three first downs on slants, but his most meaningful impact may have been preventing two sure interceptions on Garoppolo's worst two throws. The first was when he worked back down the field to win a dubious contested catch against Erik Walden in the second quarter.  He repeated the trick at a crucial juncture in the fourth quarter, getting just enough of Jackson's right arm to prevent an interception in the Titans end zone.
Garoppolo has his top wide receiver to thank for his stat line looking nearly impeccable rather than very good, but that shouldn't detract too much from an exceptional performance in the face of heavy and exotic pressure from Dick LeBeau's defense. Garoppolo was pressured on 18 of his 46 dropbacks against the Titans but was sacked only twice and he racked up a passer rating of 104.2 when the pressure got home. Eleven times at least part of the pressure on the play came unblocked but Garoppolo was unfazed and found the right receiver consistently enough to keep the 49ers' offense ticking in spite of LeBeau's ability to get free rushers seemingly at will.
K'Waun Williams was only targeted two times, where he did give up two catches, but he managed to make a stop after four yards on one play and on the other make the tackle right as the ball was thrown. Williams' best play was where he wasn't targeted but was able to jump off of his coverage and knock the ball down on a deep pass to Davis.
The knock on DeForest Buckner coming out of college was his inability to shed double-team blocks when the ball was run right at him. In the this game we saw this weakness, and he was knocked back consistently against double teams and moved into the second level, however we also saw the good Buckner. When he was one-on-one or the away from the play, Buckner was able to make two stops in the run game, the biggest being the third and two trap play at the end of the game to stop the Titans gaining a first down and giving the 49ers a chance to get the ball back and get the game winning score.

Top 5 Grades:
DI Jurrell Casey, 87.6 overall grade
WR Rishard Matthews, 85.4 overall grade
QB Marcus Mariota, 83.9 overall grade
S Da'Norris Searcy, 82.1 overall grade
T Jack Conklin, 80.2 overall grade
Performances of note:
Marcus Mariota nearly was able to bring the Titans back against the 49ers, only to see the 49ers take back the lead as the clock expired. Mariota had four incompletions over 10 yards on 15 targets, and he was just as good under pressures as he was with no pressure, with a passer rating of 109.4 under no pressure, compared to a 113.3 rating under pressure.
Matthews was the most dangerous of the Titans receivers, catching all six targets thrown his way against six different defenders, as the Titans were able to move him around to pit him against a variety of defenders. The only area the Titans could have used more from Matthews was in yards after the catch, as he only averaged 3.5 yards after the catch for the game.
Casey surprisingly didn't record a single pressure against the 49ers. He was able to defeat the 49ers blockers, in particular Zane Beadles, but was thwarted by the cat-quick reactions of Jimmy Garoppolo, who was able get rid of the ball before problems could manifest into meaningful pressure. Casey added a batted pass in the first quarter and racked up five stops against the run, taking his season total to 30, three shy of the most by a 3-4 defensive end so far this season (Akiem Hicks).
A game of incredible ups and downs for Jackson, who in the space of the game and even plays had the highs of breaking passes up and playing receivers tight before ultimately getting bested by the man across from him. Jackson had two pass defenses, the second would've been a decisive interception but for Marquise Goodwin's intervention, and he also played a couple of hitches well in the first half. However slants, and in particular Marquise Goodwin, were his nemesis, as he surrendered 77 of his 88 receiving yards allowed to Goodwin. 45 of those yards came on four slants, leading to three first downs, with the last one taking the 49ers into field goal range at the end of the game.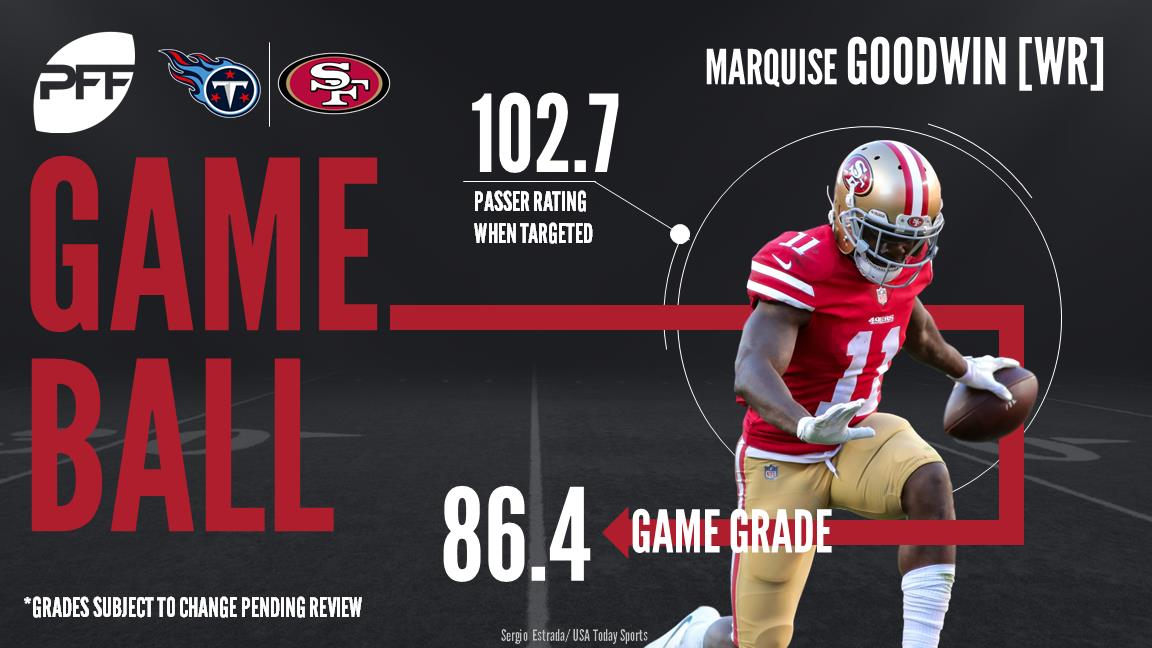 *Grades subject to change