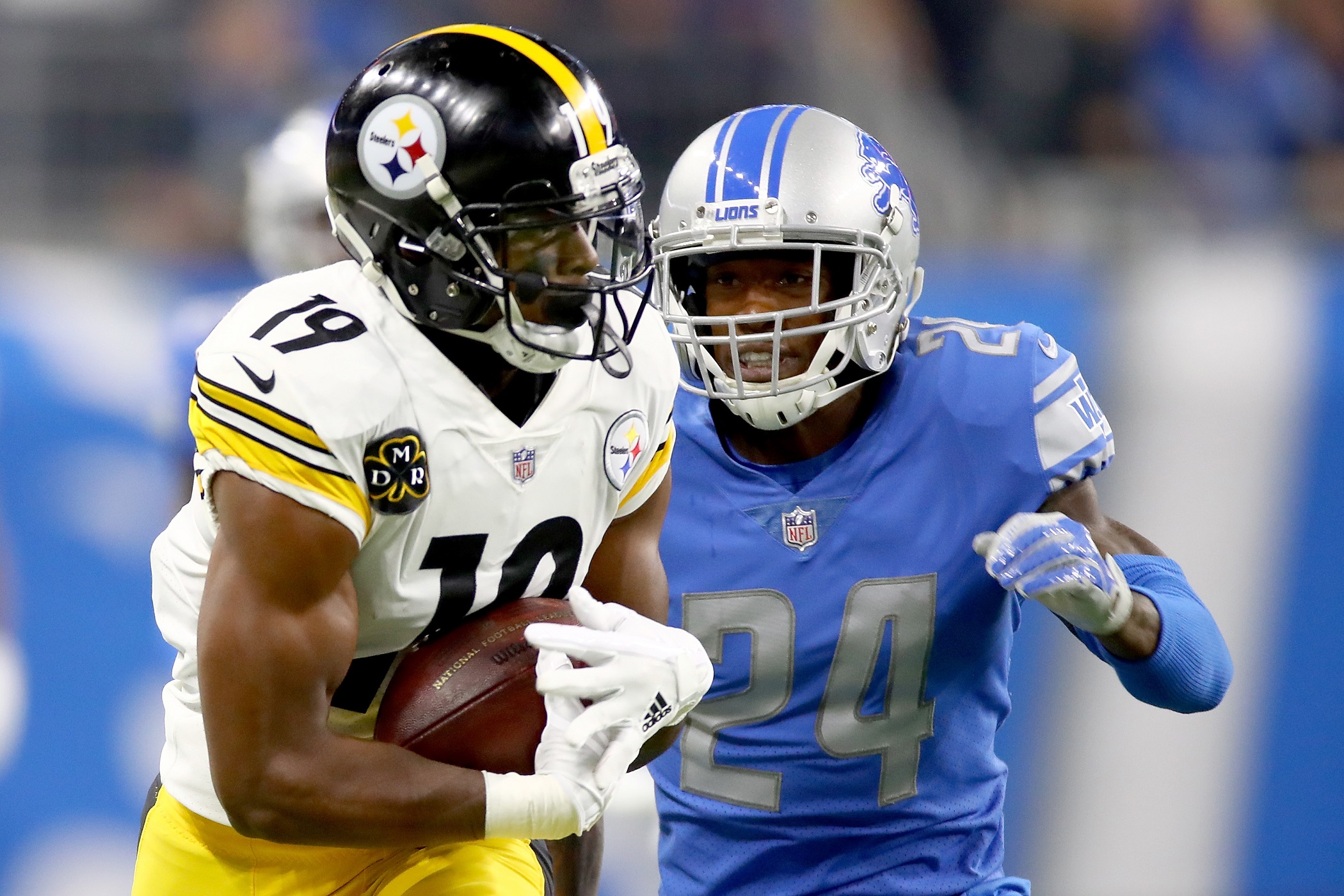 DETROIT, MI - OCTOBER 29: Wide receiver JuJu Smith-Schuster #19 of the Pittsburgh Steelers runs with the ball after a making a catch against cornerback Nevin Lawson #24 of the Detroit Lions at Ford Field on October 29, 2017 in Detroit, Michigan. (Photo by Gregory Shamus/Getty Images)
The Pittsburgh Steelers defeated the Detroit Lions 20-15 at Ford Field Sunday night partially due to the massive effort of JuJu Smith-Schuster.
On a night where QB Ben Roethlisberger threw as many interceptions as touchdowns and RB Le'Veon Bell was inefficient with his workload (76 yards on 25 carries), Smith-Schuster accounted for well over half the team's receiving yards and the touchdown that gave the Steelers their permanent lead. The Steelers defense largely played well against the run and harried their offensive counter parts in the passing game.
QB Matthew Stafford didn't find the end zone with any of his passes, and the Lions settling for field goals where the Steelers scored touchdowns would be the difference in the game. With that, we give you our PFF exclusive takeaways from the contest for each team.

Top 5 Grades:
WR JuJu Smith-Schuster, 87.5 overall grade
DI Javon Hargrave, 86.1 overall grade
S Robert Golden, 84.2 overall grade
G David DeCastro, 84.2 overall grade
DI Cameron Heyward, 80.5 overall grade
Performances of Note:
JuJu Smith-Schuster has been in the news all week for various reasons, and today he made sure people will be talking about his play. He used his speed to stay ahead of the Lions pursuit defenders on the 97-yard touchdown catch that made the difference in the game. Outside of one dropped pass, JuJu was a match up nightmare as he caught passes against 5 different defenders.
Roethlisberger had an interesting game, as he regularly attempted all-or-nothing passes. Roethlisberger completed 13 of his 15 attempted passes under 10 yards, and only 3 attempted passes in the 10-19 yard range. However, he attempted 12 passes over 20 yards, and he connected on just enough to keep the Steelers in the lead. The highlight play will be the Smith-Schuster touchdown play, and while everyone will talk about the long run, the play required a great throw to beat the defender and keep Smith-Schuster from slowing down
The Steelers only sacked Stafford twice and knocked him down two other times, but they did get a fair amount of pressure on him, led by Javon Hargrave. Hargrave overpowered center Travis Swanson for much of the game, leading to one hit and three hurries, including the hit on Detroit's final play of the game that led to a turnover on downs.
Heyward was also a productive pass-rusher, tallying one sack and four hurries on the night, with four of those pressures coming against Lions LT Brian Mihalik. Heyward didn't make as much of an impact in run defense, but did have one run defense stop.

Top 5 Grades:
LB Jalen Reeves-Maybin, 83.0 overall grade
WR TJ Jones, 82.8 overall grade
QB Matthew Stafford, 82.0 overall grade
WR Marvin Jones, 81.9 overall grade
DI A'Shawn Robinson, 81.5 overall grade
Performances of Note:
Marvin Jones has had a slower start to the season, but he has picked it up a bit the last two games and had his best game of the season on Sunday night. He finished with 128 receiving yards, the first time he has eclipsed the 100-yard mark since Week 3 of the 2016 season. He also forced three missed tackles after the catch, more than he had in his last 18 games combined.
Jones also had one of his best games of the season as a receiver. He gained 88 yards on four catches, including three receptions over 20 yards, two of which qualified as deep receptions. Jones already has career-highs in snaps played and in most receiving categories only halfway though the season as he continues to receive more playing time as the No. 3 wide receiver.
While Jalen Reeves-Maybin only played on 22 snaps, he showed so much in those snaps that the Lions should be thinking about getting him more involved. Reeves-Maybin was on the field for 17 run plays and had four stops on those plays.
For most of the game Darius Slay was lined up against Antonio Brown and did an excellent job in those snaps, he only allowed one catch for 9 yards on four targets. When Slay was targeted all game he only allowed a passer rating of 42.4, however, he was the culprit defender for the defensive pass interference penalty that allowed the Steelers to extended the game ending drive. Outside of that play, Slay was able to control his man.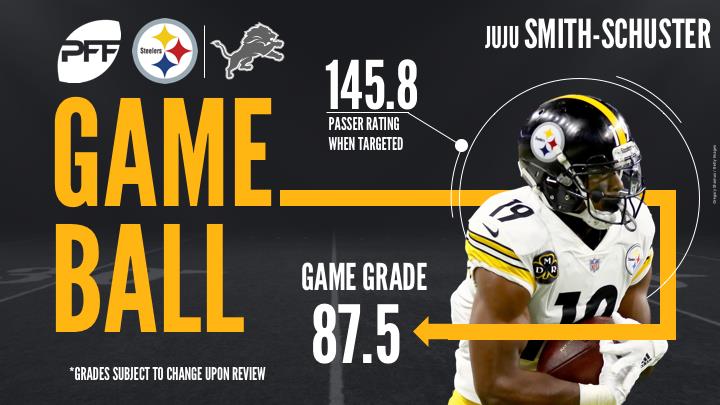 *Grades are subject to change upon review