Behind a strong defensive effort, the Philadelphia Eagles guaranteed themselves at least a first round bye in the playoffs with a 19-10 victory over the Oakland Raiders on Christmas evening. Philadelphia's defense limited the Raiders to 137 rushing and 137 yards passing, while forcing five turnovers in the contest.
The final score wasn't quite indicative of just how hard fought this game was, as the Eagles scored the game's final 12 points, including a Derek Barnett fumble return for a touchdown after the Raiders' last ditch effort of a lateral play was fumbled. Filling in for the injured Carson Wentz, veteran quarterback Nick Foles threw for 163 yards and a touchdown, but the Eagles defense told the story. The intercepted Oakland QB Derek Carr twice and recovered another three fumbles, and with that, we give you our PFF-exclusive takeaways from the contest for each team.

Top 5 Grades:
S Malcolm Jenkins, 86.1 overall grade
LB Nigel Bradham, 86.0 overall grade
Edge Chris Long, 83.7 overall grade
S Rodney McLeod, 83.0 overall grade
G Brandon Brooks, 82.3 overall grade
Performances of Note:
Widely regarded as a Pro Bowl snub, the Eagles center put in another solid effort against the Raiders. He didn't allow a single pressure in pass protection on a night where Nick Foles was under duress on 13 occassions. The offense struggled to get the run game rolling, only averaging 3.7 yards per attempt on 21 carries but Kelce was effective in his role leading to a 77.9 run-block grade.
It was a tough night to say the least for the Eagles back up quarterback as his troubles started early when he threw what should have been a pick-six the other way to Reggie Nelson. He then struggled with timing and accuracy throughout most the rest of the game. His numbers were bleak while under pressure, finishing 4-of-12 passing for only 33 yards and an interception. Foles also had accuracy issues down the field as he was only 1-of-11 for 15 yards on passes that traveled over 10 yards in the air.
On the evening, Jenkins was targeted two times and yielded just one reception for four yards. Jenkins added four tackles and two stops in run defense as his forced fumbled, and subsequent recovery in the fourth quarter was a pivotal play and helped pace the Eagles in their strong defensive outing.
Rushing from his defensive end position, Long produced eight total pressures against Oakland as he finished with a sack, three QB hits and four QB hurries. Long disturbed Raiders QB Derek Carr's timing all game long and was arguably the most impactful player on the Eagles defense.

Top 5 Grades:
S Reggie Nelson, 92.2 overall grade
Edge Khalil Mack, 82.9 overall grade
Edge Bruce Irvin, 81.5 overall grade
CB Sean Smith, 79.3 overall grade
WR Amari Cooper, 78.6 overall grade
Performances of Note:
Cooper caught all three catchable passes thrown his way, including a touchdown on a slant-and-go route and had a great jumpball catch on a 'go' route that was nullified due to a holding penalty. The Raiders couldn't get the ball to Cooper in the second half, however.
Carr finished the evening 15-of-29 for 144 with a touchdown, two interceptions and four passes thrown away. He was sacked once as he found himself under pressure 15 times on the night and finished the night just 2-of-12 passing under pressure for nine yards. Carr did have a couple of nice passes and started off hot but a couple coverage misreads that were intercepted, ended promising drives for the Raiders.
Nelson flashed the ability that regarded him as one of the top-tier safeties in his Cincinnati playing days. He could've accounted for three turnovers and two touchdowns had he not dropped an interception in the first quarter but was still stout in coverage, allowing only one reception on six targets while recording two pass breakups and a passer rating of 39.6 when targeted. Nelson earned the team's top run-defense grade of 94.7 with two stops and a forced fumble.
Mack didn't quite dominate as a pass-rusher like he's capable of any given week but he still recorded five pressures. To his credit, elite edge players are capable of making an impact against both the run and pass as Mack did just that, recording three stops and a 91.4 run defense grade. To no one's surpise, he's had another stellar season rushing the passer, recording 11 sacks and 76 total pressures with one game to go.
PFF Game Ball: Chris Long, edge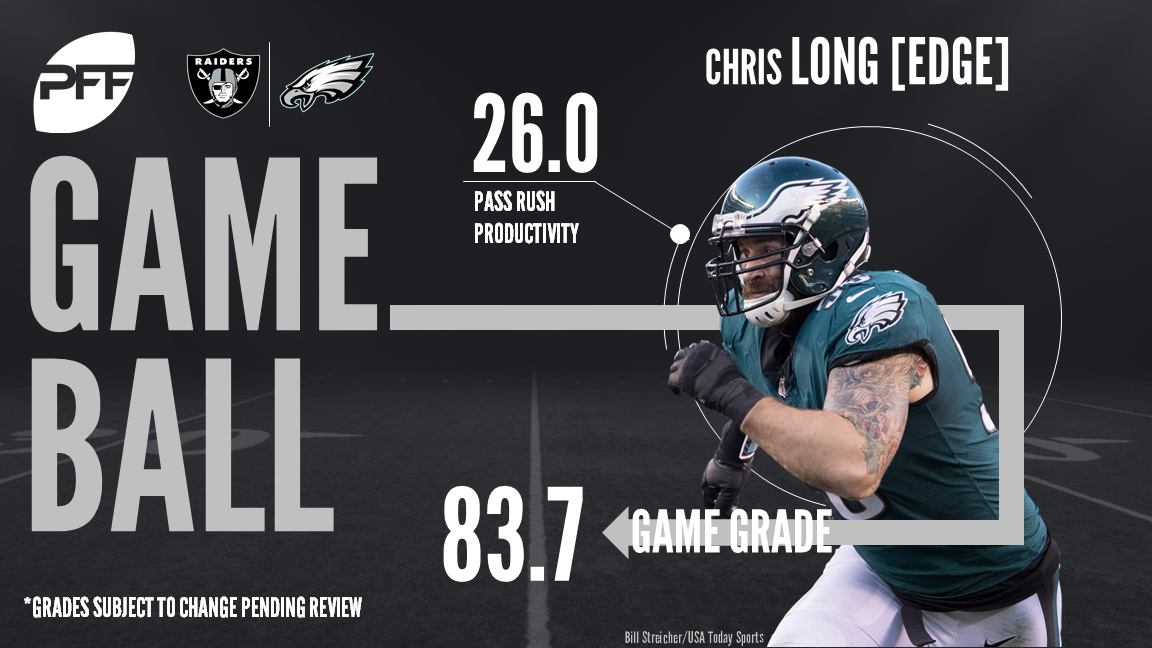 *Grades subject to change