The New Orleans Saints defeated the Los Angeles Rams, 45-35,  in Week 9 of the 2018 NFL season.
PFF's ReFocused series this season features immediate takeaways and a key to the victory from two Senior Analysts who graded the performance, watching every player on every play of the game. For more data and analysis from the game, utilize our Premium Stats 2.0 dashboard to expand your knowledge on the key players, signature stats and much more.

FINAL SCORE
New Orleans Saints 45, Los Angeles Rams 35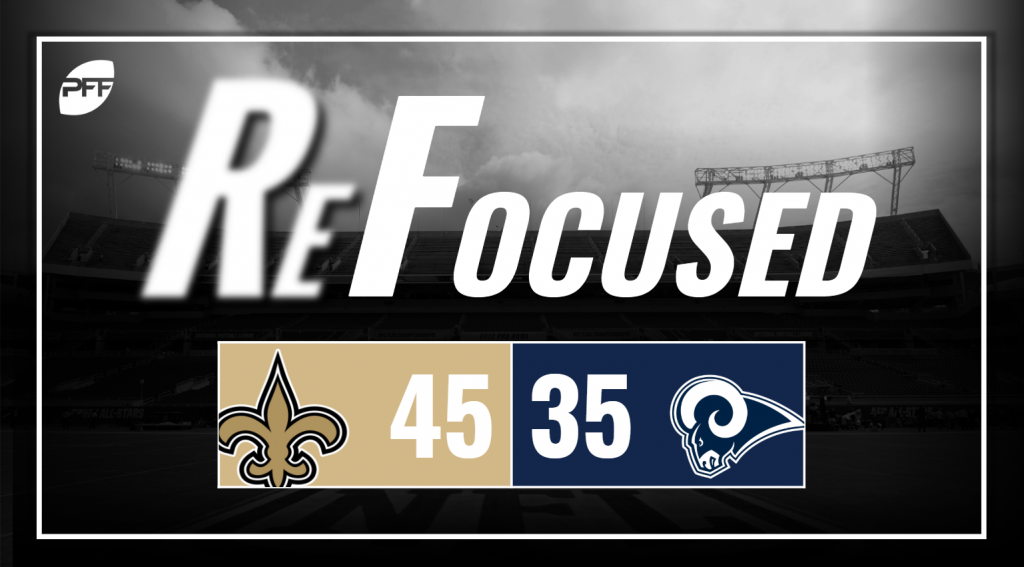 There is a fancy new thing in the NFL called the forward pass, and this Drew Brees guy is extremely good at it. Brees continually found the open man and hit him with precision while avoiding turnover-worthy throws. Brees made our All-Pro team at the midway point and is arguably having the best season of his career.
Michael Thomas had started the season on fire but had cooled off in recent weeks. He turned it up to 11 at the right time, as he caught 13 receptions on 16 targets for 218 yards with 100 coming after the catch and a whopping 11 first downs. Marcus Peters fell victim to Thomas' dominance a lot in this one.
It's been a bit of a rollercoaster for P.J. Williams this season, but this was one of his better nights. While he did give up some catches, he also contested a handful of throws, including the Rams' final play on fourth down to help seal the game.
While the Saints did give up a lot of yardage through the air, one area they've improved dramatically from recent years is their tackling after the catch and against the run. Going up against one of the league's best running backs, they did an excellent job of wrapping up and minimizing missed tackles.

Aaron Donald is on pace for the best season we've ever graded at PFF, but he saw his sack streak come to an end against the Saints. Donald still was a disruptive force in the contest, generating more than half a dozen pressures but was held in check (by his standards) in the run game.
Peters was charged with covering Thomas most of the game, and he struggled in the task highlighted by allowing the game-clinching touchdown. While Peters did break up a couple of passes, he gave up five first downs on top of the touchdown and missed a couple of tackles, as well.
Jared Goff had two turnover-worthy throws, one of which was actually intercepted while the other one was dropped. Outside of that, he played well with some impressive throws, including an incredible third-quarter throw between defenders to Tyler Higbee in the end zone, only to have it dropped.
Todd Gurley broke off a 24-yard run in the third quarter but averaged just 3.6 yards on his other 12 carries. His six catches went for just 11 yards. Overall, it was probably one of his least productive games of the season. Teammate Malcolm Brown actually had the most impressive touch among the Rams' running backs, hurdling a defender and tip-toeing the sideline to make a diving touchdown.
Keys to the Game
New Orleans
While the Rams made a ferocious comeback late, the combination of Brees and Thomas was too much to handle.
Los Angeles
The Los Angeles offense played very well on the night but just couldn't finish a few drives that led to field goals instead of touchdowns.