The Chicago Bears defeated the Buffalo Bills, 41-9,  in Week 9 of the 2018 NFL season.
PFF's ReFocused series this season features immediate takeaways and a key to the victory from two Senior Analysts who graded the performance, watching every player on every play of the game. For more data and analysis from the game, utilize our Premium Stats 2.0 dashboard to expand your knowledge on the key players, signature stats and much more.

FINAL SCORE
Chicago Bears 41, Buffalo Bills 9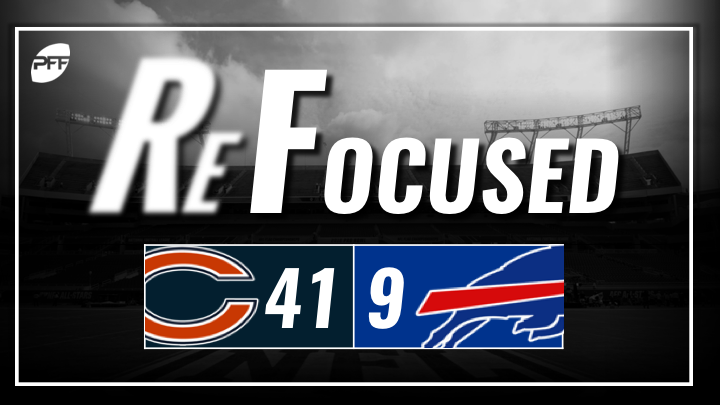 For much of the year, Mitch Trubisky's box-score numbers have looked better than his actual play on the field, but things mostly lined up in this one. Trubisky completed 12-of-20 passes for 135 yards, throwing one interception and putting another ball on the turf trying to extend the play. Inaccuracy continues to be an issue for the Bears quarterback, as he simply is missing on too many throws.
Despite the blowout, there wasn't much Chicago's offense needed to do with Vic Fangio's unit on the other side of the ball doing most of the heavy lifting. All three offensive touchdowns for the Bears came on possessions that started in Bills' territory. In fact, their most successful offensive play of the day was chucking it deep in the vicinity of Bills' cornerback Phillip Gaines, who committed two pass interference penalties worth 90 yards.
The pace of play was entirely dictated by the Bears' front seven. Linebackers Roquan Smith and Danny Trevathan did a tremendous job preventing the Bills' offense from making anything happen up the middle with a combined 25 tackles on the day. 
Leonard Floyd may not have stuffed the stat sheet, but he made one of the plays of the day in coverage. Teammate Kyle Fuller defended away a slant route to Bills' Zay Jones that Floyd collected from the air and returned for the Bears' third score of the game. Fuller also deflected away another pass that was intercepted by Adrian Amos Jr. a series earlier and caught one of his own covering Kelvin Benjamin to close out the third quarter.

Buffalo's front seven was gashed by a trap play on Jordan Howard's 18-yard touchdown run late in the first half, but otherwise provided very little running room for Chicago's running backs. On the other 19 carries by a Bears running back, they managed just 1.8 yards per carry, with Shaq Lawson and Harrison Phillips among those with strong efforts up front.
While the Bills managed to limit Chicago's passing attack to under 150 yards, it was less a product of their pass defense playing well than other circumstances. Short fields, a limited number of plays and unforced Trubisky errors all helped to keep the box-score numbers in check. Buffalo didn't generate much of a consistent pass-rush, and on the backend, it was a forgettable day for Gaines, whose aforementioned penalties led to 10 points for the Bears' offense.
With both Josh Allen and Derek Anderson out of action, the Bills had little choice but to let Nathan Peterman throw the ball 49 times in an overwhelming defeat to the Bears at home. While his 189 passing yards left plenty to be desired, Peterman was able to sustain several drives, and two of his three interceptions were no fault of his own.
Very few players on the Buffalo offense put play on tape deserving of individual mention. Terrelle Pryor played a significant role after being signed off of the street, and tight end Logan Thomas ended up as Peterman's go-to option with seven receptions on eight targets.
Keys to the Game
Chicago
Chicago's defense clearly led the day with a dominant performance over the league's worst offense.
Buffalo
This was obviously not the result the Bills were looking for, and we can expect to see significant changes the next time we see them in action. Bottom line, Buffalo desperately needs their rookie first-round signal-caller, Allen, back on the field in order to compete moving forward.