The Los Angeles Rams defeated the Green Bay Packers, 29-27,  in Week 8 of the 2018 NFL season.
PFF's ReFocused series this season features immediate takeaways and a key to the victory from two Senior Analysts who graded the performance, watching every player on every play of the game. For more data and analysis from the game, utilize our Premium Stats 2.0 dashboard to expand your knowledge on the key players, signature stats and much more.

FINAL SCORE
Los Angeles Rams 29, Green Bay Packers 27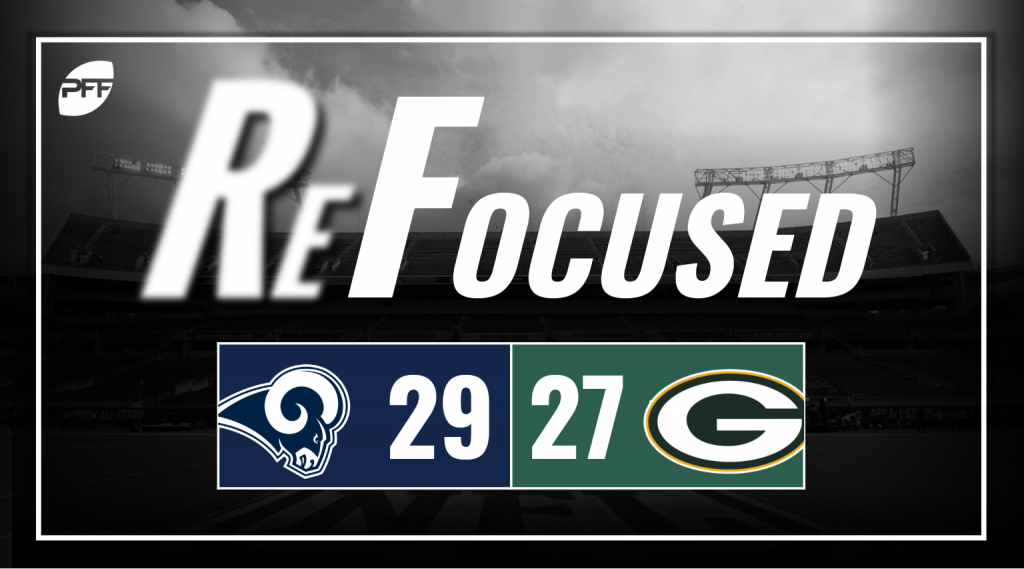 Quarterback Jared Goff wasn't perfect and missed on more throws than usual due to his offensive line struggling to protect him, but he made enough big plays to win the game. Oddly enough, the Rams didn't run a single screen all game long after averaging about five per game coming into the week.
Running back Todd Gurley has received a lot of MVP talk because of his gaudy stats but was mostly held in check as a runner and didn't break 100 yards until his final run. His offensive line opened up a lot of running lanes, especially in the second half. He also made a spectacular catch down the sideline off a deflection.
Another day, another monster performance for arguably the best player in football right now, Aaron Donald. He had two sacks, knocked him down a couple more times and generally kept the pressure on him for much of the game.
It wasn't the best outing for Los Angeles' cornerbacks. Troy Hill gave up a deep touchdown after whiffing on a jam, and Marcus Peters was beaten by Davante Adams for a few catches and gave up at least one deep pass, as well.

Rookie cornerback Jaire Alexander was excellent in coverage, as he broke up five passes on nine targets. He battled Brandin Cooks for a good chunk of the day and while he did get beat on a couple of occasions, three of the six targets thrown Cooks' way were broken up by Alexander. He's currently battling Browns rookie cornerback Denzel Ward for top rookie CB.
Mike Daniels was a monster on the interior, as he racked up several pressures and a couple of run stops. He did most of his work against center John Sullivan, who struggled all game long against anyone he was facing.
Aaron Rodgers hit on a few deep passes, including a touchdown to Marquez Valdes-Scantling, who had torched Rams' Hill off the line. But uncharacteristically, Rodgers missed on several short-to-intermediate throws, and it seemed he fared far better when he wasn't under pressure.
On the outside, tackles David Bakhtiari and Bryan Bulaga were pretty solid, but guards Lane Taylor and Byron Bell struggled mightily. 
Keys to the Game
Los Angeles
The Rams' offense, despite scoring 27 points (two to a safety), seemed out of sync all game. However, Goff was able to overcome a lackluster first half and delivered big in the second half.
Green Bay
The Packers' defense held the Rams to a field goal to set up a potential two-minute game-winning drive opportunity, but a fumble by Ty Montgomery kept Rodgers on the sideline and effectively sealed a Rams win.