The Kansas City Chiefs defeated the Denver Broncos, 30-23,  in Week 8 of the 2018 NFL season.
PFF's ReFocused series this season features immediate takeaways and a key to the victory from two Senior Analysts who graded the performance, watching every player on every play of the game. For more data and analysis from the game, utilize our Premium Stats 2.0 dashboard to expand your knowledge on the key players, signature stats and much more.

FINAL SCORE
Kansas City Chiefs 30, Denver Broncos 23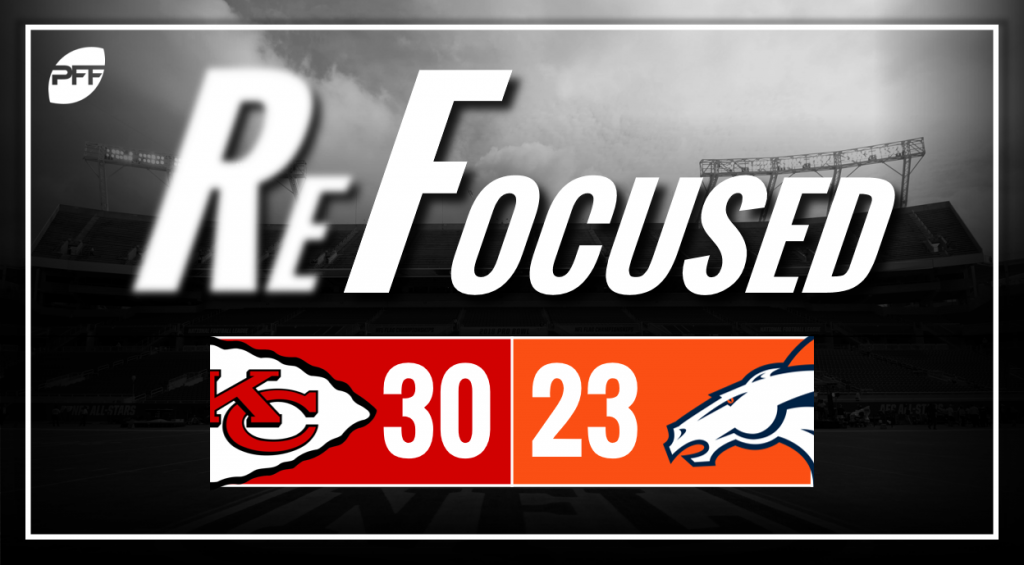 Dee Ford has been a completely different player this year and may have had his best outing of the season against the Broncos. He had his first three-sack game of the year, including two forced fumbles, and added a few other pressures, as well.
The Chiefs struggled to defend the run very well in the front seven. There was far from one culprit, but Allen Bailey stood out a few times, as he was pushed back four or five yards on at least two or three occasions, opening up bigger running lanes and getting in the way of his linebackers. Even when Reggie Ragland and Anthony Hitchens did have clear lanes in front of them, they made poor reads and paths to the ball carrier at times that led to big runs.
Patrick Mahomes didn't have the elite game that his box score numbers might suggest – what's up dump-off touchdowns! – but he did play well overall. The second-year quarterback didn't make any big-time throws in this game, but he made good decisions off RPOs, spread the ball around to his array of weapons and was largely accurate with the football.
Mahomes didn't have to deal with a ton of pressure in this one with his offensive line rising to the occasion against Von Miller and the Broncos pass-rush. Mahomes faced pressure on roughly a dozen of his 41 dropbacks, and he only ended up on the ground a few times. Cam Erving had some rough pass-blocking reps from the left guard spot, but outside of him, it was a relatively clean game across the line.

The Broncos' pass-rush as a whole spent most of the game failing to penetrate the pockets created by Kansas City's offensive line. Bradley Chubb found some success breaking through, as he was in the backfield more than any other Broncos pass rusher and collided in the middle of the pocket with Miller in the middle of the fourth quarter to record one of just two sacks suffered by Mahomes on the afternoon.
Chris Harris Jr. was all over the field against Kansas City to lead the Broncos secondary. Harris made a handful of stops, playing well both in coverage and against the run. Harris surrendered a few catches in coverage, but he greatly limited the production of those catches and made a stop in run defense.
Demaryius Thomas hasn't been very productive this season, and Sunday's performance was more of the same. He caught three of seven targets for just 30 yards and has just one 100-yard receiving game in his last 19 games dating back to last season.
Running back Phillip Lindsay has been one of the most effective runners in the league this season and one of the brightest spots on the Denver offense. He continued that Sunday with another solid outing, picking up a career-high 113 yards rushing and averaging 6.3 yards per rush.
Keys to the Game
Kansas City
The Chiefs' offense has been a wrecking ball all season, and that continued in Week 8. They simply have too many weapons to handle and Sunday – with Sammy Watkins leading the way – they were on full display.
Denver
With two sack-fumbles and an interception, turnovers were the difference for the Denver offense that ended up losing by a touchdown.