The Houston Texans defeated the Jacksonville Jaguars, 20-7,  in Week 7 of the 2018 NFL season.
PFF's ReFocused series this season features immediate takeaways and a key to the victory from two Senior Analysts who graded the performance, watching every player on every play of the game. For more data and analysis from the game, utilize our Premium Stats 2.0 dashboard to expand your knowledge on the key players, signature stats and much more.

Final Score
Houston Texans 20, Jacksonville Jaguars 7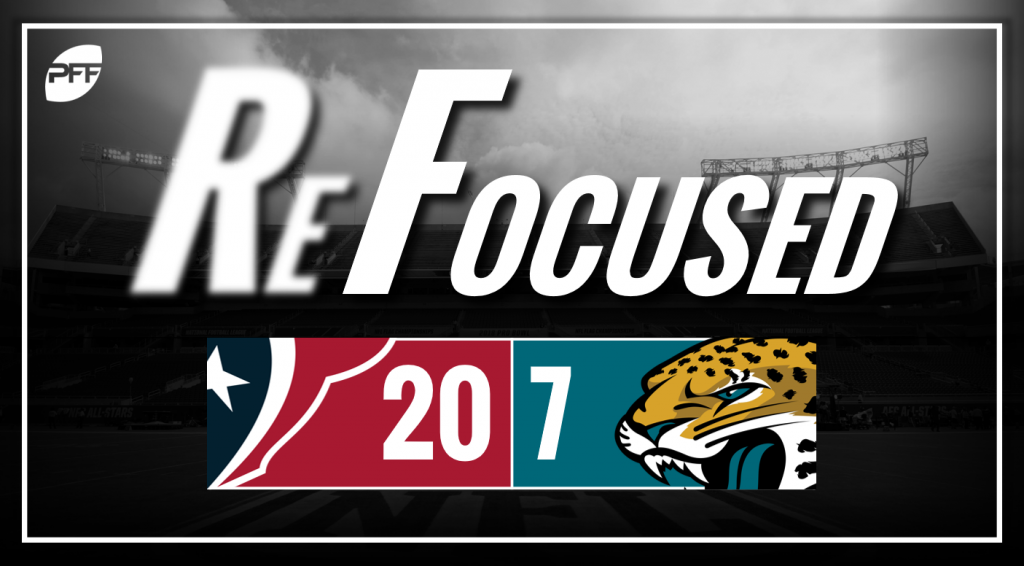 When you've got receivers like DeAndre Hopkins and Will Fuller, you, as a quarterback, don't always need to be pinpoint accurate. Hopkins had a feisty encounter with Jalen Ramsey where two big plays, one a spectacular one-handed grab and the other a touchdown, gave him the win even if Ramsey was never far away from the Texans star offensive weapon.
While his performance won't generate many highlights, the decisive running of Lamar Miller was crucial in this contest, as he found his running lanes quickly to maximize yardage against a stout Jaguars front. An early 11-yard run where he made Telvin Smith miss before generating even more yards during contact highlighted his strong outing.
The star of the day was unquestionably Jadeveon Clowney. In the first half, he was a nightmare in the run game. And in the second half, he took over in phases rushing the passer. His ability to beat a man when lined up against him is hard to stop, but when you stand him up on the inside, it's almost too much for guards to contend with.
After a slow start to the season, we're seeing better playing out of Zach Cunningham, who is really starting to look the part in the run game especially. The tackling needs to improve, but he's becoming a vital part of a defense that can be suffocating.

It was another big day for Calais Campbell, who was exceptional in run defense. It's almost unfair lining him up outside the tackles and expecting a tight end to block him, with it invariably ending up in a run being disrupted.
In what wasn't the best day for this secondary, Tashaun Gipson had a good day, although one that could have been much better if he'd held onto a pick in the first half.
It's easy to see why Blake Bortles got benched. He wasn't helped by some drops, but it was his own issues with ball security that put the Jaguars in a spot from which they were ill-equipped to come back from. Two fumbles while scrambling, both avoidable, made a benching necessary, even if it is to just send a message.
When you pay a guard the kind of money the Jaguars paid Andrew Norwell, you expect consistent performance at a spot where you're not going to get big plays. Sadly, the return on the investment hasn't been there, and Norwell, much like his colleagues, had difficulty with the stunting and aggressive Texans front.
Keys to the Game
Houston
Clowney, Whitney Mercilus and J.J. Watt were too much for the Jaguars to stop.
Jacksonville
The coaches will be frustrated at the poor execution, especially in the passing game where turnovers and drops were avoidable.