The Pittsburgh Steelers defeated the Atlanta Falcons, 41-17, in Week 5 of NFL action.
PFF's ReFocused series this season features immediate takeaways and a key to the victory from two Senior Analysts who graded the performance, watching every player, on every play of the game. For more data and analysis from the game, utilize our Premium Stats 2.0 dashboard to expand your knowledge on the key players, signature stats and much more.

FINAL SCORE
Pittsburgh Steelers 41, Atlanta Falcons 17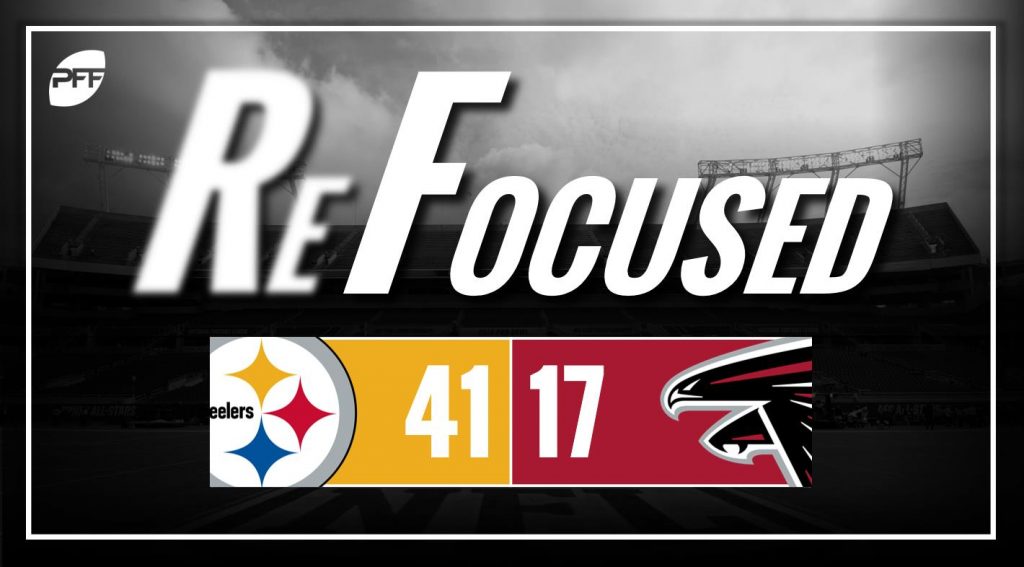 It was a big day for James Conner, whose only real blemish was a late fumble that ended up out of bounds. He was patient yet decisive with his cuts and was forcing Falcons to miss tackles all day long, with stand-in starting middle linebacker Duke Riley particularly culpable.
It was another stellar day in pass protection for Alejandro Villanueva, who is the good kind of tackle you rarely notice because he just gets on with his job. The Falcons' edge rushes got no joy out of him, as Villanueva continues to prove himself one of the leagues better pass protectors.
It was a big day for T.J. Watt, who worked over Ryan Schraeder in both the run and pass game through all four quarters. It was fitting he ended his game with a strip-sack and no less than he deserved after an all-action display.
You can attribute part of Julio Jones' pre-garbage time quiet day to the tracking services of Joe Haden, who followed him around all day with some close coverage. When he's playing like this, the Steelers' defense is far more formidable.

A second visit to Pennsylvania, a second disappointing performance for Matt Ryan. Going against a secondary that has struggled, Ryan failed to challenge the Steelers downfield and was shaky with his accuracy at both short and intermediate areas.
The Falcons' offensive line has been a consistent unit the past few years, but with injuries and the poor performances stacking up, they appear to be trending in the wrong direction. While Alex Mack had the highlight reel bad block when he was bull-rushed for a sack by Cameron Heyward, it was Schraeder who had the toughest day with Watt proving too much for him to handle.
After his rough week against Cincinnati seven days ago, this was a return of the best of Desmond Trufant. He left the game briefly, but he showed up well in coverage with one especially nice pass break-up and some consistently good run support.
It was a terrible day for the Falcons' pass-rush, as they couldn't get anything done all game long, with the lone highlight a Brooks Reed spin move that bested David DeCastro. Outside of that, it was all too easy for Pittsburgh, with neither Vic Beasley or Takkarist McKinley living up to what is expected of them.
Keys to the Game:
Pittsburgh:
Consistently winning in the run game allowed Pittsburgh to overcome a shaky first half from Ben Rothlisberger on their way to a comfortable victory.
Atlanta:
On defense, the team struggled to tackle and allowed big plays on key downs all game long. With the injuries, this unit has doesn't look like something that will be rectified any time soon.