The Kansas City Chiefs defeated the Jacksonville Jaguars, 30-14, in Week 5 of NFL action.
PFF's ReFocused series this season features immediate takeaways and a key to the victory from two Senior Analysts who graded the performance, watching every player, on every play of the game. For more data and analysis from the game, utilize our Premium Stats 2.0 dashboard to expand your knowledge on the key players, signature stats and much more.

FINAL SCORE
Kansas City Chiefs 30, Jacksonville Jaguars 14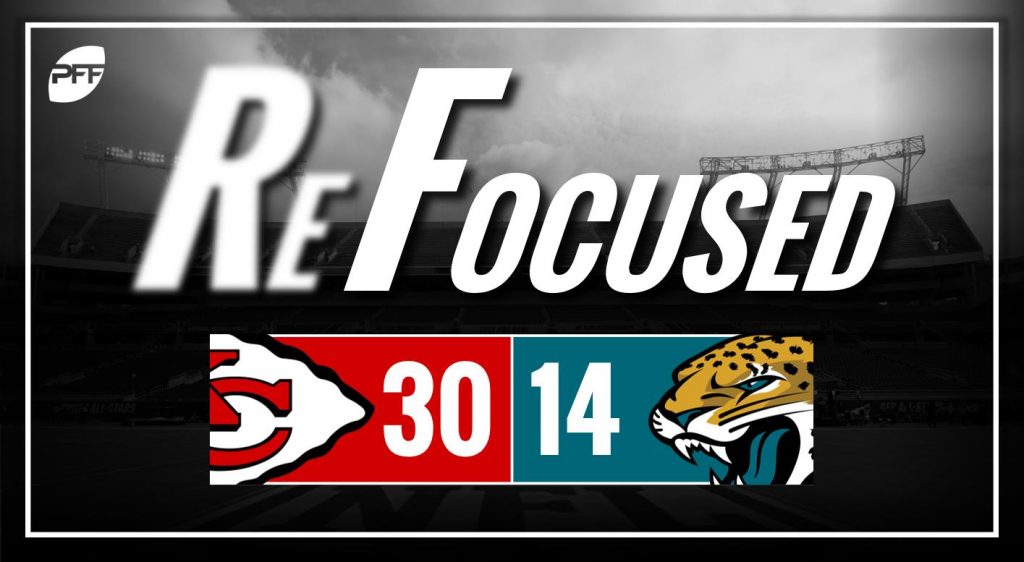 Chiefs defensive lineman Chris Jones had arguably the best and worst plays of the game. In the second quarter, he read a screen play perfectly to pick off Bortles and returned it for a touchdown. He also had a sack in the first half. But he ended his day early by throwing a punch on an extra point in the third quarter, leading to his ejection.
Justin Houston left the game early, but the Chiefs' pass-rush didn't seem to skip a beat. Dee Ford and Breeland Speaks had their way with Josh Walker and Jermey Parnell, each with a handful of disruptions.
Seemingly from the opening drive, Jacksonville would be forced to play from behind. Much of that credit should go to breakout superstar quarterback Patrick Mahomes, who, despite throwing two picks, kept the Jags' defense on its heels to secure the win at home in Arrowhead Stadium. Not only did Mahomes top 300 passing yards for the fourth game in a row, but he also found the perfect window to scramble from a clean pocket and dive into the end zone for the first points of the day.
While wide receiver Tyreek Hill receives much of the press with his lightning-quick moves, it's actually been tight end Travis Kelce who has become the go-to target for Mahomes. Despite facing an opponent statistically difficult for NFL tight ends to succeed, Kelce collected five of his eight targets and eclipsed 100 yards receiving for the third time in five games this season. While he can be a liability as a blocker at times, Kelce's speed and athleticism continue to create matchup nightmares for opposing defenses.

Blake Bortles had a rough day, to say the least. He had turnovers on the first play of back-to-back drives in the second quarter. While he started to play a little better in the third quarter, it didn't last long, as he ended the day with five turnovers.
While Bortles wasn't great, he didn't get a lot of help, either. Jacksonville's tackles struggled to keep Kansas City's edge rushers at bay, and Bortles' receivers dropped several passes throughout the game.
As already mentioned, Mahomes performed at a level rarely seen while facing the Jags' defense. Jacksonville defensive backs Jalen Ramsey and A.J. Bouye played up to their reputations, but the Jacksonville secondary was ultimately overcome by Kansas City's gameplan to distribute the ball to multiple receivers — 10 to be exact — while gaining an average of 7.6 yards per attempt.
Spotlighting any defensive performances after allowing 30 points is not the easiest of tasks. Defensive back Tashaun Gipson would benefit from an overthrow from Mahomes on an in route targeting Hill in the second quarter, and Bouye collected the second interception as he cut off the forced throw from Mahomes in the fourth quarter.

Keys to the Game
Kansas City:
Mahomes and the Chiefs have yet to face a defense with an answer for their juggernaut-like offense. Mahomes' ability to use his legs to overcome aggressive pass-rush proved to be the difference in the game.
Jacksonville:
Whether it was stalled drives or turnovers, the Jaguars' offense just couldn't finish drives off to put points on the board, and it ultimately left them a couple scores short on the day.