The Arizona Cardinals defeated the San Francisco 49ers, 28-18, in Week 5 of NFL action.
PFF's ReFocused series this season features immediate takeaways and a key to the victory from two Senior Analysts who graded the performance, watching every player, on every play of the game. For more data and analysis from the game, utilize our Premium Stats 2.0 dashboard to expand your knowledge on the key players, signature stats and much more.

FINAL SCORE
Arizona Cardinals 28, San Francisco 49ers 18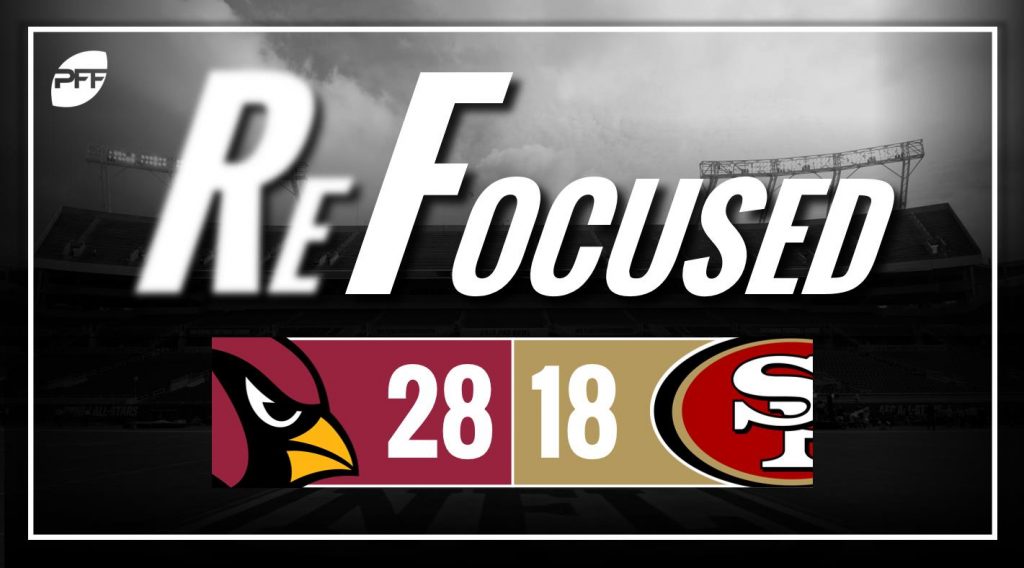 Rookie quarterback Josh Rosen couldn't follow up a strong starting debut in Week 4, as he continually struggled with his accuracy at all levels of the field. Outside of the first play of the game, where he hit fellow rookie Christian Kirk on a deep post for a touchdown, Rosen struggled to make accurate throws under pressure and when kept clean.
If the Cardinals want Rosen to develop as a rookie, getting him protection and time to throw will be paramount. Unfortunately for the rookie, he's dealing with one of the worst offensive lines in the NFL and will be under duress seemingly every play. While left tackle D.J. Humphries was solid for Rosen's blind side, the rest of the offensive line struggled, most notably the interior.
Chandler Jones stood out amongst all 22 plays he was on the field Sunday for the Cardinals. He was virtually unblockable, whether it was rushing the passer or in run defense. Jones even made a tackle in coverage on a screen pass. Jones had an all-around great performance, beating just about everyone that lined up in front of him, including the great Joe Staley.
With San Francisco forced to start CJ Beathard at quarterback, they used a lot of screen passes and underneath routes instead of pushing the ball down the field. These plays often targeted linebacker Josh Bynes in pass coverage. Bynes was tentative when offensive linemen were coming at him on screen blocks, and he was the main reason why the 49ers were able to be so successful moving the ball without throwing downfield.

Outside of the first play of the game, the 49ers' defense played a strong game. Their offense put them in bad positions throughout the game, and that came back to bite them in the end. With Rosen's inaccuracies throughout the game, Richard Sherman and company didn't have many on-target passes to get their hands on.
The front seven of the 49ers wreaked havoc on the Cardinals' offensive line and gave Rosen fits all game long. Sheldon Day and Earl Mitchell both saw limited snaps but made the most of them, and DeForest Buckner continues to be a force as a pass-rusher. The defense is turning into a solid group, but without an offense to match, they'll often be asked to win games. San Francisco and their front seven were unable to do that against Arizona.
The whole the offensive line did a good job for the 49ers on Sunday, as they were able to cut off Cardinals defenders using the outside zone running game. The right side of the offensive line, led by Mike McGlinchey and Mike Person, was especially effective in preventing pressure and creating movement run blocking.
The 49ers were very protective of Beathard, using the rushing attack and incorporating lots of screen passes. Beathard was fine overall, as he did not put the ball in danger often. Beathard was not helped out by his receiving corps, though. They were guilty of many drops, one of which bounced out of Pierre Garcon's hands and into Tre Boston's for an interception.
Keys to the Game
Arizona:
While Rosen couldn't hit his receivers with much consistently, his misses were away from coverage and were relatively safe. He didn't win the game for Arizona, but he didn't lose it and in the end, they didn't lose.
San Francisco:
While the quarterback play for the 49ers wasn't bad, you can't get away with the amount of turnovers they committed and win a game with a backup quarterback. The 49ers' turnovers were far too costly and made it much tougher on them to come back in an otherwise winnable game.