The Oakland Raiders defeated the Cleveland Browns, 45-42, in Week 4 of NFL action.
PFF's ReFocused series this season features immediate takeaways and a key to the victory from two Senior Analysts who graded the performance, watching every player, on every play of the game. For more data and analysis from the game, utilize our Premium Stats 2.0 dashboard to expand your knowledge on the key players, signature stats and much more.

FINAL SCORE
Oakland Raiders 45, Cleveland Browns 42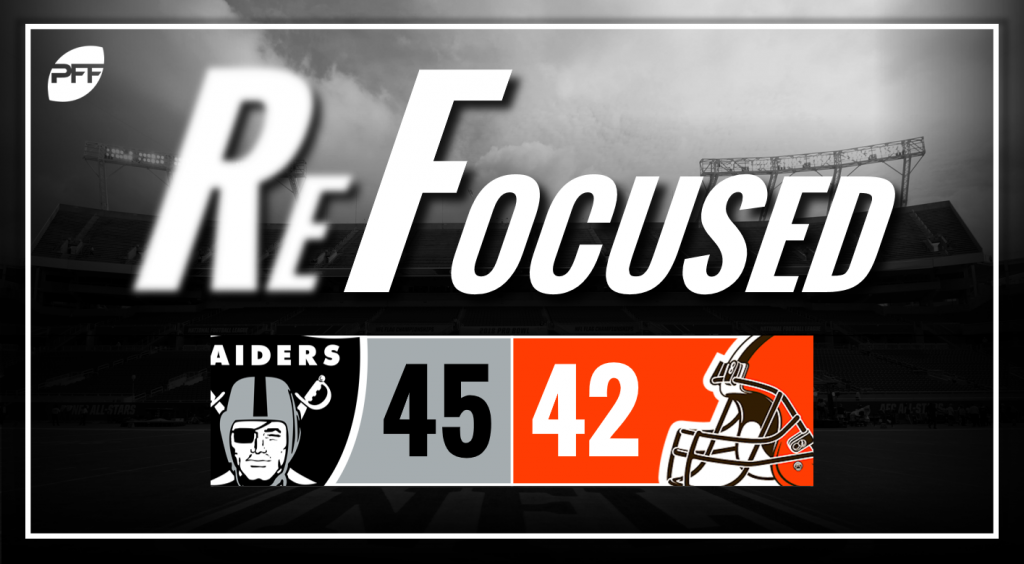 It was a solid game for Derek Carr in an overtime thriller, and it would have looked even better had his receivers not dropped so many balls. Oakland receivers had slick hands all throughout the afternoon with the most glaring drop being one by Martavis Bryant on a 51-yard post route that would have resulted in a Raiders touchdown.
Getting back to Carr though, it was one of his best games of the season thus far. Oakland's signal-caller made a couple of big-time throws in this one (including a perfect pass down the sideline to Jared Cook while under heavy pressure on Oakland's final drive), and he was accurate while peppering the ball all over the field.
It was a big day for rookie Maurice Hurst, who was able to use his quickness to win early against both of the Browns' big-name guards. His highlight play came in causing a crucial fumble after beating Kevin Zeitler for a sack, but his impact went way beyond that, with his ability to disrupt running plays noticeable.
While Hurst made an impact rushing the passer, his colleagues did not fare so well. The Khalil Mack trade only further highlights the struggles Oakland has in generating pressure, and all too often they gave Baker Mayfield all day to scout the field.

For a long time, it looked like Baker Mayfield would pick up the W in his first start, but as has become custom for Browns fans, he and the team came up short when it mattered most. His turnover numbers will grab plenty of attention, but the reality is all bar one was near unavoidable on his part in an effort that was a significant upgrade on anything Tyrod Taylor produced. An encouraging first start, but one which didn't touch the ceiling of what Cleveland will be hoping he's capable of.
After a rough start, the Browns have to like the improvement they see from left tackle Desmond Harrison. He might not be getting to a Pro Bowl this year, but for a position that was looking like a liability, you're not hearing his name called a lot, as he holds his own despite the huge step up in competition.
Myles Garrett looked like a number one overall pick out there in Oakland. Garrett was a handful for the left side of Oakland's offensive line all afternoon, both in the running game and as a pass-rusher. Garrett came close to double-digit stops in this one and was able to tally a sack in addition to a handful of pressures.
It was a rough game for Cleveland's secondary as an entire unit. Oakland receivers were able to get separation and find holes in Cleveland's zones fairly consistently throughout the afternoon, and when a pass did fall incomplete, it was usually because of a drop or an off-target throw.
Keys to the game:
Cleveland:  For a long time, it looked like Mayfield would take home the win in his first start, but turnovers in vital situations made that impossible.
Oakland:  Derek Carr was able to make plays at all levels of the field and the Raiders offense was able to take advantage of field position at times throughout a tight, high-scoring game.