The Jacksonville Jaguars defeated the New York Jets, 31-12, in Week 4 of NFL action.
PFF's ReFocused series this season features immediate takeaways and a key to the victory from two Senior Analysts who graded the performance, watching every player, on every play of the game. For more data and analysis from the game, utilize our Premium Stats 2.0 dashboard to expand your knowledge on the key players, signature stats and much more.

FINAL SCORE
Jacksonville Jaguars 31, New York Jets 12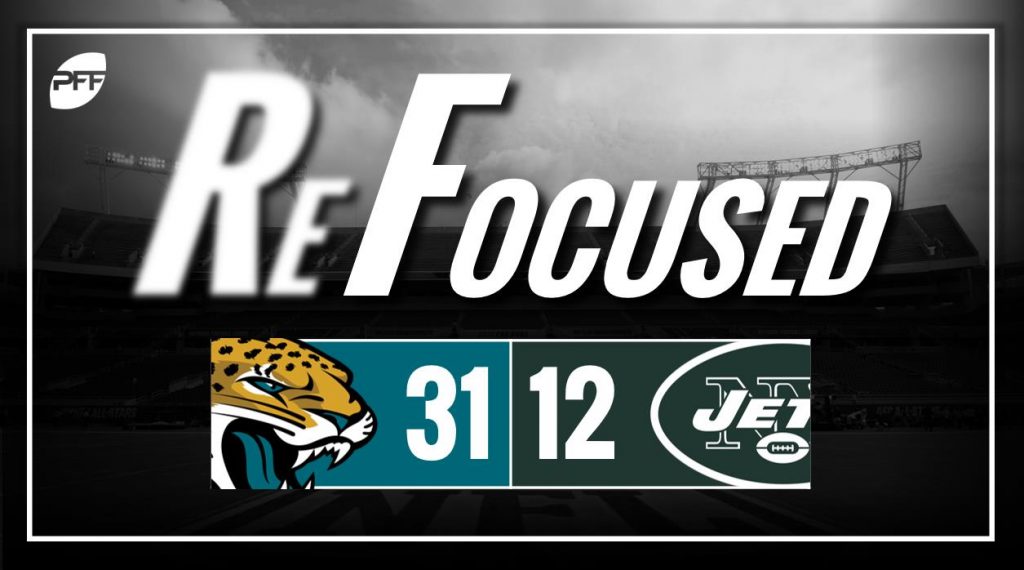 The Jaguars are dangerous enough at generating pressure on talent alone, but their scheming confused the Jets all day. Numerous Jaguars defenders posted pressures on stunts, as the offensive line of New York had issues identifying them throughout the game.
Jalen Ramsey did not have a great afternoon, as he received multiple negative grades for being beaten in coverage on plays that ended up being incomplete due to quarterback inaccuracy. He also dropped a sure interception in the end zone on an ill-advised Darnold throw.
Blake Bortles was incredibly efficient on the day, leading a Jaguars offense that struggled to do much of anything on the ground. He consistently hit open receivers underneath with good ball location, allowing Jacksonville's receivers to pile up yards after the catch. And when opportunities presented themselves downfield, Bortles connected on those as well, highlighted by an in-stride throw to Donte Moncrief down the right sideline for a long touchdown.
Despite fumbling the ball away late in the game, Dede Westbrook turned in an excellent performance. The Oklahoma product was especially impressive after the catch, turning short throws into explosive plays on a number of occasions.

Sam Darnold's stat line won't look quite as poor as his final grade, but he had some turnover luck today. He went unpunished on two very poor decisions deep in Jacksonville territory, as both would-be interceptions were dropped by Jags defenders.
The Jets had almost no running game to speak of today. Jaguars defenders were quick to shed blocks and used their speed to easily handle New York's outside zone runs.
The Jets' defensive front did a great job bottling up the Jaguars' rushing attack, holding both Leonard Fournette and T.J. Yeldon to under 3.0 yards per carry and rarely giving them much room to operate.
Coverage, on the other hand, was a problem throughout. New York simply allowed too many receivers to run uncontested underneath, giving Bortles loads of easy passes and rarely forcing him to make tough throws into tight coverage.
Keys to the game
Jacksonville:
It was the passing game that led the way offensively for the Jaguars, as Bortles continued his solid start to the season with another effective outing.
New York:
Jacksonville's pass rush forced Darnold into a number of bad decisions and throw-aways.