The Cincinnati Bengals defeated the Atlanta Falcons, 37-36, in Week 4 of NFL action.
PFF's ReFocused series this season features immediate takeaways and a key to the victory from two Senior Analysts who graded the performance, watching every player, on every play of the game. For more data and analysis from the game, utilize our Premium Stats 2.0 dashboard to expand your knowledge on the key players, signature stats and much more.

FINAL SCORE
Cincinnati Bengals 37, Atlanta Falcons 36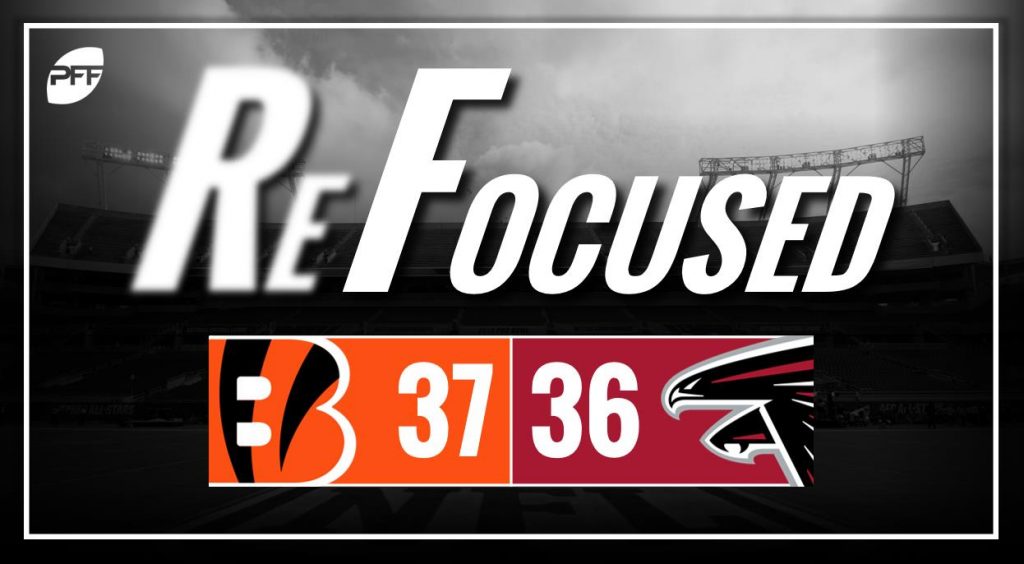 While he didn't make quite the same consistent impact in the second half as he did in the first two quarters, Geno Atkins was a nuisance for Falcons' linemen throughout the game with even the usually sure-handed Alex Mack struggling to get to grips with him.
It wasn't a great day for any cornerback, and William Jackson III can count himself in that number. While it was Dre Kirkpatrick who takes the highlight for badly getting beaten on a double move for a touchdown, Jackson was consistently chasing open Falcons receivers with Mohammed Sanu having a lot of joy against him in the second half.
It was a largely excellent game for Andy Dalton even though he did very nearly ruin it by throwing a ball that should have been intercepted and ended the game. As it is, the record book won't remember that. Instead, it will focus on a super accurate performance where he largely dissected a poor Falcons secondary.
Much of the praise will rightly go to A.J. Green, but it was Tyler Boyd who came up in the clutch numerous times when the Bengals needed him. His development into a hard-to-cover weapon who can operate anywhere along the line has been a huge bonus for this offense.

Regardless of losing their two starting safeties, the Falcons have come to expect much better play from their two big-money cornerbacks. Neither Robert Alford, who simply couldn't match up with Green, or Desmond Trufant (who had a drive to forget as the Bengals grabbed the game-winning score) covered themselves in glory.
If there is some hope for this defense, it is the improved play of both Takkarist McKinley and Vic Beasley, who both impressed in the second half after a very quiet start to the game. Coupled with the ever-productive Grady Jarrett, these three, in particular, will need to not just keep it up but build on this game if Atlanta has any hope of saving a season that promised so much.
As good as Matt Ryan was for most of the game, he put together an incredibly shaky drive down the stretch, where he missed open targets and nearly threw a would-be pick-six. Atlanta didn't lose this game because of Ryan, but he certainly missed a chance to win it.
The traditional problem area on the Falcons offensive line, right guard, continues to be a problem to which they just don't seem to be able to fix. Brandon Fusco is the next man up. but he struggled throughout this game, particularly in the run game.
Keys to the game
Cincinnati:
Cincinnati's receiving options were simply too much for the Falcons to contend with in the secondary.
Atlanta:
While much improved in the second half, the inability of this unit to consistently get pressure continues to make it too easy for a quarterback to get into a rhythm.