The Pittsburgh Steelers defeated the Tampa Bay Buccaneers, 30-27, in Week 3 on Monday Night Football.
PFF's ReFocused series this season features immediate takeaways and a key to the victory from two Senior Analysts who graded the performance, watching every player, on every play of the game. For more data and analysis from the game, utilize our Premium Stats 2.0 dashboard to expand your knowledge on the key players, signature stats and much more.

FINAL SCORE
Pittsburgh Steelers 30, Tampa Bay Buccaneers 27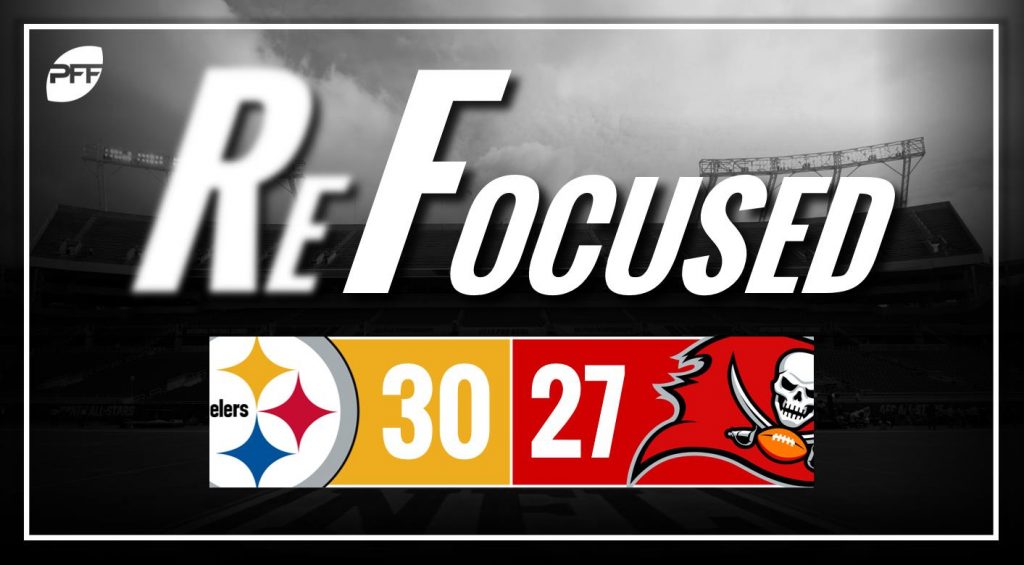 Analyst Takeaways

Ben Roethlisberger got off to a tough start with a bad interception on the second drive of the game, but after that, he was lights out. Roethlisberger was hitting everything, not forcing bad throws and throwing his receivers open. His completion to Juju Smith-Schuster on second down to effectively seal the game was as classic a Big Ben play as you'll ever see, as he avoided the sack, kept his eyes downfield and made a perfect throw.
It was a tough three quarters rushing the ball for James Conner, but he exploded in the fourth quarter. After gaining just 12 yards on 10 carries, Connor ended with 49 yards on the final two drives to help seal the game. He seemed to be on a different speed than the defense at the end, and even though his blocking wasn't great, he still managed to help put this game away for the Steelers' offense.
Steelers rookie safety Terrell Edmunds and veteran edge defender Bud Dupree both exceeded expectations against the Bucs. Dupree recorded multiple pressures on the night, and Edmunds recorded his first career interception on a deep ball from Ryan Fitzpatrick.
TJ Watt didn't have his best performance Monday night. He struggled to create pressure off the edge and was abused the few times he dropped into coverage.

Fitzpatrick had too many errant throws in the first half to call his performance a net win, as his costly interceptions dug the Bucs into a hole that would ultimately be their grave. He did have a few great throws to Chris Godwin that should've been touchdowns, but multiple drops and a fumble cost Godwin and Fitzpatrick the big plays.
Buccaneers running backs Peyton Barber and Jacquizz Rodgers combined for just 32 yards on 10 carries against Pittsburgh. The early deficit prevented Tampa Bay from turning to their backs late in the game, but the middling start from Barber and Rodgers didn't do much to help the Bucs.
The Tampa Bay defensive line really dominated the Steelers' offensive line in the run game. They were constantly mucking up plays and creating losses, as the Steelers tried to get Conner going. Gerald McCoy and Jason Pierre-Paul seemed unblockable at times, as they made a handful of stops and were a constant presence in the run game.
A big issue for the Buccaneers in this one was their lack of an effective pass-rush. While they did have three sacks, there were too many plays in which they blitzed and Roethlisberger was still able to stand tall in the pocket and make a clean throw. Pierre-Paul had the splash plays with two sacks and the forced fumble, but he wasn't as big a disruptor as the Bucs likely hoped he would've been.
Keys to the game
Pittsburgh:
Big Ben was the reason the Steelers won this game. He made throw after throw, play after play and just kept the Steelers going even after their defense started to let the Bucs back into it. After struggling the first two weeks of the season, he finally looked like the Ben of old in this game.
Tampa Bay:
Tampa Bay's defense couldn't bring down Big Ben when it mattered most, but Fitzpatrick's early interceptions put the team in a hole that could've easily been avoided by better throws from the Bucs' veteran signal-caller.