The Philadelphia Eagles defeated the Indianapolis Colts, 20-16, continuing the third full week of action in the NFL.
PFF's ReFocused series this season features immediate takeaways and a key to the victory from two Senior Analysts who graded the performance, watching every player, on every play of the game. For more data and analysis from the game, utilize our Premium Stats 2.0 dashboard to expand your knowledge on the key players, signature stats and much more.

FINAL SCORE
Philadelphia Eagles 20, Indianapolis Colts 16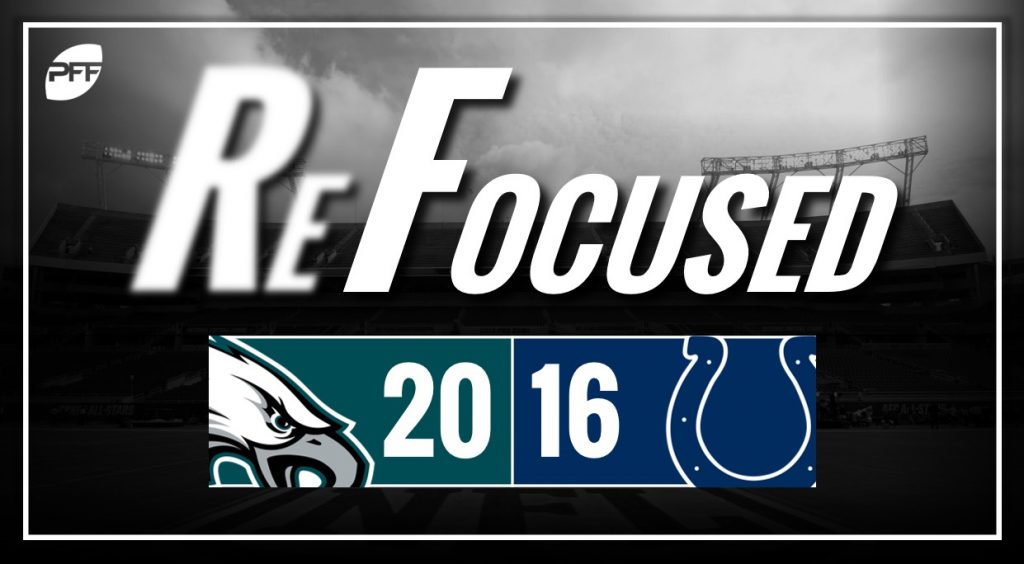 Analyst Takeaways

Eagles quarterback Carson Wentz returned just in time to aid his squad in the victory over the Colts. It would be a bit premature to say that he is at 100 percent after his torn ACL, but he did give us several examples that show that he is very close to full health. Late in the second half, Wentz was able to evade pressure from Jabaal Sheard and dive towards the left sideline for a first down. As for his arm, all systems appeared to be a go. He depended upon his talented pair of tight ends, looking their way on 17 throws.
Speaking of Philly's talented tight ends,  rookie Dallas Goedert caught all seven of his targets in the game and Wentz hooked up with him on a seam route for his lone touchdown pass on the day. Goedert stocked away footage displaying his improvements as a blocker and should give the Eagles brass confidence going forward.
Philadelphia's defensive line was unbelievable, as Brandon Graham and Chris Long beat the tackles assigned to block them for most of the game. Interior defensive lineman Fletcher Cox was also excellent against the run. 
Eagles linebacker Jordan Hicks was all over the field. He had a timely second-half deflection on a pass intended for tight end Eric Ebron, who was running a seam route for a potential touchdown. Eagles cornerback Jalen Mills had a busy afternoon, and while he earned some pass interference penalties, Mills also had some pass breakups in a very active role. 

Andrew Luck faced a daunting pass-rush on Sunday and faired ok in the face of it. He had a beautiful touchdown on an end zone fade to receiver Ryant Grant tie up the game 7-7, but outside of that and a nice deep pass to receiver TY Hilton, Luck was kept in check by the Eagles defense, and the Colts offense could not take advantage of opportunities given to them.
Ryan Grant was the Colts primary weapon, and while he had three catches, he also drew some pass interference penalties which aided the Colts offense. All in all, there was not much offense in general for Indianapolis, who also struggled to get going on the ground. 
The Eagles have Goedert as their rookie breakout performer, and the Colts have linebacker Darius Leonard. To say Leonard was all over the field wouldn't do his impact justice. His ability to finish plays is an absolute diamond in the rough for a rebuilding defense. Collecting double-digit tackles for the second week in a row, the reigning defensive player of the week was also able to wrap up Wentz on a pair of tackles, and defend a pass.
Safety Clayton Geathers made it pretty clear early that he was in for a big game after collecting six solo tackles in the first quarter alone. In addition, defensive interior Margus Hunt disrupted the game flow on nearly every snap. Hunt's biggest play of the game came on a stunt and bullrush of right tackle Lane Johnson, stripping and recovering the ball from Wentz's hands as he attempted to escape.
Keys to the game
Philadelphia:  While we didn't see the video game numbers Wentz put up in several games last season, the simple fact that he displayed the same mobility, arm strength, and maintained his decision-making was a big win for Philadelphia. 
Indianapolis:  The Eagles defensive line was the difference in the game,  as they stopped the Colts rushing attack and pressured Luck from start to finish.