The Atlanta Falcons defeated the Carolina Panthers, 31-24 continuing the second full week of action in the NFL.
PFF's ReFocused series this season features immediate takeaways and a key to the victory from two Senior Analysts who graded the performance, watching every player, on every play of the game. For more data and analysis from the game, utilize our Premium Stats 2.0 dashboard to expand your knowledge on the key players, signature stats and much more.

FINAL SCORE
Atlanta Falcons 31, Carolina Panthers 24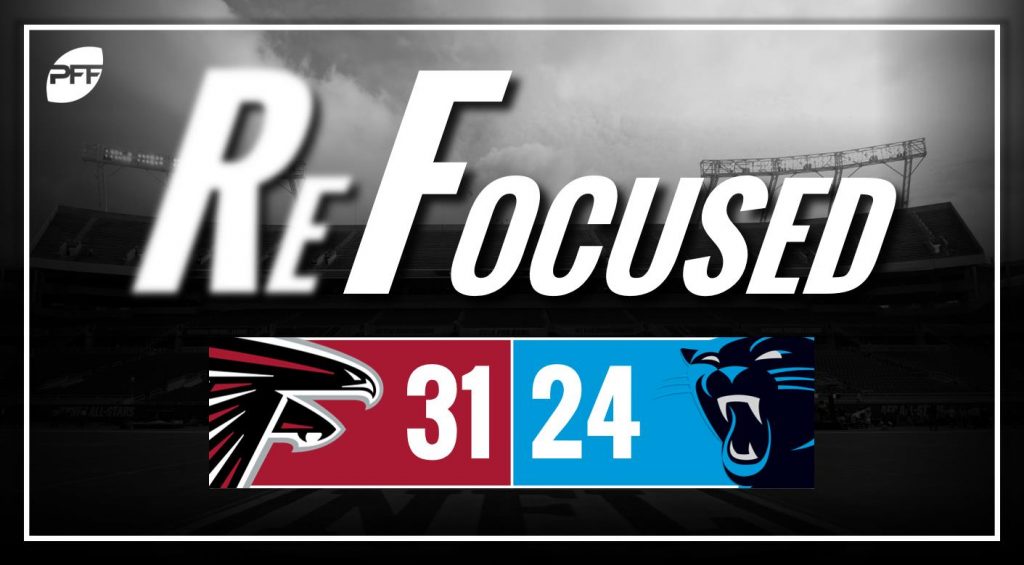 Analyst Takeaways

After his shaky opener, this was a Matt Ryan we're more used to. His interception came as a result of being hit while throwing, and he never looked like putting the ball in danger for the rest of the game. A much needed, reassuring effort though it should be noted the team still, while successful in the red zone, didn't get their deep passing attack working.
Much of the talk will rightfully be about what Calvin Ridley can do for this offense, but it was interesting to see Austin Hooper make such a significant contribution. The offense looked a lot better with Ryan spreading the ball out instead of zeroing in on Julio Jones.
It didn't start well for Duke Riley as he ate up the snaps left by Deion Jones injury, and it rarely got better. It's hard to replace a difference-maker like Jones, and so it proved with Riley struggling against the run and unable to make much of an impact in coverage. Ultimately, he needs to get better if Atlanta is going to contend.
One safety was out injured; his was replacement ejected. Things could have been much worse in the Atlanta secondary, but the steady play of Ricardo Allen continues to hold them together. He was gifted an interception but showed his range early in the game with a wonderful pass break up that almost became a one-handed pick. — a man fully deserving of his extension.

It was a bad day for the team's run defense, as they struggled to move laterally against the Falcons' outside zone heavy attack. Players like Kawann Short are using to wrecking plays no matter what you call, but Atlanta got bodies on him and kept the stud defensive tackle quiet for large parts of the game.
He started like a house on fire, looking like he was going to take the game over on defense. But as the game wore on, Luke Kuechly had to take his share of responsibility for the team's defensive woes with the perennial All-Pro missing multiple tackles in an uncharacteristic display.
It was not a great day for Cam Newton, who earned his bad interception luck with two dropped interceptions coming as a result of careless throws. That inaccuracy and decision-making helped put the Panthers in comeback mode, and while he valiantly tried to rally, it was too little too late ultimately.
We got a glimpse of what D.J. Moore is capable of when he caught a ball in innocuous fashion over the middle before stiffing Riley away and racing away for a touchdown. The more he gets involved the better.
Keys to the game
Atlanta:
Impressive efficiency in the red zone and a commitment to running the ball wore the Panthers down.
Carolina:
Inability to convert on key downs left the team with too much of a hole to make up.