The Seattle Seahawks defeated the Arizona Cardinals, 27-24, in Week 17 of the 2018 NFL season.
PFF's ReFocused series this season features immediate takeaways and a key to the victory from two Senior Analysts who graded the performance, watching every player on every play of the game. For more data and analysis from the game, utilize our Premium Stats 2.0 dashboard to expand your knowledge on the key players, signature stats and much more.

FINAL SCORE
Seattle Seahawks 27, Arizona Cardinals 24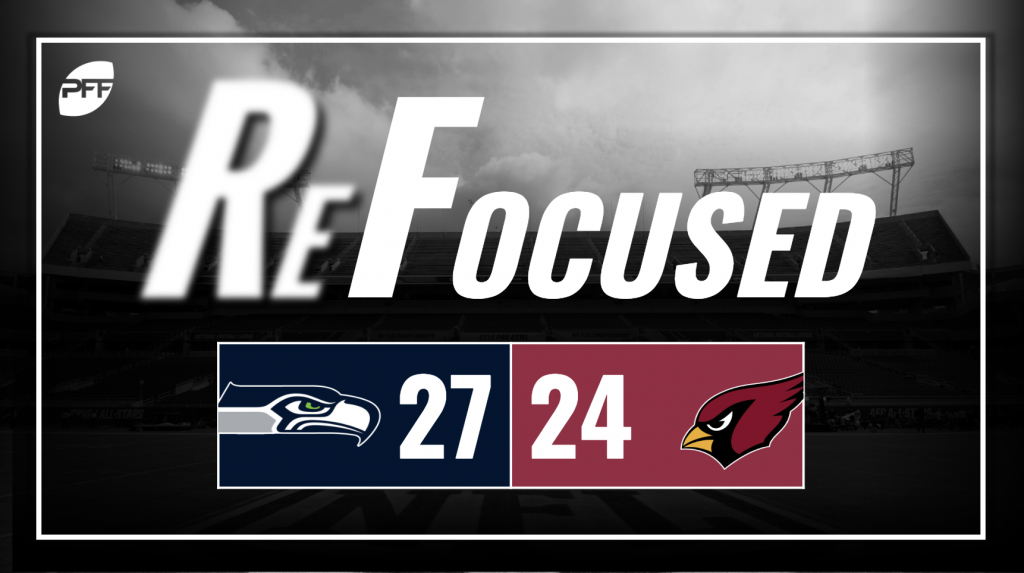 Russell Wilson was good overall. He threw a touchdown to Tyler Lockett down the seam on a busted coverage, but he also threw an interception to David Amerson, who jumped a slant route.
Chris Carson had an impressive second-quarter rushing touchdown slipping through contact from Haason Reddick. Carson started to pick up steam in the third quarter when he ripped off a 61-yard run through a wide hole. Mike Davis finished off the 98-yard Seahawks' drive two plays later with a 17-yard touchdown run.
Rookie defensive end Jacob Martin recorded his second career sack on a strip sack of Josh Rosen in the first half. That was the first of six in what was a feeding frenzy for the defensive line.
Rookie Poona Ford stood out defending the run, squeezing running lanes on his way to six total tackles. Bobby Wagner ended his regular-season finale with 12 total tackles, making it the sixth time he's recorded double-digit tackles this season.

Josh Rosen took some hits on the chin and fumbled twice as the Cardinals' offensive line struggled to protect him. The unit allowed six sacks and will be among the top priorities to upgrade in the off-season. Rosen finished with a sub-par stat line, going 18/34 for 149 yards.
Larry Fitzgerald made a nice one-handed touchdown grab in what could be his last NFL game. Chad Williams was Rosen's favorite target on the afternoon, hauling in five catches for 51 yards. On the ground, David Johnson carried 17 times for 62 hard earned yards as there was limiting running lanes against the stout Seattle defense.
Rodney Gunter beat George Fant inside for a sack of Russell Wilson. Gunter added another sack on a third-quarter stunt. Chandler Jones also got a sack of Russell Wilson by sliding inside of George Fant to corral a scrambling Wilson to end the Seahawks' second quarter.
Antoine Bethea had a second-quarter sack of Russell Wilson by beating Mike Davis inside. A Patrick Peterson scoop and score off a Chandler Jones strip-sack was called back by a defensive holding penalty by Haason Reddick, as he grabbed Doug Baldwin in coverage.
Keys to the Game
Seattle:  The Seahawks continued to use multiple running backs in their rushing attack. Russell Wilson was pressured often and sacked frequently, but did enough to get the win.
Arizona: Seattle's defense put pressure on Josh Rosen all game, which led to six sacks. The Cardinals have many areas on the roster they'll need to improve in the off-season.