The Philadelphia Eagles defeated the Washington Redskins, 24-0, in Week 17 of the 2018 NFL season.
PFF's ReFocused series this season features immediate takeaways and a key to the victory from two Senior Analysts who graded the performance, watching every player on every play of the game. For more data and analysis from the game, utilize our Premium Stats 2.0 dashboard to expand your knowledge on the key players, signature stats and much more.

FINAL SCORE
Philadelphia Eagles 24, Washington Redskins 0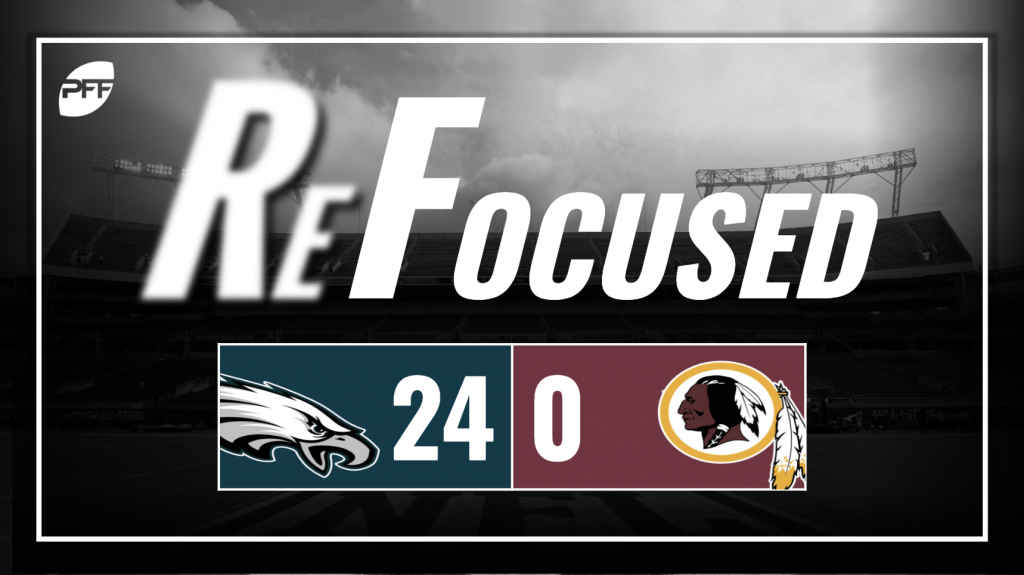 Nick Foles started the day off shaky, as his one interception will show, but he recovered from that and had a clean game thereafter. He didn't impress with multiple big-time throws or with fancy moves in the pocket but managed the game against a depleted Redskins team. That was enough to lead the Eagles to victory and into the playoffs.
It was a total offensive team effort, as multiple players had good games with no one standing out with a subpar game. Jason Kelce was dominant in run blocking, as was Jason Peters, while Alshon Jeffrey and Nelson Agholor made plays in the receiving game. The backfield committee all contributed in a positive way, making solid reads and decisive cuts
Before anyone writes off this Eagles defense, they put on a defensive performance to remind the NFL that they are very much still alive. The secondary has been playing better of late, but their front seven is deadly for any offensive line, regardless of the talent. Fletcher Cox was a monster from the interior while Michael Bennett and Brandon Graham were forces off the edge.
The play of Malcolm Jenkins shouldn't be overlooked this season. He's been the glue for the secondary, even after their midseason struggles because of injuries. He's been excellent all year and was great again against Washington. He was targeted just once but earned himself a pass breakup on the plays.

It wasn't a pretty effort from safety Deshazor Everett, who was starting in place of the recently cut DJ Swearinger. His struggles were mostly in coverage, but it was an all-around poor performance, as he missed multiple tackles and allowed all five passes targeted into his coverage to be caught.
The defensive front seven was roughed up by the Eagles' offensive line. Most of their struggles were in run defense, but they were unable to get consistent pressure on the quarterback despite getting three sacks. Foles gained first downs on two quarterback sneaks, and the Redskins' defensive line gave very little resistance.
The Josh Johnson experience has officially come to a close. While last week had its moments, this week was devoid of any such good play. Johnson averaged 3.4 yards per attempt (including no plays) while averaging a depth of target of 10.6. That PACR (passing air conversion ratio) is bad, to say the least, and usually indicates a losing effort.
The Redskins' offensive line did Johnson no favors, as he was constantly under pressure throughout the game. Johnson saw a clean pocket less than half the time he saw a disrupted pocket and when that happens, not even Tom Brady in his prime could easily win games.
Keys to the Game
Philadelphia
The Eagles' offensive line dominated all game long and provided Foles time to operate and the run game lanes to run through.
Washington
The Redskins' offensive line was abused all game long, which put Johnson under duress early and often, nullifying any chance they might have had in this game.